Banks and Credit Unions, Business Process Improvement, Marketing Strategies
Improve CX with an Effective Customer-Focused Marketing Strategy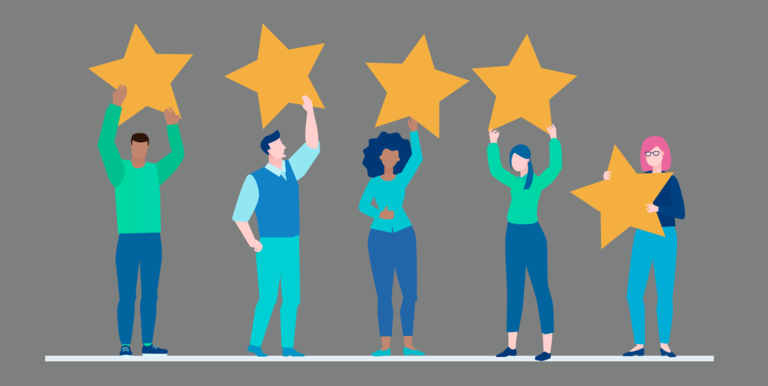 Effective Customer Experience Marketing Optimizes CX
Nobody wants to do business with a company that offers an unsatisfactory customer experience (CX). Bad impressions throughout the customer journey have a huge impact on future purchases and behaviors – even more than the price or the product.
In this article, we'll discuss how CX impacts customer retention, why CX is so important and how to use customer experience marketing strategies to improve CX in 2022 and beyond.
---
CX vs. Retention
Customer experience is measurable. An experience can be awful, bad, mediocre, good or awesome. Repeated engagement with a brand, or a culmination of touchpoints during the customer journey, leave an impression of the company on its customers regarding their overall experience with a brand, whether it be online or in-person. If you think back to your last customer experience, you'll immediately remember whether you were satisfied or not (it's that powerful). How are you measuring the effectiveness of your customer experience marketing? If you're not, try sending out a survey. This information is so important, according to Forbes, that "global CX technology spending is expected to reach $641 billion in 2022."
Customer retention is also measurable. Every company seeks to keep its customers coming back again and again. Establishing the buying pattern is a critical component of gaining insight into what, where and how often customers are returning, if at all. Once the pattern is in place, it's the company's job to keep it going. Successful companies measure not only how many new customers they are attracting, but they also keep records on the existing ones – e.g., discounting those that churn or who no longer return to buy, cancel subscriptions or void their contracts. Are you measuring customer retention and targeting your customers accordingly? If not, try compiling a list of previous buyers who no longer purchase from you and offer an incentive for telling you why they left/encouraging them to return.
---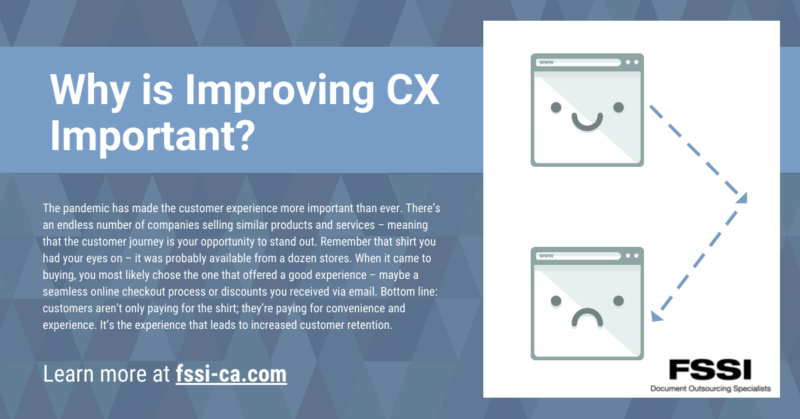 ---
Why is CX Important?
The pandemic has made the customer experience more important than ever. There's an endless number of companies selling similar products and services – meaning that the customer journey is your opportunity to stand out. Remember that shirt you had your eyes on – it was probably available from a dozen stores. When it came to buying, you most likely chose the one that offered a good experience – maybe a seamless online checkout process or discounts you received via email. Bottom line: customers aren't only paying for the shirt; they're paying for convenience and experience. It's the experience that leads to increased customer retention.
Let's get 2022 started right, improving your CX strategy with the proven marketing strategies:
Marketing Strategies for Improving CX
Marketing plays a key role in CX by helping provide that all-important personalized experience. Focusing your marketing efforts squarely on individuals and how they interact with your brand will make the difference between a one-time sale and a repeat customer. Happy customers will return, promote your brand and be loyal. Listed below are the elements you need to create a successful customer-focused marketing strategy.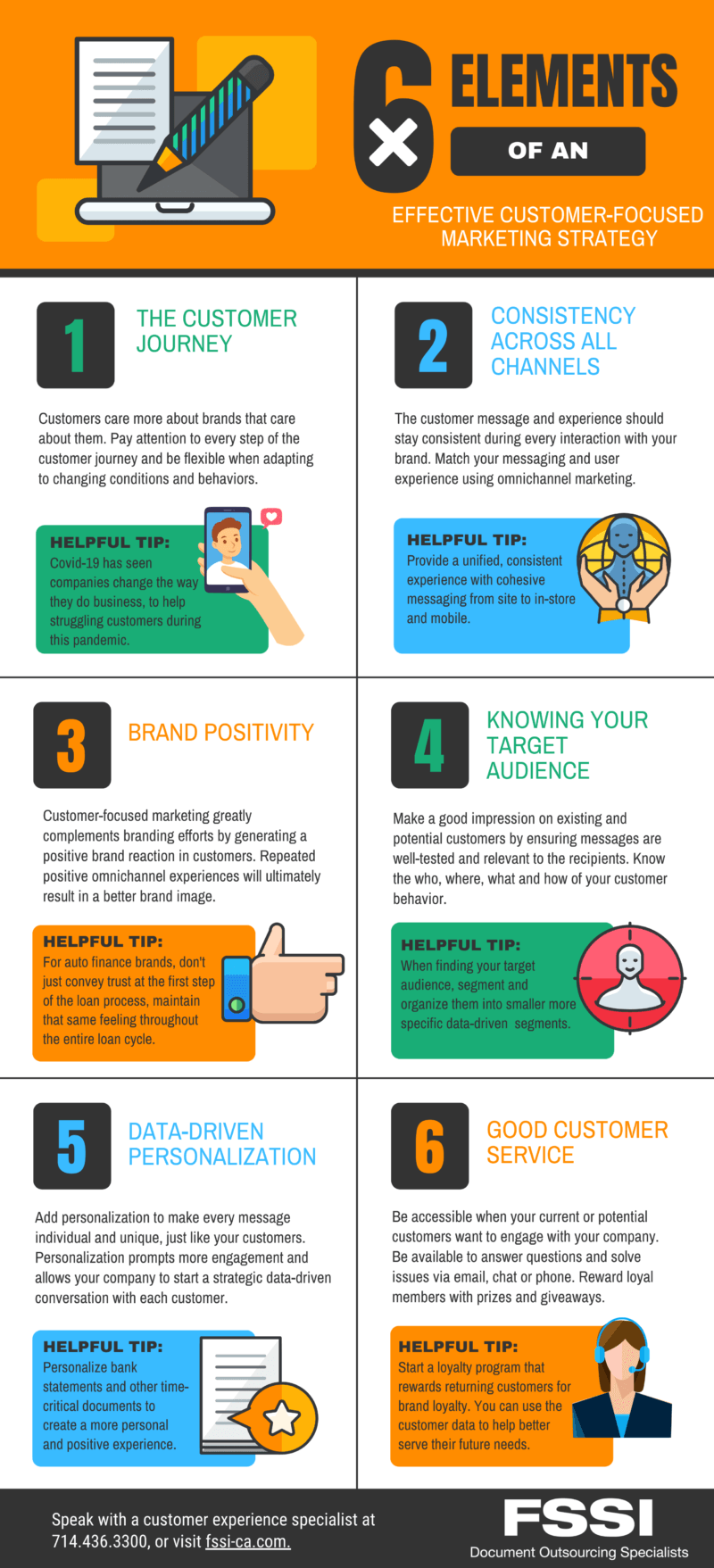 ---
Top 6 Factors of an Effective Customer Experience Marketing Strategy
Implementing customer-focused marketing into your strategy ensures that current or potential customers enjoy the same positive experience no matter how or where they interact with a brand. Whether they're in the research phase or already an existing customer, it is important to ensure that they can rely on the same positive experience with every interaction.
Here are six essential factors for an effective customer-focused marketing strategy. By focusing on these important elements, you're guaranteed to find yourself with more happy and loyal customers.
Factor #1: The Customer Journey
People care more about brands that care about them. Stay aware of every step of the customer journey and be flexible when adapting to change. This will ensure that any of your customer's pain points can be rectified quickly, building loyalty and satisfaction.
Example: Many businesses have adjusted their marketing strategy drastically in response to the COVID-19 pandemic. Realizing that a huge number of customers were struggling with finances, some businesses have extended payment dates, while others continue to share messages of hope and solidarity.
Factor #2: Consistency Across All Channels
The customer message and experience should stay consistent during every interaction with your brand. Match your messaging and user experience using omnichannel marketing.
Example: Banks and credit unions that maintain a consistent user-friendly experience from website to mobile app provide an omnichannel experience by allowing the viewer to easily navigate both options without much change.
Factor #3: Brand Positivity
Customer-focused marketing greatly complements branding efforts by generating a positive brand reaction in customers. Repeated positive omnichannel experiences will ultimately result in a better brand image.
Example: Look to auto finance companies for positive brand inspiration. Because buying a car is a big investment, auto finance brands need to convey trust and reliability in the first stage. Then they need to maintain a positive image during the loan cycle until the loan is paid. When each step of the process is carefully crafted, customers come back with return business.
Factor #4: Knowing Your Target Audience
Make a good impression on current and potential customers by ensuring messages are well-tested and relevant to the recipients. Find your target audience and organize them into smaller more specific segments, increasing ROI and responsiveness.
Example: Retail brands segment their target audience into groups by their actions. New customers on their website get an offer to join their email list, and once on this list, they can be segmented again to receive marketing. This segment might include customers who have something in their cart or possibly customers who have not bought any items in six weeks. The more specific the segment, the better the response.
Factor #5: Personalization
Adding personalization to communications makes every message individual and unique, just like your customers. Personalization prompts more engagement and allows your company to start a strategic data-driven conversation with each customer.
Example: Financial institutions personalize bank statements and other time-critical documents to create a more personal and positive experience for the customers. Based on data collected, more specific marketing offers can be placed in these documents; i.e. new member savings accounts or credit card offers for individuals with a high credit score.
Factor #6: Good Customer Service
Be accessible when your current or potential customers want to engage with your company. Prioritizing good service throughout the entire customer journey includes being available to answer questions and solve issues via email, chat or phone. Rewarding your loyal members with prizes and giveaways is always appreciated as well.
Example: Many businesses in the food and beverage industry offer loyalty programs to reward returning customers for their brand loyalty. This is a great treat for your customer in exchange for their data and can be used to encourage more business in the future.
---
Put your customers at the center of your marketing strategy and experience these benefits:
Increased brand awareness
Higher customer satisfaction
Increased trust and loyalty
More customer insight and value
Repeat business and referrals
If this information resonates with your company's goals to launch an effective customer-focused marketing campaign, you can begin strategizing how you will implement your plan to and encourage repeat business.
For more tips on maximizing the customer experience or information on partnering with a communications specialist like FSSI, give us a call at (714) 436-3300.
---

Sources:

https://www.forbes.com/sites/blakemorgan/2021/08/09/10-stats-showing-the-growth-of-cx/?sh=435b69015f23