HIPAA Compliant Print and Mail
Outsourcing the print and mail of patient communications makes the business side of providing care, and the health insurance process more efficient, profitable and compliant. FSSI's HIPAA compliant mailing solutions can help healthcare providers enhance the security of their patient billing while also improving the overall patient experience.
---
HIPAA Compliant Mailing Services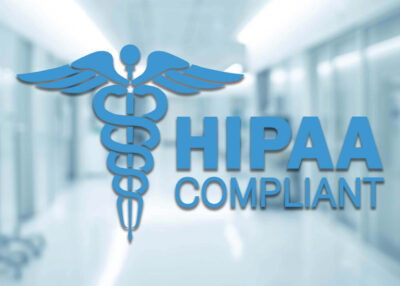 FSSI is proud to be a HIPAA-compliant mailing provider. We've invested heavily in data security and privacy technology that ensures that sensitive patient information is protected.
In our HIPAA-compliant mailing facility, FSSI combines best practices for secure printing and mailing with cutting-edge production technologies. All processes work together to ensure the quality, accuracy and integrity of documents produced from sensitive patient data.
---
What is HIPAA?
The Health Insurance Portability and Accountability Act of 1996 (HIPAA) and the regulations issued under HIPAA are a set of U.S. healthcare laws that establish requirements for the use, disclosure, and safeguarding of individually identifiable health information. The scope of HIPAA was extended with the enactment of the Health Information Technology for Economic and Clinical Health (HITECH) Act in 2009.
FSSI has developed a health information security management program to meet the information security and compliance requirements related to its document processing services. The program incorporates the elements of both HIPAA and HITECH.
---
What is HIPAA Compliance Attestation?
The report is issued under AICPA attestation standards and is designed to allow a CPA firm to express an opinion on an organization's compliance with the requirements of the HIPAA Security, Privacy and/or Breach Notification Rules.
---
What Does HIPAA Fulfillment Mean?
HIPAA fulfillment consists of the distribution of mailers, transactional documents, marketing communications and other materials that fall under HIPAA privacy rules. Working with a fulfillment company, they are trained to recognize what requirements apply to each project and are well-equipped to make sure your organization meets them.
For a print-mail service provider to be considered HIPAA compliant, mailing companies must protect the medical and personal information that is included under the most recent HIPAA guidelines. HIPAA-compliant mail pieces cannot display a patient's health condition, medical equipment being used, finances, or other data that must be kept private.
Advantages of Partnering with a HIPAA-Compliant Print-Mail Vendor
Your company simply cannot afford a compliance violation. There are many advantages of partnering with a HIPAA-compliant print vendor, like FSSI. We expertly handle sensitive patient data, with the equipment, technology and know-how to reduce the risk of a violation and remain HIPAA compliant.
Here are just a few of the advantages of partnering with a HIPAA communications specialist:
Industry-leading privacy and data management technology
HIPAA-compliant print, mail and eDelivery
24/7 compliance-focused production tracking and reporting
Streamlined patient communications, from printed statements to electronic documents and secure SMS text messages
Unlike other print-mail companies, FSSI offers an end-to-end, audit-ready workflow tracking and reporting solution. Online real-time tools create an accurate, auditable trail for the lifecycle of each piece of mail produced in our facility – from file receipt and all throughout the production process to USPS induction. Detailed reporting provides clear evidence that can be used as proof of mailing, should patients claim that documents were not sent.
---
Types of Healthcare Documents We Produce
Whether your company is a large bustling institution or a smaller high-mail volume clinic or practice, FSSI can customize a patient communications solution to meet your strategic business and marketing objectives. Examples of healthcare documents produced at FSSI include:
Patient bills, statements, and invoices
Patient letters, notices, and other customer documents
Explanation of Benefits (EOB)
Explanation of Coverage (EOC)
Healthcare billing statement inserts
Patient or physician mailers
Learn more about our healthcare printing services. In addition to print and mail services, our custom data formatting and document design help to increase patient and policyholder engagement – while helping to improve payment remittance and response rates.
---
Let Us Handle Your Patient and Health Insurance Communications
HIPAA requirements dictate that healthcare companies and their third-party vendors maintain reasonable and appropriate administrative, technical and physical safeguards of patient privacy. Sophisticated data handling and encryption protocols enable us to comply with strict HIPAA guidelines and privacy rules.
We understand the importance of maintaining HIPAA compliance for care providers as well as health insurance companies. We've built secure HIPAA-compliant communication solutions that are simple for both healthcare providers and medical insurance companies, no matter how large or complex.
FSSI's print and mail output includes a wide range of printed and electronic medical documents – both of which can be designed and produced from a single data feed.

---
We're Well-Versed in HIPAA Guidelines
HIPAA compliance means we understand HIPAA guidelines and stay updated with new HIPAA privacy requirements.
HIPAA violations can be costly. FSSI has created a compliance package that provides all the features you are looking for. We not only offer a full-service document mailing solution but maintain the strict guidelines necessary to operate in the healthcare industry.
HIPAA was created to give patients more control over their privacy, but don't let HIPAA requirements limit your patient communications strategy. FSSI isn't just HIPAA compliant; we also maintain SSAE 18 Type II compliance. Data security is something we value and have invested a lot of time and money into our privacy software and security practices.
---
What Protected Health Information (PHI) Is Covered Under HIPAA?
Phone Numbers
Biometric Identifiers (fingerprints, retinal and voice prints)
Photos
Health Conditions
Financial Information
Treatment-Related
Social Security Numbers
Email Addresses
Geographical identifiers
HIPAA Compliant Print and Mail Consultation
An integrated HIPAA-compliant mailing solution can do wonders to help grow your business and improve the overall patient experience. This includes a patient-friendly document design. Contact us online or call us at (714) 436-3300 to learn more about our secure printing and mailing services or to schedule a no-obligation demo or consultation.