Print Outsourcing
Quick Facts
Increase the impact and business value of your customer-facing documents with high-impact, high-quality print services that deliver on accuracy and speed. Whether you or FSSI creates and composes your business documents, your custom-designed print solution will meet any purpose and application with industry-leading equipment, technology and data security.
Expected Results
Strengthen customer relationships with relevant and actionable communications. Reduce risk and meet regulatory mandates and data integrity expectations with secure and precise, full-color variable printing. You'll benefit from comprehensive print solutions engineered for maximum engagement, with quality output that 100% supports your brand.
Choose one (1) minimum. Free cost and shipping on orders.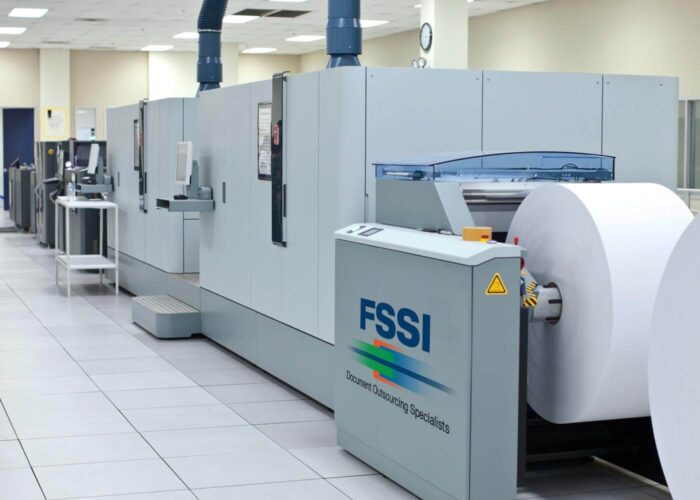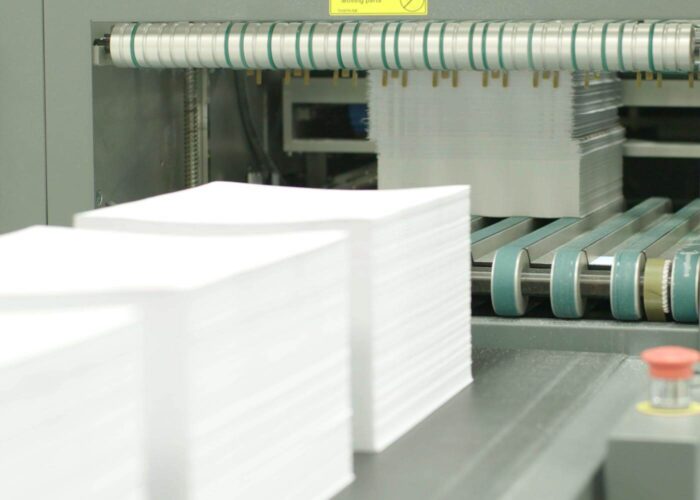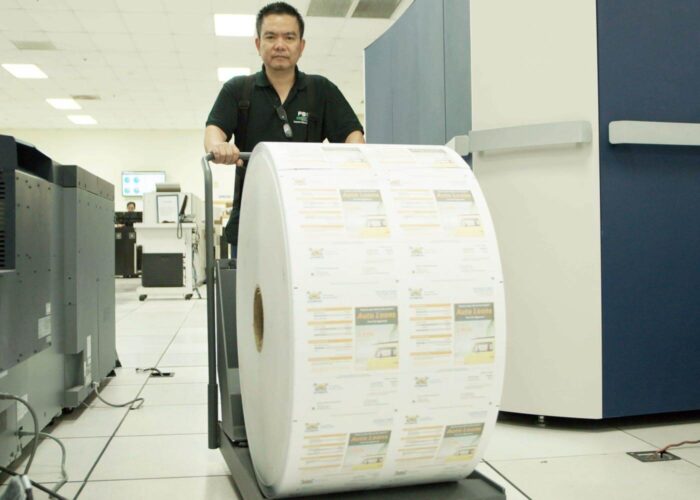 Print Outsourcing Solutions
Choose one (1) minimum. Free cost and shipping on orders.
Print Outsourcing Services
See how a transactional printing company like FSSI can help you reduce your risk, cost of document processing, meet ever-changing compliance regulations and give you full control of inventory, postage, and reporting every step of the way.
FSSI is a full-service provider of outsourced transactional printing services, document mailing and delivery services. We specialize in the design, production and delivery of high-quality, regulatory-compliant confidential documents. Whether you are sending millions or thousands of monthly billing statements, invoices, letters or digital color mailers, FSSI can custom tailor an outsourced solution to meet your needs.
Take a deeper look at our statement printing and mailing solutions to see if outsourcing could benefit your business.
Types of Print Documents
From the standard to the not-so-standard, we print transactional documents like statements, bills, invoices, checks, compliance notices and marketing letters – any high-quality, regulatory compliant customer documents you need. Our secure print solutions are designed for regulated industries and financial institutions, meeting the requirements of any vertical attentive to data security. We specialize in documents containing personally identifiable information (PII) and protected health information (PHI)
Statement Printing
Regulatory Notices, Letters and Correspondence
HIPAA Mandated Documents
Bill and Invoice Printing
Marketing Letters and Newsletters
Postcards and Self-Mailers
Other Customer Communications
Learn more about the Types of Documents we Process 
High-Volume, High-Quality Print Services
FSSI's technology-centric print operations support your high-volume and quick turnaround requirements while delivering a personalized experience to you and your customers. Confidential documents are processed fast, accurately, and in line with your goals and budget, providing optimal print outsourcing services for high-quality, results-driven communications.
Engaging print formats and output
Advanced print management technologies
Leading-edge print equipment
Full-color variable data print targeted to the recipient
Wide selection of quality house paper and envelopes
SOC 2-compliant production environment and infrastructure
Trackable end-to-end secure print-mail outsource services
Flexible Printing Services
Elevate your customer communications and maintain brand recognition with the effective use of dependable color. Also, strong supplier relationships mean we can pass savings onto you to help improve your bottom line and streamline the printing process.
Color – Variable print options encompass full-color and black-only, including MICR for checks. Utilize color to highlight images and text, ensuring that they stand out and call attention to important information. Brand colors are precisely matched to ensure run-to-run consistency.
Paper and Envelopes – Control costs by using FSSI's house paper and envelopes that are billed as used — you only pay for what you use. There is no large quantity of materials to purchase in advance or potential waste of outdated artwork. Common paper and envelope types, weights and sizes are always on hand. If you need specialty stock, we can order it as needed.
White Paper Factory – FSSI's white paper factory transforms plain white paper (cut-sheet or roll-fed) into complete, high-quality personalized documents, eliminating the need for pre-printed paper. Perforating pages vertically or horizontally can be done dynamically, even changing positions with each page.
Cutting-Edge Print Equipment
FSSI uses a diverse combination of best-in-class, high-speed inkjet and toner print equipment, such as industry-leading Xerox, Konika, Canon and SCREEN technologies, to meet a wide variety of quality print output. These advanced printers provide you with new and emerging technologies with no capital investment on your end.
Our equipment and technological abilities pick up where many leave off, helping our clients to take advantage of the latest technologies, scale easily and gain a competitive advantage.
Checks and MICR Ink
A valuable statement processing feature includes inline check printing with MICR ink. This feature allows checks to be printed inline together with other documents, such as statements, invoices, bills or letters, instead of separate production runs, improving business processes.
Unlike pre-printed check stock, documents with checks printed inline can feature targeted messaging as well as full-color images and graphics, turning a common payment instrument into a personalized communication channel.
Selective Messaging with Variable Data Printing
Increase response rates, grow engagement and enhance cross-sell opportunities with personalized messages. Variable data printing is a form of digital printing where on-page elements, such as images, text and other graphics, change from piece to piece in the print process without having to stop or slow down. It offers a seamless way to add a personalized touch to standard transactional documents or communicate marketing messages.
Used in conjunction with document redesign, you can transform ordinary monthly statements into powerful response tools and increase customer engagement — with a direct return on your investment.
Data Security and Privacy
FSSI has successfully completed its annual SOC 2 audit in all locations, continuing a long-standing commitment to superior security standards. For 15+ years, FSSI has met or exceeded the AICPA requirements with comprehensive security processes and continual reinvestment in its infrastructure to meet evolving data security and privacy requirements. Passing with "zero exceptions" provides clients in highly-regulated industries with documentable assurance that their confidential customer data (including PII and PHI) is handled in accordance with strict industry standards.
To securely manage data and protect the privacy of clients, FSSI has:
Redundant, state-of-the-art Storage Area Network (SAN) systems and VMWare software in both Santa Ana and Coppell with replication of all production and application data
Leading-edge security protocols
In-depth workflow tracking
Comprehensive backup and recovery
What are the benefits of outsourcing printing?
Benefit from print solutions engineered for maximum impact. Create and send quality customer communications that increase the effectiveness and business value of your documents. When outsourcing print, all-inclusive services are performed in a secure print-mail fulfillment facility, assuring impeccable data integrity and timely document delivery of every job.
Minimize capital investments
Avoid long-term lease commitments
Reduce paper, postage and production costs
Improve and stabilize cash flow
Streamline business processes and managed print services
Benefit from customized, in-depth reporting and tracking
What does "high-volume" printing mean? Are there minimum quantity requirements?
At FSSI, the term "high volume" refers to runs that range from tens of thousands to millions of pieces. Our high-volume inkjet digital color printing gives us tremendous capacity and speed to meet client needs with high-quality color print. For reference, FSSI's inkjet digital color printers deliver up to nearly 2,000 letter-length impressions per minute.
Please contact FSSI today to discuss your quantity requirements to determine if it meets the minimum threshold.
Can I track the processing of my documents and get status updates?
FSSI provides real-time, online access to piece counts, data validation and production activity timestamps – all of the metrics related to each specific job. You get a full-status workflow overview, with the tools to verify that the right files were used, on-hand counts are accurate and the job is on schedule. This "checks and balances" process serves as a second layer of compliance and quality control, behind FSSI's own Quality Assurance team.
With in-depth reporting and at-a-glance metrics, you have a constant birds-eye view of the job status, even setting up automated custom reports with tailored information.
What are the benefits of inkjet printing?
At very high speeds, FSSI's inkjet printers deliver precise registration and consistent color. A combination of print management and proprietary print technologies build instant QC analysis at full production speeds ensuring accurate data and job status. Bottom line: Your print jobs get done fast, accurately and at the highest quality output available. The benefits of inkjet printing include:
Less set-up time and associated costs
Quicker proofing and turnaround times
Spot-on quality and high level of accuracy
Personalization with variable data printing
What's your approach to composition and data accuracy?
FSSI can transform almost any data input into the exact layout you want using advanced data handling and document composition technologies. The process begins with the verification of the formatting and quality of your data. We can receive your encrypted data from virtually any source. Once verified, the data is processed through a custom application developed by our expert, in-house development team to generate a tailored customer document.
Is inkjet printing an effective option for marketing letters and mailings?
Yes, advanced inkjet printing provides growth opportunities for the implementation of transpromo and direct mail solutions while also helping to improve the relevance of your customer communications.
Rather than simply adding a name and address on a static document, you can create highly-personalized letters, postcards and self-mailers with variable images and text on premium gloss and matte stock. The 1:1 approach and eye-catching formats ensure your marketing messages get noticed in the mail and read by your intended recipient.
Check out our print terms glossary to learn more about the terminology used in the printing industry.
Choose one (1) minimum. Free cost and shipping on orders.