Business Process Improvement, How-to Guides, Outsourcing
Use Business Process Improvement to Increase Efficiency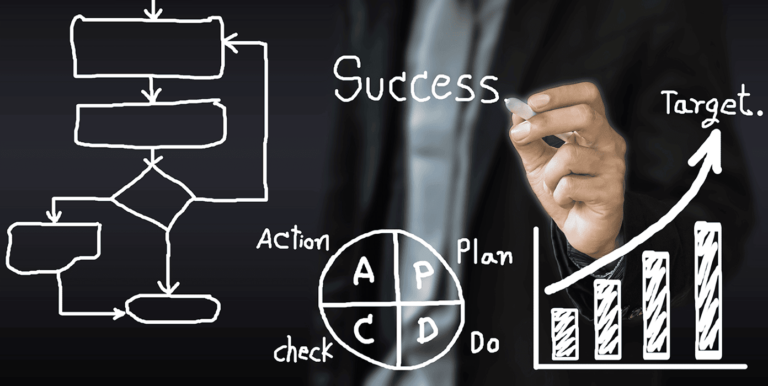 Increase Efficiency with Business Process Management
One of the top goals across businesses of all sizes is increasing efficiency. A more efficient workflow leads to increased productivity and improved performance for the entire organization. Improving business processes is vital for organizations looking to save time, drive-down costs and increase overall efficiency. This blog will dig deeper into exploring these growth strategies.
What is Business Process Improvement?
Business process improvement (BPI), also referred to as business process management (BPM), is a when a company analyzes their internal procedures to identify areas where they can improve accuracy and efficiency, and then optimize those processes to help improve the overall efficiency of their business processes. BPI allows companies to grow and gain more insight on which processes need to be reworked or reevaluated.
Goals of Business Process Improvement:
Minimize employee resources spent on menial/tedious tasks
Centralize business processes and integrate functions
Control, organize and automatically execute strategies
Use data to continuously improve processes
Improve the quality of the output
Reduce the time required for jobs
Identify wasted efforts from previous processes
Reduce friction during processes
Meet regulatory compliance guidelines
One of the best ways for businesses to achieve the goal of increased efficiency is through business process automation. It can free up valuable time for employees, improve engagement as functions become automatic and consistent, and generally improve productivity since it frees up workloads.
What is Business Process Automation?
Business process automation (BPA) is the use of technology to create a process that operates automatically with minimal human intervention. BPA is designed to automate repetitive day-to-day tasks to increase speed, accuracy and consistency, and improve overall operational efficiency. For business processes with significant manual work involved, automation can help with improvements so that organizations focus their time on more important tasks at hand. Many business processes can be automated, spanning across different functions in the business.
Benefits of Business Process Improvement Through Automation
Data provides valuable insight into how automation improves business processes and performance. Using the data gained from a newly automated process, businesses can better understand how effective the process is, how users engage with it and their preferences as they evolve.
Using the data gathered, businesses can continue to optimize processes and spot opportunities and trends. One of the reasons why automation is so crucial in this context is that it can provide continuous, real-time data to help inform strategy and performance. The more these tools are used, the more accurate data they can gather that helps businesses continually improve processes and grow faster.
Moreover, business process improvement through automation provides immense opportunities for growth across the business. With so many processes being done without manual intervention, there is more room to focus on big picture projects and steer resources towards crucial activities.
For growing companies new to improving business processes, it might be hard to know where to start. What business processes should be automated? Listed below are the most common business processes that companies can improve upon.
Business Processes that Companies Can Work to Improve:
Speeding up business cycles
Reducing operating costs
Improving the quality of products and services
Boosting employee engagement and productivity
Creating a better customer experience
Once you choose a business process to focus on, you can walk through the steps below to begin implementing changes.
Steps for Business Process Improvement Success
Analyze: Understand your business needs, identify important metrics, take a deeper look at the steps that cause the most friction
Redesign/Automate: Identify areas of improvement, fine-tune your workflow and redesign the process to include automation wherever possible
Implement: Inform all stakeholders of your changes – monitoring changes closely and measuring results for further testing
Test: See how changes affect items in real-time, run updates and additional integrations if needed
Outsource: Partner with an expert team to delegate time-consuming tasks away from your everyday operations – giving back valuable time and resources to focus on what your company does best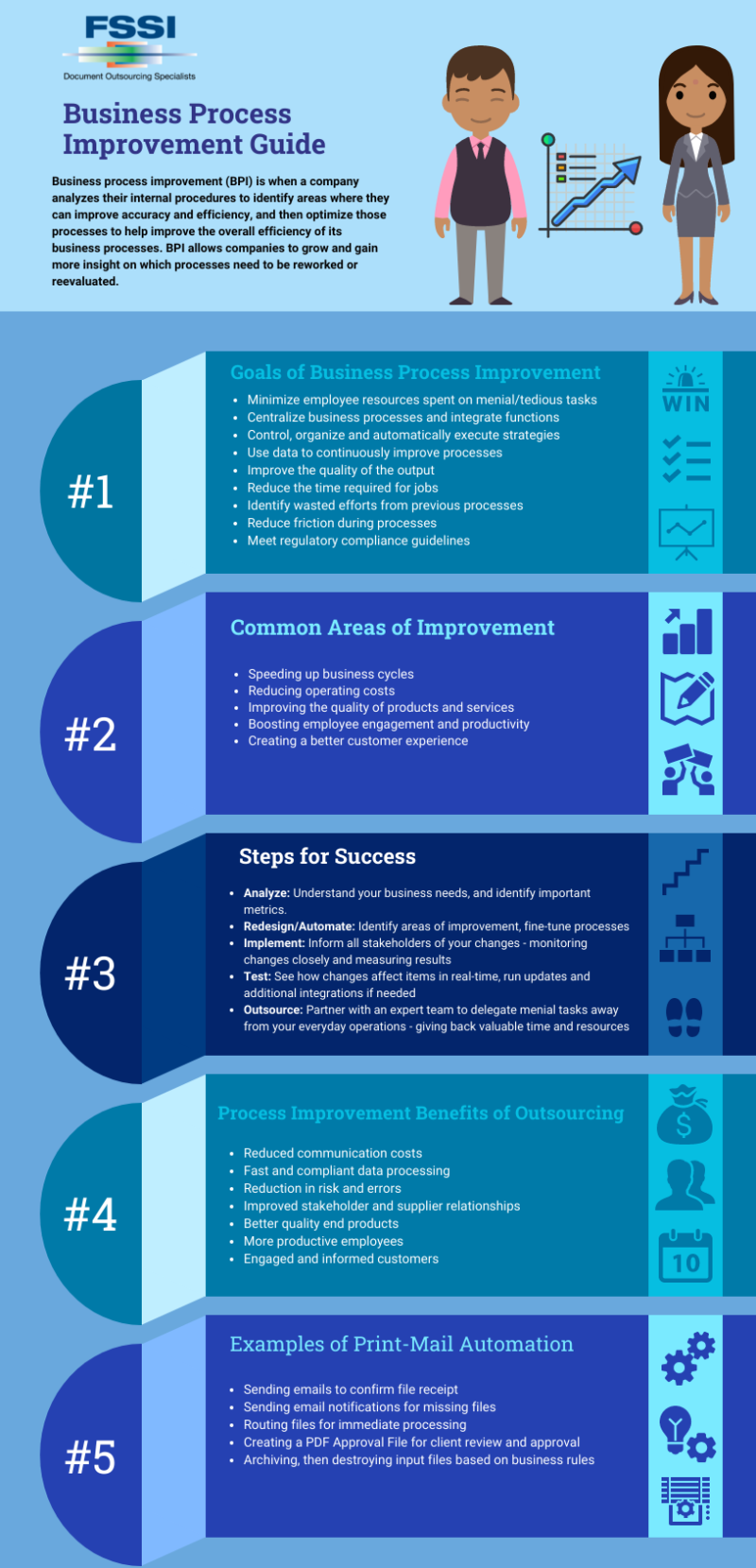 ---
Partnering with Specialists: FSSI
At FSSI, the print-mail and electronic services we provide implement leading-edge technology and customizable solutions we're passionate about. Our proprietary solutions can be scaled to streamline your customer communications processes, making your job easier while staying competitive and compliant.
When you partner with FSSI, you are benefiting from a print service provider that has over 40 years of experience working with high-regulated industries. We have the resources to continuously improve processes and procedures to give our clients the optimal communications experience with their customers. You'll see several benefits including:
Streamlined communication costs
Fast and compliant data processing
Reduction in risk and errors
Improved stakeholder and supplier relationships
Better quality end products
More productive employees
Engaged and informed customers

Our in-house team of developers and communication specialists will work with you to custom-create mailing solutions designed to streamline your jobs wherever possible.
Examples of Automation in FSSI Document Processing Solutions:
Sending emails to confirm file receipt
Sending email notifications for missing files
Routing files for immediate processing
Creating a PDF Approval File for client review and approval
Archiving, then destroying input files based on business rules
To learn more about FSSI and how we can help you streamline the communication process, please call (714) 436-3300 for a no-obligation consultation.