Healthcare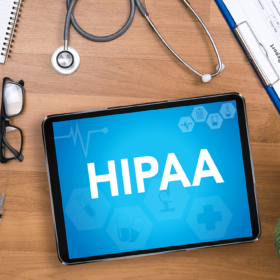 FSSI offers HIPAA-compliant document processing and mailing to help you securely communicate with patients.
With over 40 years of healthcare printing expertise, we're a trusted outsource provider whose solutions can reduce production costs, stimulate collections, and comply with emerging regulations.
Choose a secure print and mail solution to help your hospital, clinic, medical practice, health insurance, or government agency accelerate the revenue cycle and reduce the cost of printing and mailing time-sensitive patient statements and other healthcare documents.
HIPAA Compliant Print and Mail Services
Today, healthcare providers and health insurance companies are under tremendous pressure to do more with less – especially when it comes to patient communications.
The medical industry faces initiatives to cut per-capita costs while at the same time improving the quality of care and patient billing experience. To help address some of these challenges, healthcare providers and health insurance firms are outsourcing the production of their sensitive patient documents.
At FSSI, we welcome your healthcare-related document outsourcing needs. We offer end-to-end printing and mailing solutions, starting from the raw data all the way to electronic delivery if required – all backed by HIPAA-certified privacy and data security practices.
---
Types of Healthcare Documents We Process and Deliver
Explanation of Benefits (EOB)
Explanation of Coverage (EOC)
Patient billing statements
Patient letters and notices
Hospital and lab invoices
Appointment reminders
Medical statement inserts
Patient or physician mailers
---
Compliant Patient Communications for the Medical Industry
FSSI offers more than just medical statement printing services – we offer a complete HIPAA-compliant patient communications platform. You'll find patient statement printing, mailing, data processing, and document management. Avoid costly HIPAA violations or being negatively affected by a data breach. Work with a HIPAA-minded statement printing vendor that has a long-standing history of protecting patient data.
What makes us different from other print vendors in the healthcare industry is that we offer in-house graphic design and development, full electronic presentment, including mobile, email, and SMS, and a variety of personalized integrated marketing features – offering fully-customized healthcare communications solutions.
FSSI's outsourcing services include:
Patient statement printing and mailing – Includes processing, custom document design and formatting and accurate production output from our HIPAA-certified facility.
Letter template management – Enables healthcare teams to create and update time-sensitive patient documents in MS-Word®, and link to FSSI's digital printing-and-fulfillment center for high-quality production. Experience 100% data-to-delivery, with complete hierarchical control over approvals, revisions and version tracking. Ideal for creating collections letters that stimulate remittance and enhance your revenue cycle.
Workflow tracking and reporting – Lets healthcare teams approve files, view real-time job status and monitor inventory/postage levels 24/7; export trend analysis and reports for data mining or analysis.
Secure compliance – Provides a record of healthcare billing production and delivery while reporting the disposition and location of every mailpiece produced by FSSI – all backed by industry-leading data security, privacy and fail-safe disaster recovery.
Electronic bill presentment and payment – Offers an impressive choice of format and remittance options, including: PDF presentment with optional HTML summary; highly-personalized messages and dynamic graphics; from their electronic bill, patients may choose to pay online, with a credit card, debit card or ACH.
---
Multichannel Communications (Print, Email, SMS)
Text messages can be the quickest and most effective way to reach your patients – especially since its biggest benefit is having the highest engagement rate of any communication channel.
Staying compliant with text and email message regulations and maintaining patient confidentiality is important in any industry but is even more important in healthcare. We are proud to be a HIPAA-compliant medical statement printing provider and complying with the latest regulations for every SMS and email we send.

---
Healthcare Printing Consultation
Stay competitive in the ever-growing and evolving healthcare industry. Contact us online or call us at (714) 436-3300 today to speak with a healthcare printing specialist for a no-obligation consultation or review of your outgoing patient communications strategies.