Personalized Direct Mail Marketing
Quick Facts
Amplify the effectiveness of your direct marketing campaigns with targeted, data-driven communications that speak directly to the recipient. Say goodbye to generic mass mailings - you'll deliver a fully custom, personalized experience that extends beyond the printed mailpiece. An end-to-end multichannel direct mail campaign reinforces your message with the power of digital integration. Streamline repetitive tasks and increase your reach with innovative marketing automation.
Expected Results
Your creative direct mail marketing campaign will generate even higher response rates, engagement and ROI by personalizing your communications and expanding your printed mailing with digital marketing on the web. Savvy marketing and digital technology will enhance any campaign, no matter how complex – with high-performance solutions that keep your brand top of mind from print to web. Track and attribute results, with real-time data and analytics for full transparency and precision.
Choose one (1) minimum. Free cost and shipping on orders.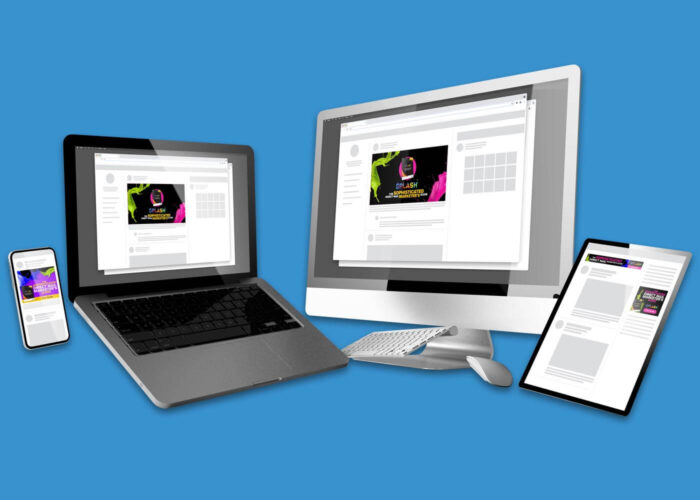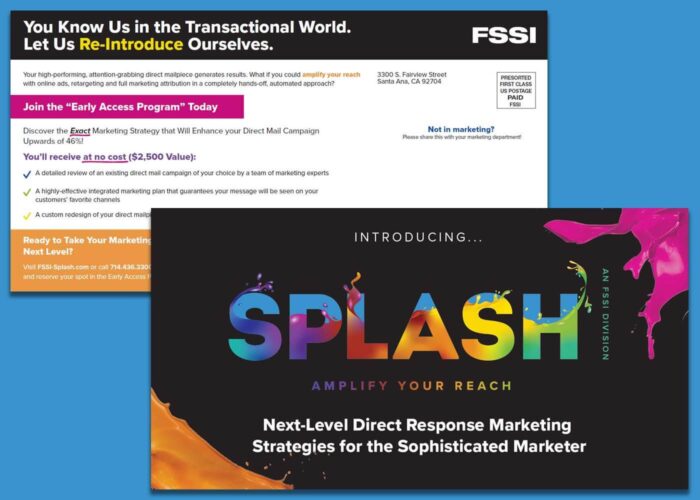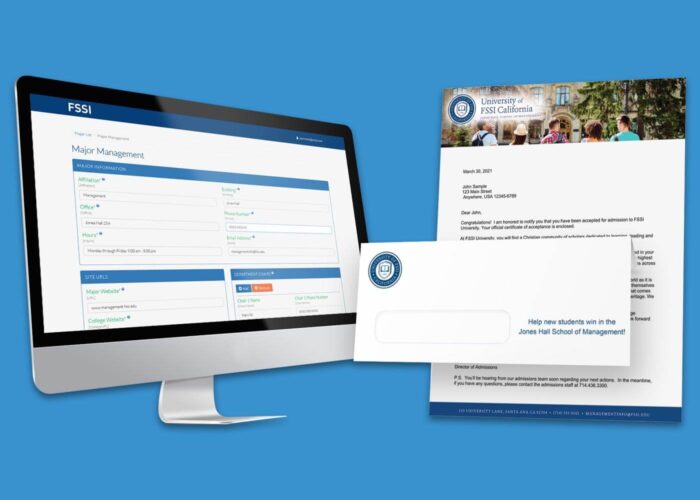 Direct Mail Print and Digital Campaigns
Full-Service Direct Mail Marketing Services
We are a full-service direct mail printing and mailing company and can handle every project from start to finish. Whether it's postcards, self-mailers, letters or multichannel electronic direct marketing, we can help you manage and scale complex campaigns. We work with advertising and marketing agencies, non-profit organizations, the financial services industry and healthcare-related direct mailers, to name a few. Whether your job is a few thousand pieces or in the millions, we can help create a direct marketing solution that works for you.
We take your marketing plan and create an effective, results-oriented strategy that's precise, targeted and fully attributable. The experience is enhanced with an array of types, formats, colors, and variable data and graphics. It isn't a one-size-fits-all approach. Each campaign is tailor-made for maximum effectiveness, utilizing the offerings that best fit your company's unique marketing needs.
1:1 marketing
Highly-customized communications
Data-driven content and visuals
Personalized messaging
Eye-catching and meaningful design
Targeted list purchasing
Comprehensive multichannel campaigns
Advanced data micro-modeling and analytics
In-depth campaign results and attribution
If you aren't considering direct mail as a part of your overall marketing efforts, you are missing a major piece of the puzzle. Why not complement your digital marketing efforts with a printed mailer?
Types of Direct Mailpieces
Target your customers and potential customers with a fully-customized solution that delivers on results. Coupled with print and mail expertise, you can deliver any type of direct mail format, with no project out of scope.
Loyalty and fundraiser mailers
Direct response letters
Appointment reminders
HIPAA compliant direct mail
Specialty and direct mailers
Convenience checks
Postcards and self-mailers
Card affixing, UV coating, slit-and-nesting capabilities
Personalized, Data-Driven Direct Marketing
A 1:1 personalized, data-driven direct mail campaign creates a more tailored customer experience with a clear-cut offer and measurable ROI.  Increase engagement and interactions when people see their name, relatable images and applicable messaging in their communications.
Using specialized software, you can print simple dynamic variables, like names or addresses, or more complex variables that include the addition of custom messages, images, offers or layouts by individual customer. Variable information, including images, printed on each individual document and streamlined in a single job, allows for seamless personalization in the printing process without interruption. You'll deliver a targeted mailpiece that's relevant, timely and eye-catching.
Innovative Direct Mail Printing Technology
We've invested in leading-edge equipment to maximize the value of your marketing communications, eliminating the printing limitations of traditional cut-sheet print methods. Our roll-fed inkjet equipment features high-quality printing that increases artwork flexibility and variable data capabilities. Together with roll-fed finishing gear, we can take on virtually any finishing size.
You get all the benefits of inkjet technology – a variety of stocks and weights, increased color quality and optimum resolution – for a truly innovative direct marketing experience.
State-of-the-art, high-quality inkjet print technology
Variable artwork and data printed inline at high speeds
Any type of paper stock and weight
Sharp, eye-catching finishes
Concentrated color for brilliant output
High resolution for crisp images and graphics
Integrated Digital Marketing
The journey of personalized direct mail doesn't have to end with the printed mailpiece. Extend your reach with multiple touchpoints that utilize social media and Google Network ads, re-targeting with cookies and phone tracking to further hone and target potential customers. You can even attribute hard-to-decipher results for full transparency.
With integrated marketing, a personalized mailpiece is sent to the right recipient at exactly the right time, complemented with online ads and tracked in real-time – a fully automated approach that ties in print and digital media to deliver and reinforce your message.
Multiple touchpoints to amplify your reach
Strategic retargeting with online ads
Real-time mail, phone and web tracking
Comprehensive marketing attribution
Cutting-Edge Marketing Communications Team
Working with a service provider like FSSI, you get a dedicated, in-house team – marketing experts, data analysts, software developers, graphic designers, professional copywriters, color specialists and project managers – working together to generate the highest returns on your campaigns.
Increasing postage costs, shifting compliance regulations, escalating equipment costs and data-handling considerations are handled with ease while you benefit from our cross-industry expertise, secure practices and marketing know-how of a strategic outsource marketing partner.
Splash
Splash, FSSI's Direct Mail and Marketing Services Division, serves as an extension of your own marketing efforts, opening the door to new, cutting-edge direct response and marketing capabilities.
Increase your marketing impact with a strategic approach that includes data analysis, list processing, creative design, personalized messaging and in-depth measurement – plus industry-leading print and mail services. You'll simplify your complex marketing strategies and increase your control and campaign continuity with an all-inclusive direct mail partner.
Make an impact with communications that include innovative, response-driven campaigns designed to elevate your brand and increase response rates. Learn more about Splash today.
Amplify – Expand Your Direct Mail Influence Online
With Amplify, Splash's end-to-end multichannel marketing solution, your direct mail marketing campaign works in tandem with robust digital marketing for stellar results. It includes an automated process that's 100% done for you, with the right promotional activities in place to extend your marketing reach – including full attribution in an online dashboard for visibility and tracking.
It's one-to-one, tailored communications that incorporate next-level capabilities from the print file to delivery, and all the way online, utilizing savvy tools like social match, call and mail tracking, Informed Delivery, online follow-up and lead match.
With data-driven expertise, precise timing and strategic marketing capabilities, you'll experience innovative campaigns that offer a full array of services for sophisticated direct response marketing. Learn more about Amplify today.
Velocity - Complex Letter Management Made Easy
Do you have too many letters with too many variables that are hard to update and manage? Are you spending your days managing Excel files to track your letter content, campaign and customer data fields?  Need to bring order to complex direct mail campaigns? It can be overwhelming when your data is in different locations or inaccessible to an entire team.
With Velocity, Splash's advanced marketing letter management solution, you'll be able to manage all campaign-related data in a single location for maximum order and efficiency. In a customized database, you'll have full control of complex campaigns, easily viewing, entering and updating information on demand and without developer assistance.
Handle more volume and move at a quicker pace with real-time, 24/7 access, knowing that your letter campaigns are accurate, even across many organizations and brands. Learn more about Velocity today.
Direct Mail Compliance
We specialize in sensitive and confidential data like personally identifiable information (PII) and protected health information (PII). Every mailpiece is produced in a SOC 2 audited and HIPAA compliant facility. Let us help you run engaging direct mail campaigns while keeping the private data of your customers protected and secure.
We have over 40 years of experience in handling sensitive, confidential information. We apply that same data handling expertise to the direct mail industry. Whether you are sending out postcards, letters, or any other type of direct mailers, you can expect the same level of data privacy and security.
Can your direct mail services handle confidential data?
Yes. We're experienced in working with organizations in industries that require secure data handling. The good news is we've been there, with tried-and-true practices to keep your data like PII and PHI safe – including successful annual SOC and HIPAA audits.
Our long-standing history in highly-regulated industries puts us in a prime position to handle any confidential data with ease. Our buildings, departments and network are purpose-built for ironclad security while we employ the latest, most advanced technologies and practices to safeguard your data.
What industry verticals do you serve?
We work with a variety of different industry verticals including:
Non-profit Organizations
Banks and Credit Unions
Auto Finance
Consumer Finance
Healthcare
Dental
Mortgage Lending
Insurance
Retail & Commerce
Brokerage & Mutual Funds
Marketing and Advertising Agencies
What is variable data print (VDP)?
Variable data print (VDP) is a data-driven way to improve customer communications, with an automated process that allows you to personalize messaging for each individual customer.
Direct mail letters, notices, postcards and even transactional documents are tailored in the printing process, using software to print each piece with unique information from a spreadsheet or database. Variable information is printed on each individual document and streamlined in a single print job.
You can print simple dynamic variables, like names or addresses, or add custom messages, images, coupons or layouts for specific customers for a custom-tailored approach.
What is direct response marketing?
Direct response marketing optimizes the effect of your direct mail marketing, creating a strategic campaign that's targeted, compelling and specifically designed to elicit an immediate response. It utilizes relevant offers, discounts and specifically-constructed language to turn curious visitors into new or repeat customers.
What is "Electronic Direct Mail?"
Electronic Direct Mail, also referred to as EDM, is a marketing tool in which you build an email database of users and prospects. After building a targeted list, you send out relevant, time-sensitive promotions that drive customers to your business or keep your audience engaged until they are ready to purchase. Electronic direct mail is a valuable relationship-building tactic. EDM campaigns stretch across multiple channels, including printed materials, social media, text messages, and even out-of-home (OOH) advertising to reinforce the messaging and targeting of your campaign.
Choose one (1) minimum. Free cost and shipping on orders.