Mail Outsourcing
Quick Facts
Mail processing, inserting and piece-level tracking are performed using state-of-the-art equipment and technology. Our secure mail outsourcing services offer full workflow efficiencies and compliance-friendly reporting, with quality assurance and monitoring of key data elements. Automated processes and controls ensure critical mailpieces are verified at every stage.
Expected Results
Be assured of impeccable data integrity and timely delivery of every print and mail job with mailpiece tracking and high-speed automated inserting. Reduce mailing costs with optimized postage strategies, house envelope inventory, industry expertise and strong USPS relationships. You'll reduce your compliance risk while increasing the quality and value of your mail.
Choose one (1) minimum. Free cost and shipping on orders.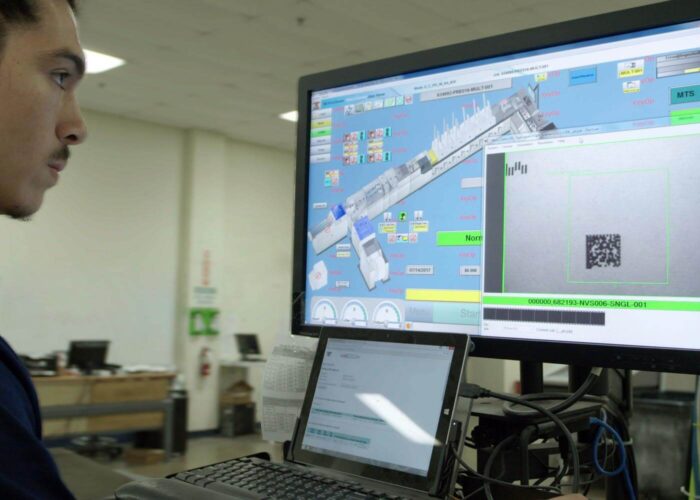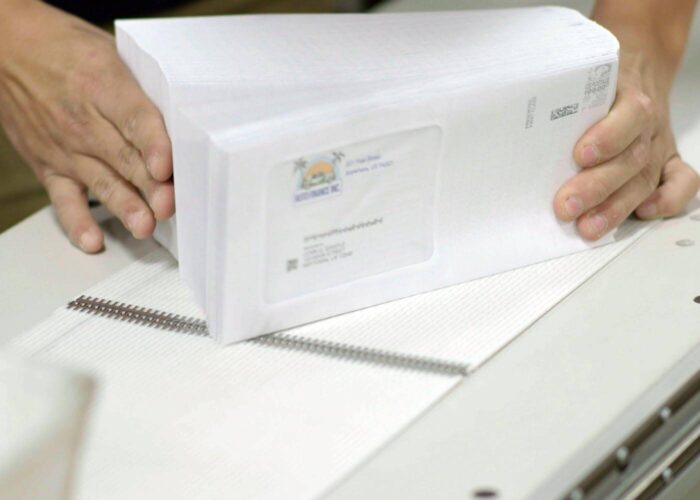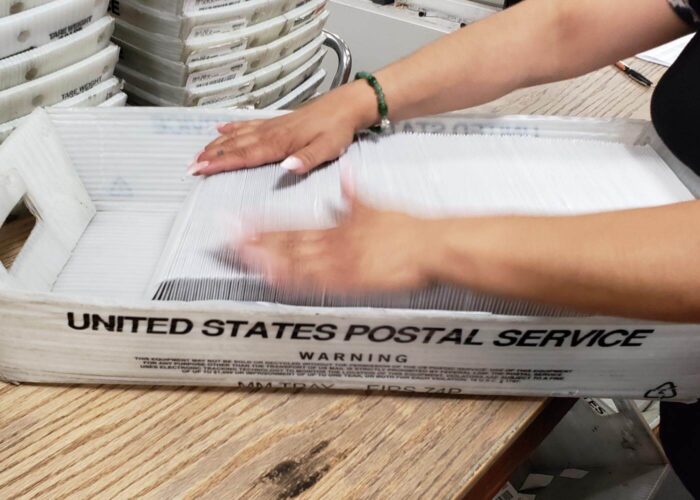 Mail Outsourcing Solutions
Choose one (1) minimum. Free cost and shipping on orders.
Statement and Invoice Mailing
Monthly invoices, bills and statements are important to keeping any business running. However, processing, managing, printing and mailing these statements and invoices take time and company resources that could be better spent on more revenue-focused aspects of your business.
Sending critical documents with an outsourcing company like FSSI can help free up company resources without relinquishing control. With full transparent dashboards, you can see the status of each job and mailpiece within our system online 24/7.
Strengthen your transactional communications while we assure the compliant, safe and secure delivery of all business-critical and sensitive customer documents.
Learn more about our statement printing and mailing services.
Inserting and Mailing
We continually strive to make mail outsourcing as customizable, efficient and simple as possible – a seamless process that works for you while still being 100% secure. Automated mail inserting is a vital part of this process, keeping your printing and mailing solutions in check. Your financial statements, invoices, bills, compliance communications, marketing and regulatory documents benefit from custom folding, inserting and mailing workflow efficiencies.
FSSI's leading-edge technology provides flexible and dependable solutions – with the latest capabilities in selective mail inserting of marketing or compliance inserts and householding of documents with the same address into one envelope. Once the mailpiece is inserted in the envelope, the mail inserter matches each piece to the client's original input file to ensure each document is mailed. This is accomplished with sophisticated camera technology that reads a 2D data matrix through the envelope window and matches it against an FSSI-created database.
Additionally, for mail that can't be fulfilled on automated inserters, we also manage custom mail insertions by hand – ensuring that all mail goes through the same quality control and data security measures as the automated process.
Postage Optimization
Our high-volume mail distribution, long-standing vendor relationships and all-encompassing industry expertise provide the foundation for maximum postage optimization (i.e. we work hard to get you the best rates on your mail). We analyze your mail to ensure the lowest postage rates available, and if appropriate, propose new solutions to maximize savings.
Though total production costs vary by job, one of the biggest ways FSSI helps you optimize your postage costs is through presort automation. When you outsource print and mail production with us, you can leverage this benefit, which results in significantly lower mail costs.
Other practices, such as commingling, utilizing the Intelligent Mail barcode (IMb) and USPS postage promotions, help optimize statement mailing rates and reduce your costs while maintaining the quality of the communications your customers have come to expect.
Online Mailpiece Tracking and Reporting
Our goal is to provide complete transparency – something we really think sets us apart. In-depth online tracking and reporting are cornerstone features of FSSI's mailing outsourcing services, allowing you to track the USPS mail as well as FedEx and other courier data scans.
By matching each mailpiece to your original input file, you gain maximum visibility with granular tracking (i.e. Unique Piece Tracking) – literally down to the individual piece. Integrated with production inserting systems and available via an online client dashboard, UPT provides transparent job monitoring that starts at the beginning with your input file.
Benefits: 
Ensures regulatory compliance from data receipt to mail verification
Confirms delivery/disposition of critical mail
Saves time with online, real-time reporting and tracking of each piece
Provides granular audit trails for full compliance visibility
Cutting-Edge Electronic Document Solutions
Maximize visibility and effectiveness with cutting-edge electronic tools for your certified and return mail solutions needs. Our mail outsourcing and postage expertise provide a leg-up with tools that give you an inside look into the inner workings of essential mail processes – no more unknowns or guesswork.
eCertify (Electronic Certified Mail Solution) – Certified Mail is a USPS service that provides the sender with an official receipt showing signature proof that a mailpiece was delivered to the recipient. Cataloging and finding the hard copy "green cards" of these important Certified Mail documents is difficult and expensive with the traditional method. FSSI's eCertify tool simplifies the process by creating and printing the required labels in line with the document to be mailed and inserting them into a special Certified Mail window envelope, resulting in high-quality, secure processing. The delivery confirmation is then posted online, including the signature from the recipient and the reasons for non-delivery, if applicable.
eReturn Mail (Electronic Returned Mail Solution) – NCOA doesn't capture all undeliverable mail, only changes of address that were registered with the USPS – meaning you still receive all other "Undeliverable as Addressed" (UAA) mailpieces. Trays of return mail can stack up in mailrooms, resulting in wasted postage and time to manually review. FSSI's eReturn Mail tool covers ALL undeliverable and change-of-address mail by providing you with a formatted data return file that includes address information and reasons for non-delivery. Your customer address database can be updated in real-time or correspondence can be coordinated to get consent to make the updates. Learn More
Quality Assurance Processes
We're on top of it! There are in-house processes and controls in place to ensure the quality of your job, from file processing to mailing. These detailed processes include the review, verification and reconciliation of all production, postage and quality control documentation – making sure that there is superior quality across the board from your mail outsourcing provider.
Automated file tracking and handling
Internal tools for scheduling, tracking files and monitoring SLAs
Per-piece-level tracking and validation against our Unique Piece Tracking (UPT) database created during data processing
Independent Quality Audit (QA) Team to quality-check:

Inserter setups, including inserts, postage, folds and envelopes
Job inserting throughout the process
Closing out of each job before USPS delivery
High-Tech Mailing Equipment Capabilities
Our automated mailing services include key production capabilities for optimum performance:
High-speed automated collating inserters
Selective inserting for marketing and compliance inserts
Leading-edge camera validation technologies
In-depth independent QA processes
Cut sheet and roll-to-roll stock input options
Streamlined self-mailer production
Post-press digital web systems for off-line cutting, scoring, folding and gluing for production of inserts and mailers
Multiple Delivery Options
There are multiple mail distribution options for your output, depending on the type of the mailpiece, required speed of delivery and overall budget, which include:
USPS
First Class or Standard Mail
Priority or Express Mail
Certified Mail
All mail is tracked via UPT and IMb reporting
USPS SCF in Santa Ana is one mile from the FSSI Santa Ana facility
FedEx or UPS
Inline printing of FedEx labels and insertion into special FedEx window envelopes
Online reporting/tracking available via third-party websites
House Envelopes
Using FSSI's house envelopes cuts down on the cost of mailing, with multiple-size envelopes on hand for immediate use. House inventory prevents the need for costly special orders or delays. With postage rates varying greatly among different sizes of mail, creating a standard-sized mailpiece, approved in advance by the USPS, will keep your costs in line while also providing options for the sizes and types of envelopes you can use.
What is Mail Outsourcing?
Mail outsourcing is when a business turns over its mailing of business-critical documents to a mail management company that has specialized expertise in the statement mailing industry to help save time, save money and increase the efficiency of a business's processes. A few reasons businesses outsource the printing of confidential documents are to lower their compliance risk, improve their workflows, reduce costs and resources, and open themselves up to focus on core business objectives.
What are the benefits of mail outsourcing?
Outsourced mailing services are a proven method to increase efficiency while decreasing the costs associated with sending customer documents. You can further reduce your compliance risk and improve the quality and value of transactional, compliance and marketing-related documents with a partner that is well-versed in processing quality mail.
Reach your goals with full visibility and control over inventory, postage and reporting – providing a maximized mail experience.
Minimize capital investments
Avoid long-term lease commitments
Reduce envelope and production costs
Take advantage of postal presorting to ensure maximum postal discounts
Reduce delivery costs
Gain full reporting and trackability of each mailpiece with a secure compliance reporting tool
How do we secure your data?
To protect the sensitive data of our clients including personally identifiable information (PII) and protected health information (PHI) we adhere to strict physical and electronic data security protections.
Some of our security practices include:
Building security
User/Server level security
Secure data standards like SFTP, PGP Encryption, network firewall Intrusion Prevention System (IPS)
Secure destruction of documents
Consistent employee training from KnowBe4®
How does FSSI reduce postage costs?
FSSI helps you leverage the maximum mail savings through multiple levels of presort automation – one of the main reasons many companies partner with a third-party print and mail vendor.
We analyze your mail to ensure the lowest postage rates possible, and if appropriate, propose a postal optimization solution that may include recommendations, such as duplex printing, householding, selective inserting and envelope sizing to increase overall savings.
What are the advantages of FSSI's mail partnerships?
Strategic partnerships, such as with the USPS, FedEx, Pitney Bowes Presort Services and other shipping companies, allow our clients to benefit from postage discounts, reduced material costs and the most efficient delivery systems – optimizing the customer experience and providing cost-effective solutions.
How does FSSI's secure compliance reporting tool work?
Through innovative job tracking tools, you can verify the delivery of time-sensitive mailpieces throughout the postal journey. Our workflow and document management reporting tools work with delivery by the U.S. Postal Service and other common carriers and also provide valuable audit-worthy reports, with all related activity available securely online or in a return file.
Why should clients utilize a HIPAA-compliant mail outsourcer?
Utilizing a third-party, HIPAA-compliant print and mail outsourcer, like FSSI, provides a secure end-to-end solution that effectively handles sensitive patient documents and minimizes overall risk – saving time and money.
FSSI's HIPAA compliant mail outsourcing solutions help healthcare providers enhance the security of their patient billing. We've invested heavily in data security and privacy technology that ensures that sensitive patient information is protected.
Unlike other print and mail companies, FSSI offers web-based workflow, individual mailpiece tracking and reporting. Real-time online tools create an accurate, auditable trail for the lifecycle of each mailpiece produced in our facility to USPS induction.
Choose one (1) minimum. Free cost and shipping on orders.