How-to Guides, Postage and Mailing, Regulatory Compliance
Certified Mail: A Comprehensive Guide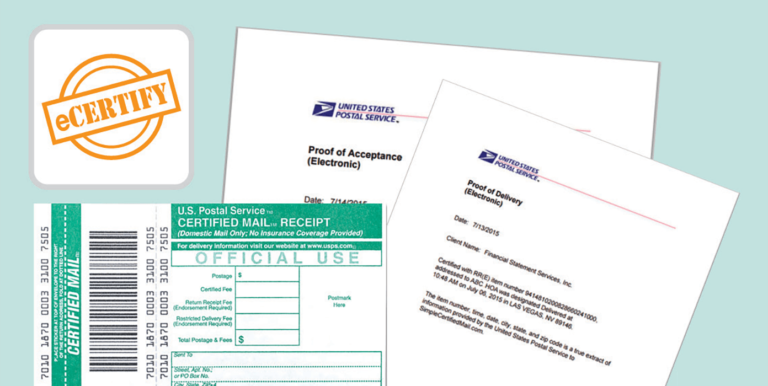 In today's fast-paced digital era, where communication is predominantly conducted through emails, messaging apps, and online platforms, the value of physical mail may sometimes be overlooked. However, there are situations where the importance of reliable, trackable, and secure delivery cannot be understated. This is where Certified Mail comes into play.
In this comprehensive guide to Certified Mail, we will delve into the ins and outs of this invaluable service. We will explore the benefits, regulations, and best practices associated with Certified Mail, shedding light on how it can streamline your communication process and enhance the reliability of your important deliveries.
Discover how this reliable service can bring efficiency, accountability, and peace of mind to your mailing needs, regardless of whether you operate in the legal field, healthcare industry, or any other sector that relies on secure document transmission. Prepare to unlock a wealth of knowledge and gain actionable insights that will empower you to make informed decisions when it comes to utilizing Certified Mail for your important communications.
---
What is Certified Mail?
Certified mail is a specialized service offered exclusively by The United States Postal Service (USPS). It is designed for sending important and time-sensitive documents or materials that require tracking and secure delivery. When sending certified mail, the sender receives a mailing receipt and electronic verification, providing proof that the item was mailed and a record of its delivery or delivery attempt.
This service is limited to First-Class Mail or Priority Mail and is available only for domestic delivery within the United States. Certified mail offers several benefits, including enhanced security and accountability. It is commonly used by individuals, businesses, and organizations that require a reliable method to track and ensure the delivery of their important correspondence and materials.
---
Who Uses Certified Mail?
Any person can send Certified Mail. However, due to business and regulatory reasons, mainly companies send Certified Mailings. Certified mail offers companies proof of mailing, secure delivery, as well as archival proof of delivery.
---
Benefits of Certified Mail
Proof of Mail
Delivery Confirmation
Increased Security and Confidentiality
Legal Documentation
Dispute Resolution
P.O Boxes
Return Receipt
Proof of Mail
With certified mail, you receive a mailing receipt that serves as evidence of sending the item. This receipt includes the date of mailing and a unique tracking number, providing you with a record of when the item was dispatched.
Delivery Confirmation
With certified mail, you receive a mailing receipt that serves as evidence of sending the item. This receipt includes the date of mailing and a unique tracking number, providing you with a record of when the item was dispatched.
Increased Security and Confidentiality
Certified mail offers an added level of security for your important documents or materials. It requires the recipient or an authorized person to sign for the item upon delivery, ensuring that it reaches the intended recipient securely.
Legal Documentation
When sending legal or sensitive documents, using certified mail helps establish a chain of custody. The mailing receipt and delivery confirmation serve as legal proof that the item was sent and received, which can be important for legal and official purposes.
Dispute Resolution
In cases where disputes or disagreements arise regarding the delivery of an item, certified mail provides documentation to resolve such issues. The tracking information and delivery confirmation can be used as evidence in case of any disputes or discrepancies.
Create a Sense of Urgency
When the recipient has to physically sign for Certified Mail, it creates a sense of urgency to open and read the documents. Another advantage of Certified Mail is that it also makes documents look more official and less likely to be found in the junk pile.
P.O. Boxes
USPS Certified Mail is sent to a P.O. box. After that, the delivery notification is found inside the P.O. box. This instructs the recipient to present the delivery slip to the USPS window clerk. After signing the delivery receipt, the Certified Mail is given to the recipient.
Return Receipt
In many cases, senders can purchase a Return Receipt for an additional fee. A Return Receipt, also known as a Certificate of Mailing, is a hard copy that shows the recipient's signature as well as the date and time of each mail-piece delivery. If the sender does not initially purchase the Return Receipt service, you can request a Duplicate Return Receipt for up to two years.
Return Receipt Signatures are now also available in electronic format. Electronic PDF files are quickly replacing hard copies. This is because electronic PDF files are easier to administer, cost less to mail, and are easier to store. Ultimately, this makes them much harder to lose. The PDF format can also easily be emailed or shared. Copies of each Certified Mail transaction including the Electronic Delivery confirmations and Electronic Return Receipt PDF files are stored for 10 years at no additional charge.
---

---
Is Certified Mail Worth the Added Cost?
Deciding whether certified mail is worth the cost ultimately depends on the value you place on added security and peace of mind. While certified mail incurs an additional expense, it offers several benefits that can outweigh the cost. With certified mail, you gain enhanced security for documents containing sensitive information, ensuring they are handled with care throughout the delivery process. The included proof of mailing and delivery confirmation provide legal documentation and peace of mind, especially when dealing with crucial or time-sensitive materials.
By investing in certified mail, you can prioritize the safety and accountability of your important correspondence, making it a valuable option for situations where added security is paramount.
---
USPS Mailing Terms Glossary
We put together a massive glossary of terms used in the mailing industry. We define USPS postal terms and acronyms; we explain postal service levels and more. Check out the Glossary of USPS Mailing Terms here.
---

eCertify – FSSI's Electronic Certified Mail Solution
Take advantage of the Benefits of Certified Mail. We've made the process simpler with eCertify. This certified mail tool is an electronic method developed by FSSI for current and prospective clients. A challenge concerning the traditional method for Certified Mail is receiving hard copies of important documents. This includes the Proof of Mailing and Return Receipts.
Hard copies can be difficult to manage and oftentimes difficult to find. FSSI simplifies the mailing process by creating and printing the required labels from client print files in line with the document to be mailed. We insert the document and labels into specially marked certified envelopes. They then move on to USPS delivery. We post Electronic Delivery Confirmation and Return Receipt Signature online within hours of receiving a signing for a document. We can also transmit this same information for upload into clients' in-house archival systems.
Benefits of eCertify Certified Mail Solution
Greater efficiency and productivity — Upon receipt of the Certified Mail by the USPS, a Proof of Acceptance document and tracking of the mailpiece throughout the USPS system is available in FSSI's eCertify reporting. Conveniently, eCertify replaces the burdensome process of manually creating, managing and archiving the physical return of Return Receipts and Proof of Acceptance forms
Single vendor simplicity — FSSI handles all mail. This provides greater accountability and integrated reporting.
Business process support — eCertify electronically posts and archives Return Receipt information within hours of mail delivery.
Considerable savings potential — The eCertify service reduces costs associated with postal fees, label preparation, and physical Return Receipt storage and retrieval.
---
Built-in Accountability Reporting
Through workStreamOne™, FSSI's Online Job Tracking and Reporting tool, proof of delivery information and USPS mailpiece tracking and reporting are accessible online by authorized users, 24/7. Comprehensive eCertify reports detail the name and address of each recipient. Reports also include the USPS tracking information and Tracking Number, and the final delivery date.
Contact us to learn how FSSI can help automate and simplify your company's Certified Mail processes. Take advantage of the benefits of certified mail. Contact a Certified Mail Specialist today at 714.436.3300.
---