Insurance Printing and Mailing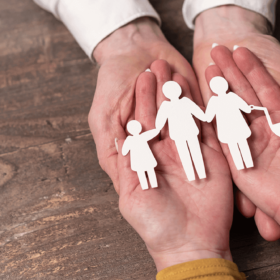 With over 40 years of experience, we have developed effective print and mail solutions tailored to the unique requirements and objectives of the insurance industry.
Our outsourcing solutions for insurance companies are designed to reduce the risks and costs associated with insurance document processing while increasing engagement and retention through visually appealing and easy-to-read communications. We have worked with various insurance providers, including auto insurance, health insurance, homeowners' insurance and more.
Services include:
Comprehensive print and mail solutions (statements, invoices, EOB, EOC, marketing letters)
Electronic bill presentment & payment (EBPP) integration
Workflow tracking and reporting
Disaster recovery and business continuity built-in
Postcards, letters, variable data printing, mailing lists, and online retargeting
Compliance letter and notice management
Return mail processing solutions
Multichannel direct mail marketing
Document redesign services
---
Document Sample PDFs
---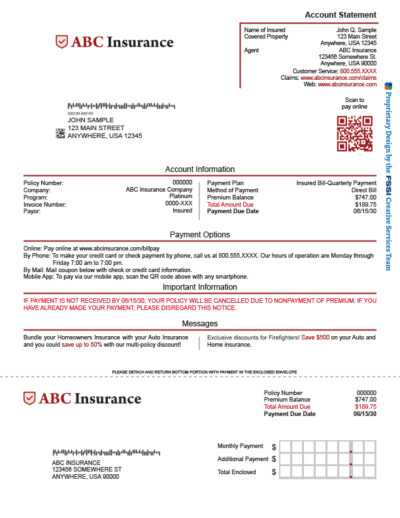 What Types of Insurance Documents are Processed at FSSI
FSSI combines state-of-the-art technologies with secure printing processes to offer customized print and mail services that automate and track the production and delivery of printed or electronic policyholder communications. Our services include:
Monthly policy billing statements
Policy cancellation notifications
Renewal declarations and ID cards
Policy reinstatement notices w/Proof of Mailing (POM)
Explanation of Benefits (EOB) statements
Lender-placed insurance letters
Notices of collateral protection insurance
eDocuments and eNotifications
---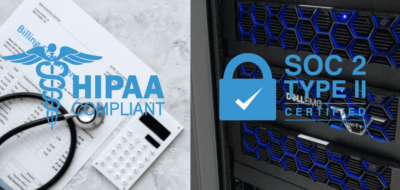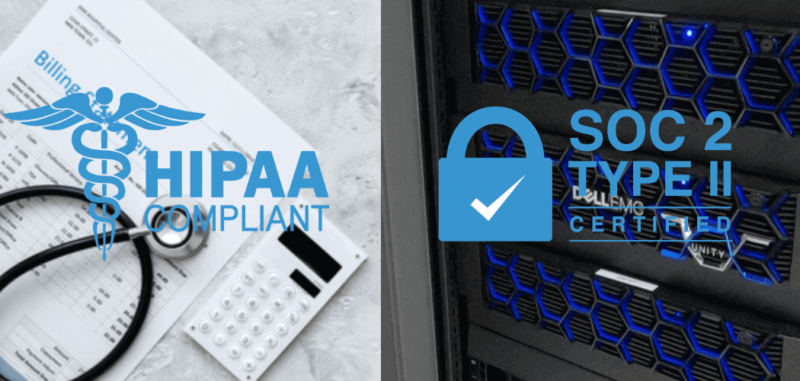 Why Do Clients Trust FSSI to Handle Sensitive Customer Documents?
In the past, insurance companies faced challenges in outsourcing the printing and mailing of insurance documents due to transparency, control, technology limitations and costs.
However, working with FSSI, we have implemented regulatory-compliant security practices, detailed mailpiece tracking and reduced entry costs, making outsourcing a more viable option. To learn more about the benefits of outsourcing print and mail for insurance providers read our Business Process Outsourcing blog.
Read our insurance outsourcing FAQ for more commonly asked questions.
---
Comprehensive Print and Mail Solutions for Insurance Companies
Our services include print, mail, data processing, marketing communications and electronic document presentment. We have developed policyholder communications strategies that comply with ever-changing regulations. We collaborate with various insurance specialties, including auto, home, life, health insurance providers and more.
Quality, accuracy, security, and value are at the core of our processes when processing and mailing regulatory-mandated documents. FSSI offers unique features that set us apart:
Insurance document processing: Monthly policy billing statements, policy cancellation notifications, renewal declarations, ID cards, policy reinstatement notices, Explanation of Benefits (EOB) statements, lender-placed insurance letters, notices of collateral protection insurance, eDocuments and eNotifications
Bill and invoice processing: Let us handle your billing process efficiently, reducing overhead and minimizing errors.
Check mailing services: We can print checks with MICR and inline with other documents
Health insurance document management: In the healthcare industry, precision is crucial. Count on us for meticulous HIPAA compliant document handling. We handle PHI and other sensitive patient data.
Direct mail marketing campaigns: Elevate your marketing efforts with our multichannel direct mail expertise.
Digital document presentment solutions: eStatements, online banking, eNotifications, and digital archival options
Workflow tracking and reporting: You can check the status of any job sent to FSSI for processing at any time from any web-connected device. Detailed volume and activity reports are generated and updated as each file is processed throughout the entire production process.
Disaster recovery and business continuity: FSSI provides disaster recovery backup and production overflow services to safeguard against data loss due to unexpected events and ensures critical mail still gets out during a disaster.
Compliance letter and notice management: Our streamlined letter management system helps insurance companies efficiently handle time-critical insurance correspondence in accordance with regulatory mandates. Combined with FSSI's digital print-mail production and reporting, compliant processing and delivery of letters, notices and insurance declarations are ensured.
Return mail processing: FSSI's return mail solution, eReturn mail simplifies the management of undeliverable as addressed mail, ensuring Move Update compliance and automatic updates to your customer address database.
Document redesign services: We understand the value of every customer touchpoint for an insurance company. Our in-house team of graphic designers can help improve the effectiveness and understanding of your transactional documents through document composition, layout and color usage best practices.
---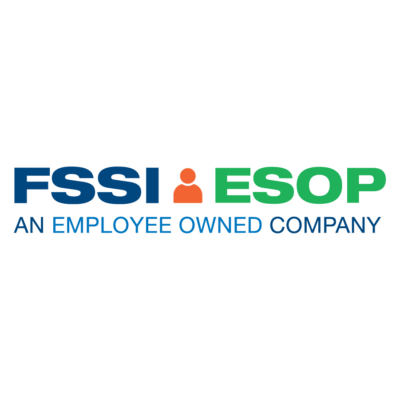 What Sets Us Apart as an Insurance Print Vendor?
Outsourcing to FSSI can significantly impact lead times and delivery accuracy. Our state-of-the-art facility is strategically designed for quick and error-free job completion. From advanced digital inkjet printers to streamlined inserting and finishing capabilities, we ensure on-time processing and delivery of your critical documents.
When you partner with FSSI, you gain access to a wealth of advantages that can revolutionize your operations:
Cost efficiency: Reduce the stress and costs of in-house document production. We help you save both time and money.
Operational efficiency: Our strategic document composition services streamline your processes, ensuring maximum operational efficiency.
Design excellence: We leverage industry-leading design techniques to enhance the layout, branding, messaging, and marketing of your documents.
Transparency and accountability: With FSSI, you have full transparency through in-depth workflow tracking and real-time reporting.
Compliance assurance: Reduce risk, avoid penalties, and optimize production efficiency with our compliant print, mail, and electronic services.
---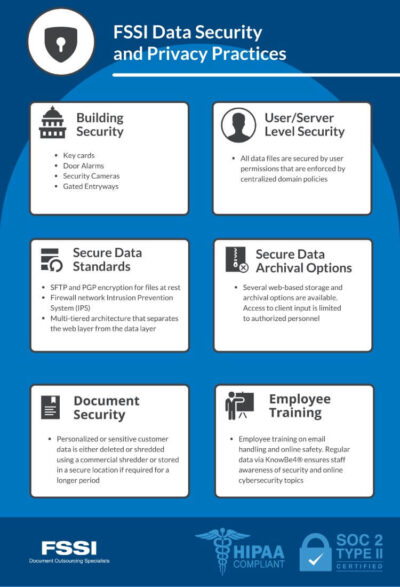 Keep your Agency Compliant with Insurance Regulations
We understand that insurance companies face a dynamic regulatory environment. Our commitment to compliance begins with a meticulous understanding of the ever-changing regulatory landscape. We stay vigilant, monitoring updates and changes from regulatory bodies to ensure our services align with the latest requirements.
At FSSI, data security and privacy as well as business continuity and disaster recovery are at the core of what we do. We pass annual SOC 2 audits and are HIPAA compliant in both our Santa Ana, California and Coppell, Texas print and mail facilities. Some of our security practices include:
Building security
User/server-level security
Secure data standards
Secure data archival options
Document security
Employee training
---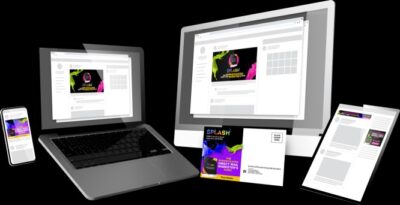 Direct Mail Solutions for Insurance Agencies: Reaching Prospects Effectively
Direct mail remains a valuable tool for insurance companies to stay in front of prospects and improve lead generation. Whether you offer life insurance, auto insurance, or homeowners' insurance, we provide direct mail solutions for insurance agencies of all sizes. Our approach combines traditional printed postcards with digital marketing integration, utilizing website retargeting and display ads to extend your marketing reach online.
Direct mail is a powerful marketing channel for insurance agencies to grow their business.
Multichannel Direct Mail Marketing Offerings for Insurance Agencies
Postcards
Letters
Variable data printing
Mailing lists
Online retargeting and digital marketing automation
Online dashboard for campaign tracking and analytics
Our data-driven, end-to-end multichannel direct marketing solution combines direct mail with robust digital marketing strategies, ensuring optimal campaign reach and overall results. Our automated process handles all aspects, from promotional activities to full attribution in an online dashboard for visibility and tracking.
If you are interested in advanced direct mail marketing campaigns that integrate print with digital marketing automation and online retargeting, visit our marketing services division, Splash, to learn more.

---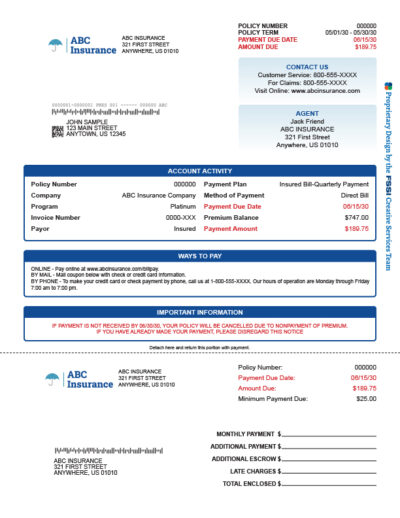 Schedule a Consultation: Discover the Benefits for Your Insurance Agency
Our secure processes and technology enable us to provide 100% data-to-document integrity and output accuracy at every step. Let us help you process a variety of business-critical documents for the insurance industry. From transactional to marketing documents let us help your insurance company securely process:
Monthly policy billing statements
Policy cancellation notifications
Renewal declarations and ID cards
Policy reinstatement notices
Explanation of benefits (EOB) statements
Lender-placed insurance letters
Notices of collateral protection insurance
eDocuments and eNotifications
Direct mail marketing postcards and letters
Could your insurance agency benefit from partnering with a print and mail service provider like FSSI? Contact us online or call us at 714.436.3300 today for a no-obligation consultation, to schedule a product demo or a review of your existing insurance documents.