Statement Messaging
Quick Facts
Transform documents into powerful relationship-building tools with personalized on-page messaging. You'll seamlessly deliver targeted messages and maximize whitespace through a fully-accessible, self-service messaging portal. Add strategically-placed promotional, legal, account or educational content and graphics based on pre-defined, data-driven variables.
Expected Results
Integrate messaging based on business needs or marketing strategies, defining the audience and delivery with real-time capabilities. You'll increase customer satisfaction and loyalty with relevant communications that speak directly to the recipient, while improving response rates and revenue with a personalized customer experience.
Choose one (1) minimum. Free cost and shipping on orders.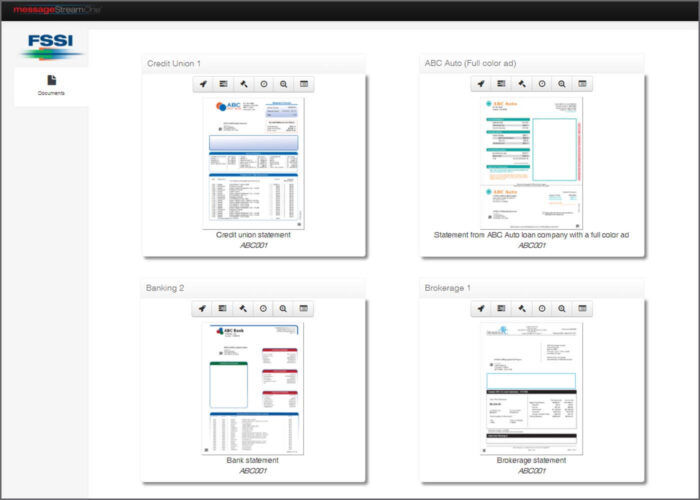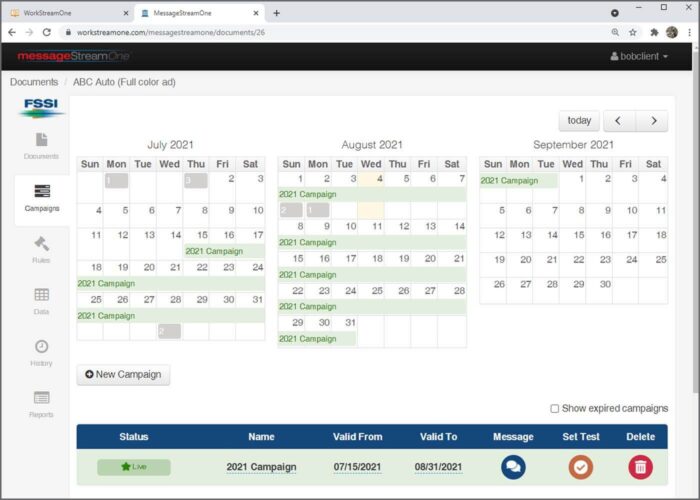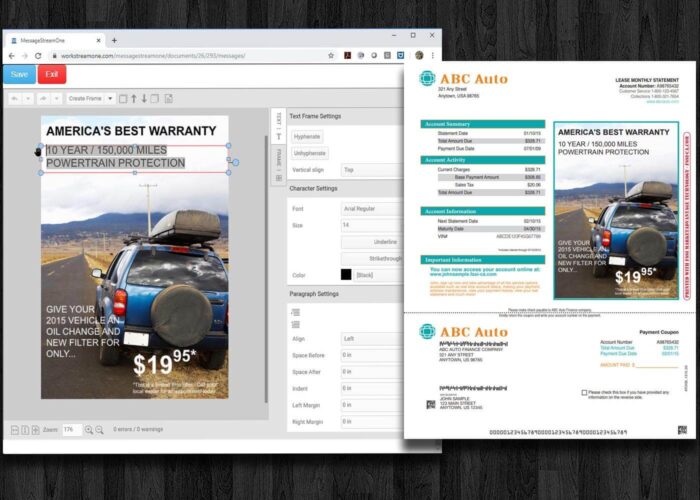 Online Statement Messaging Tools
Choose one (1) minimum. Free cost and shipping on orders.
Effective Data-Driven Document Messaging
Take charge of your messaging efforts, capitalizing on the opportunities available within your business and marketing documents. With user-friendly document design capabilities, you can strategically utilize the space where messages are most likely to be seen to maximize your customer communications.
Serve relevant, data-driven messages
Elevate your business or marketing initiatives
Boost engagement and response rates
Eliminate programming wait times and development costs
Have brand consistency across all marketing channels
Refine your strategy with up-to-the-minute analytics and reports
Self-Service Content Messaging Portal
Effectively manage message templates and campaign efforts 24/7, with immediate and real-time access to document messaging. You'll have complete control with a self-directed portal that puts you in the driver's seat.
Your customer-facing print or electronic documents (statements, invoices, emails or ePresentment webpages) serve as the templates – all available for personalization by adding strategic account, educational, legal or marketing-related messages. Use robust functionality to manage the message areas with step-by-step instruction and guidance.
Edit the pre-defined message area by adding layers of text and graphics or by uploading a fully composed design. You can produce the desired effect with a few simple clicks – add or change verbiage, apply color and adjust the text or graphic size to fit the available space for an eye-catching result.
Easily add elements, preview the outcome and test against your data set, with an easy-to-use online tool designed to increase productivity and advance your business or marketing efforts.
Interactive Hyperlinks for eDocuments
Grow your marketing presence by adding trackable hyperlinks to your electronic documents. When your customers click the links, they will be directed to a landing page to access information or respond with a specific action. You can tailor the messaging on this page and leverage the traffic directly from your documents – maximizing your dedicated audience. The click-through-rate activity is viewable in a detailed click tracking report.
Multichannel Messaging and Marketing
FSSI's statement messaging capabilities act as an extension of your company's full marketing efforts, providing consistent, customer-driven messaging across multiple channels.
With links to a webpage, social channel, dedicated landing page, whitepaper or email, you can reinforce your marketing message and brand with a cohesive approach. This personalized customer experience can increase engagement, loyalty and overall marketing ROI.
Insightful Campaign Metrics
Tracking and reporting provide the insights to make data-based decisions or adjust your approach.
You'll have access to a wide range of metrics and reports. Preview message counts in a specific time period, live campaign metrics and other valuable production reports to see how many messages of each type were used in your templates.
Use this information as a baseline for refining your marketing or document message management strategy to gain more traction and optimize your efforts.
messageStreamOne
FSSI's messageStreamOne (MSO) solution is a self-managed messaging portal that gives you complete, real-time design control over on-page text and graphics in your customer communications. These on-page elements are dynamically placed based on pre-defined variable data into templates, according to your campaign objectives.
The intuitive system efficiently handles campaigns of any size or complexity, standing on its own or working in conjunction with a larger business initiative or marketing campaign – opening the door to education, cross-selling, upselling and brand-building opportunities. Learn more about messageStreamOne today.
Comprehensive Content Management
Think of a campaign as a container of specific messages for a specific time period. Using the portal's functionality, you can manage live campaigns and plan others in advance. For example, if you know that you want to offer your customers a special discount or incentive that coincides with a holiday or special event, you can build that in as a planned campaign.
Campaign messaging can be simple or complex – all of which are addressed based on pre-set criteria for specific applications. From set-up and rules to messages and launch, you'll effectively tailor your messaging efforts with a seamless user experience that utilizes intuitive functionality.
Calendar – Oversee live, future and expired campaigns in a detailed calendar view, with the option to edit the calendar text, access the message interface or delete a campaign – staying on schedule and setting up or planning a future campaign.
Set-up – Create a new campaign or copy an existing one and include relevant details, including the transfer or set up of rules and messages as well as defining start and end dates.
Rules – Create rules at the template level and use them in a single campaign or across multiple campaigns to effectively address a single or group of parameters that are set based on pre-defined data, such as targeting states or account status.
Campaigns – Access and view live campaigns for a specific template when the valid dates coincide with the current date. When a campaign is "live" during a production run, the messages will be dynamically populated into the document based on your pre-set rules and criteria.
Prioritize which message shows up when a recipient qualifies for more than one rule and set default messages to ensure that no statement is sent with an empty message box when no rules apply – all of your message types will be covered.
What are the benefits of FSSI's statement messaging enhancements?
You can have full control of your on-page messaging and make changes on the fly, with consistent data-driven messages across all channels. FSSI's online messaging portal gives you the power to self-manage the color, text and graphics in the designated white space of your documents.
Imagine integrating strategic business or marketing communications while controlling the audience and delivery. You'll boost engagement and response rates with targeted messaging that's relevant, timely and supports your company initiatives.
Do you need design expertise to add marketing messages to documents?
You don't need to be an expert designer to add messaging to your documents. The online message editor is user-friendly, with seamless functionality that walks you through the steps to add text and graphics to your documents. Take advantage of valuable education, upselling and cross-selling opportunities.
Have a design team? Upload their fully-composed artwork set to the exact message size with a familiar upload document function.
How can personalization with selective messages improve customer communications?
The use of dynamically-inserted messages enables you to customize and personalize printed documents that:
Connect you with customers in a more powerful, personal way
Transform ordinary customer documents into valuable communication tools
Add impact and relevance to dull or static account documents
Increase brand loyalty and return on your marketing investment
Choose one (1) minimum. Free cost and shipping on orders.