Workflow Tracking and Reporting
Quick Facts
Get an inside look into the entire document workflow process with the highest level of job-monitoring, web-based tracking and reporting capabilities in one convenient and intuitive online portal. You'll have 24/7 access to real-time data and analytics, including information such as file receipt, sample approval files, job status, inventory on hand and postage balances.
Expected Results
Gain complete transparency across all production stages with immediate metrics and reports for greater accountability and control. Easily monitor work order progress with insights into all aspects of your outsourced print, mail and ePresentment jobs, quickly retrieving the valuable data you need to ensure workflow compliance.
Choose one (1) minimum. Free cost and shipping on orders.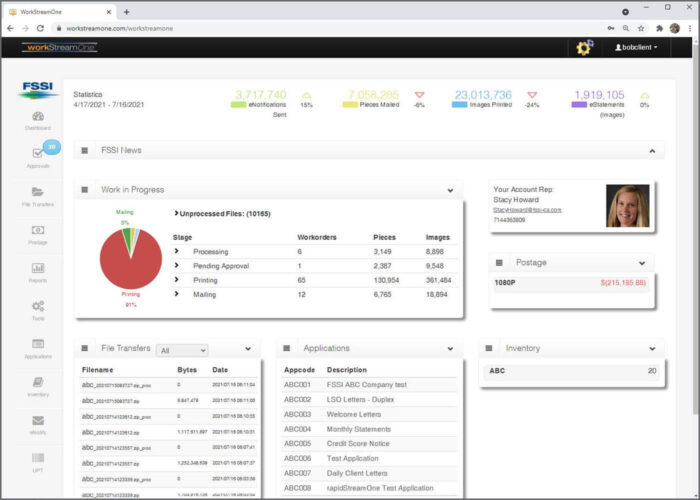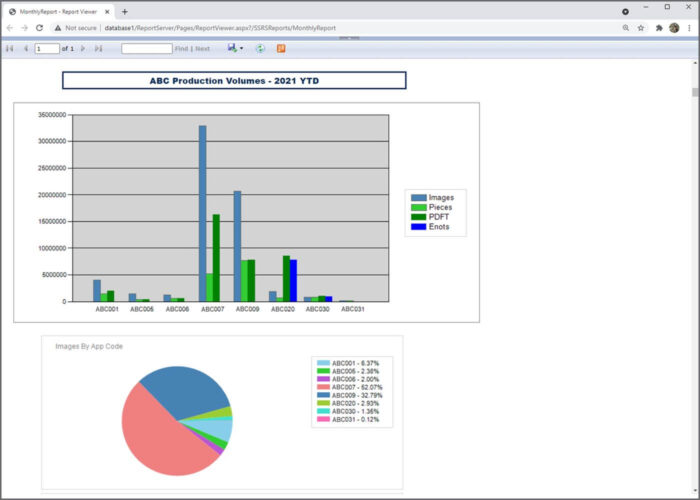 Production and Mailpiece Tracking
Choose one (1) minimum. Free cost and shipping on orders.
Comprehensive Web-Based Job Tracking, Monitoring and Reporting
When it comes to your print, mail and electronic job tracking, there is no aspect that goes unreported, from day-to-day activity to in-depth reports and trend analysis.
You'll have immediate access to an abundance of production data and online job tracking and reporting, with additional go-to access to historical trends over a specific time period. Benefit from real-time analytics and metrics, detailed visual charts and graphics, and exportable management reports for an optimized user experience.
Need to know that a specific file was received? Not sure about your current postage balance? Ready to review a PDF sample file for approval? Quickly and easily log in and access the immediate details you need. It's full, audit-ready, in-depth monitoring and reporting at your fingertips.
File Transfers – Know exactly what files were received and when. View the file name and date/time stamps, in addition to the file size and location of receipt for confirmation of successful file transfers.
Secure PDF Approvals – Stay on top of pending sample approvals, with a secure PDF Approval Interface to review files before print, mail and electronic presentment. You'll never miss an alert, with email notifications that samples are ready to review. Immediately access PDF samples and mark "Approved" or "Rejected" and track the approval history.
Work Order Status – Access information related to date and time activity stamps, files processed and when a work order was completed in each department. Dive further into the production metrics for detailed insights into the image and piece counts and postage used.
Inventory – Monitor the levels of your custom stock, envelopes and inserts, with safeguards in place to stay on top of inventory levels with pre-set re-order points. You'll be able to view every aspect of your inventory, from tracking historical activity to measuring usage based on stock codes.
Postage – Eliminate any guesswork when it comes to your postage, with a breakdown of active and completed jobs. You'll always know your current postage balance, available spend and rates, with a clear picture of all job-related postage details. Detailed reports can also assist with expense and budget summaries.
SLA Metrics – Easily find out if your jobs were mailed on time by quickly accessing the SLA Report, which details the number of pieces in each work order that were mailed early, on time and late.
Real-Time Insights and Analytics
Are you in the dark when it comes to your document workflow? You can say goodbye to any unknowns with immediate, 24/7 secure access to real-time information.
Seamlessly access a top-level view or drill down into the granular details of active jobs and historical information. Locate important information quickly, with an accurate, up-to-the-minute view of your job. Be fully connected and compliant with the latest data, insights and tracking tools.
Highest level of detail
24/7 real-time access
Viewable on all devices
Overview of the entire document workflow process
Summary or drill-down of job-related information
Detailed visual charts and graphs
Greater accountability and control
Hierarchical Control
Provide full or limited access by user based on pre-set hierarchical controls, designating access based on each user's job and business requirements. Authorize different individuals or teams to monitor different kinds of information. Once authenticated, they can only view the production-related information that you pre-determine – allowing you to fully manage the accessibility of job details and related metrics.
workStreamOne
FSSI's workStreamOne solution is an all-inclusive, web-based workflow management portal where you can track and monitor job statuses and delve into the numbers through a responsive, client-facing dashboard – for full production transparency and control.
You'll find a summary overview of all jobs, with the ability to easily track mail through FSSI departments and into the mailstream. There is single sign-on access to other FSSI tools, plus savvy functionality to help you take command of your document workflow – from quick, top-level statistics to management reports. Learn more about workStreamOne today.
Robust Reporting Dashboard
The workStreamOne dashboard is your gateway to comprehensive data and reports. When you log into FSSI's secure workflow management portal, you'll encounter an intuitive widget-based dashboard experience – much like navigating a homepage – providing an overview of job tracking capabilities.
There are widget panes and navigation buttons that collapse and expand to adjust the view and extra buttons that lead to in-depth sections with extensive information, putting a wealth of data just a few clicks away. It's a complete overview on one screen.
The sophisticated functionality provides streamlined navigation while the responsive design makes data viewable anywhere, from any device.
Detailed Management Reports
View in-depth data and track historical trends with exportable management reports that provide the information you require for compliance, planning and projection purposes. The following management reports come standard for all FSSI clients:
The Production Detail Report provides a detailed history of all work orders processed in the production cycle, honing in on application code description, mail date, expected counts, actual counts and overall status.
The Service Level Agreement (SLA) Report ensures that jobs are going out on time with SLA activity for the selected date range that includes how many pieces were mailed and when.
The Postage Summary Report provides a breakdown of all postage used, detailing meter rates for each work order processed.
The Trend Analysis Report tracks print, mail and ePresentment trends – production counts, monthly processed volume, postage usage, YTD total production volume, SLA reporting and inventory usage – with graphs and charts by application for the desired time period.
Need to see a different metric? Custom reports can also be created and added to your online portal for quick and easy access.
How does FSSI's workStreamOne solution ensure workflow compliance?
FSSI's online job tracking and reporting portal offers an unprecedented level of job transparency and accountability by providing 24/7 access to powerful workflow management tools. Access only job pertinent information – going straight to the data you need.
Track and monitor the progress and completion of your jobs, step by step through production. You'll have an eagle eye on the data, with the assurance that the jobs are getting done, on time, and in accordance with SLAs.
Can I continue to track my mail once it leaves FSSI?
Yes, with FSSI's proprietary Unique Piece Tracking (UPT) and the USPS' Intelligent Mail barcode (IMb), job tracking doesn't end when your job is printed and mailed. You can monitor and track your mailpieces through the mailstream, to the post office of destination, ensuring the closest trackable point of mail delivery, other than mail requiring a signature.
UPT reporting and USPS mailpiece tracking are integrated into workStreamOne, confirming the processing and delivery of critical mail. You have easy access to all of the relevant details in one location for full, end-to-end tracking.
How do I access additional FSSI tools and solutions?
You'll find additional FSSI tools and solutions in the left-side navigation panel of workStreamOne. With a single login, you can quickly and easily access other opted-in product dashboards, such as Unique Piece Tracking (UPT), custom reports, eCertify, letterStreamOne and messageStreamOne.
Choose one (1) minimum. Free cost and shipping on orders.