Business Process Improvement, How-to Guides, Postage and Mailing
Postal Optimization Guide: How to Reduce Postage Costs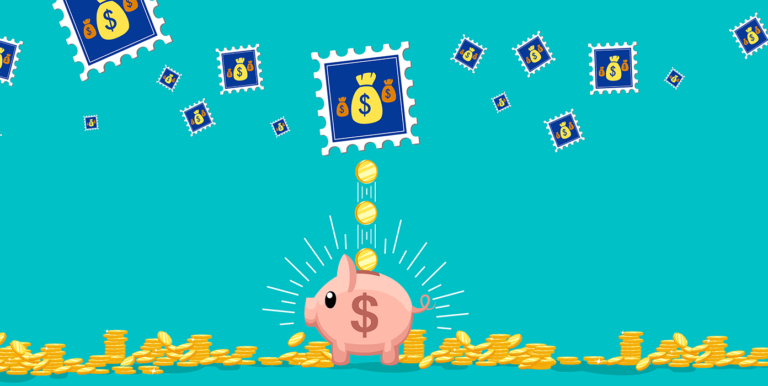 How to Optimize Your Mailing Practices and Lower Your Postal Rates
Your ultimate goal as a mailing service provider is to get the lowest possible postage rates for your customers. There are many readily available ways to save on your postage and mailing costs without sacrificing the design of your mailpiece or print-mail efficiency. Postage rate optimization is a balance of technology, processes and physical materials that work together to reduce your overall costs. In this post, we will show how you can optimize and reduce your postage costs while maintaining the quality of the communications your customers have come to expect.
---
Postal Optimization
Postal optimization is a crucial strategy employed by businesses to reduce costs and maximize efficiency in their mailing processes. It encompasses various techniques such as address management, envelope optimizations, presort, commingling discounts, and the utilization of intelligent mail (IMb barcodes). In the digital age, the print and mail industry emphasizes finding efficiency and maintaining optimal mailing practices.
Rather than cutting back on mail volume due to USPS rate increases, businesses can leverage optimized mailing practices and leverage a range of USPS discounts to secure the lowest postage rates possible. This enables them to continue sending mail without compromising on volume or the effectiveness of their campaigns. By implementing postal optimization strategies, businesses can achieve cost savings while ensuring their mail reaches the intended recipients with efficiency and accuracy.
---
Postal Optimization Strategies and Programs
Address Management
Presort Discounts
Intelligent Mail Barcodes (IMb)
Commingling and Co-Palletization
USPS Postage Promotions
Using Standard Size Mailpieces
Using the Right Paper Stock
High-Volume Discounts
---
Here are ten of the most effective ways to lower your postal rates, improve your Mailer Scorecard, and make sure your business-critical documents reach the hands of your customers.
1. Address Management
The hygiene of your address database is the first place you should look for postal discounts. Diligent address management, which includes pinpointing bad addresses, duplicate addresses, and multiple mailpieces being sent to the same household, can make a big impact on wasteful postage costs. By simply sifting through the data, you can quickly identify the accuracy of your data and make changes to optimize your costs.
What is the USPS' CASS? The Coding Accuracy Support System (CASS™) enables the USPS to evaluate the accuracy of the software you use to correct and match street addresses. This is a critical part of the above process. The software certification program provides a measure to test the quality of your own software that is used to correct and standardize addresses. This will further help with the correctness of your addresses and also assist in adding missing information like zip codes, cities, and states to make sure each address is complete.
---
2. Presort Discounts
The USPS manages and sorts millions of pieces of mail each day. Did you know that the USPS offers significant discounts for mailers that presort their mail by zip code? This process results in lower costs because you're doing the legwork for the post office. Since it costs the USPS less to process and deliver the mailpieces, the savings are passed onto you, making this option a worthwhile undertaking to curb postage costs.
---
3. Intelligent Mail® Barcode
Utilizing the Intelligent Mail® Barcode (IMb) enables you to get the lowest automation rates (if all other automation requirements are met) and qualify for participation in other USPS service programs. The IMb was created by the USPS and is a 65-bar Postal Service™ barcode that allows mailers to simultaneously use a single barcode across several different services and programs. It is required for use on letters and flats prepared for automation prices. In addition, it allows mailers to track individual mailpieces and provides greater visibility into the mailstream.
---
4. Commingling/Co-Palletization
Commingling helps reduce postage and delivery costs. Commingling is a process where multiple companies combine and organize their mailings to send to targeted neighborhoods or zip codes to qualify for volume and other postal discounts. Commingled mail qualifies for discounts because it's already sorted to its final destination. Co-palletization is combining trays of mail into pallets. The difference between commingling and co-palletization is that with commingling you share space inside a tray and with co-palletization you are sharing space on a pallet, with both providing discount opportunities. You just need to determine the best option for you.
---
5. USPS Postage Promotions
Each year the USPS offers a variety of postage promotions, which can provide large savings on your overall mailing costs. Stay on top of USPS postal discounts and see if you qualify.
Examples of First Class promotions include:
Earned Value Reply Mail Promotion: If you register your Mailer ID and use eligible Intelligent Mail barcodes on your Business Reply Mail (BRM), Courtesy Reply Mail (CRM) and Share Mail pieces, you may receive a postage discount for each applicable mail piece placed in the mail stream and scanned during the promotion period.
Personalized Color Promotion Discount: Receive a discount for bills and statements featuring color messaging to help encourage the overall engagement and response rate of mailpieces. This promotion strives to increase the value of First-Class Mail and encourage color print technology, providing an upfront discount to mailers who use dynamic/variable color print.
Examples of Marketing Mail promotions include:
Tactile, Sensory and Interactive Discounts: Utilizing innovations in papers/stocks, substrates, finishing techniques, and inks serve to drive engagement and response rates. Taking a multi-faceted approach to your mailing efforts can lead to additional discounts as you employ the latest tactile/sensory mail piece features that reinforce brand awareness while providing an interactive experience.
Mobile Shopping Promotion: The USPS also offers discounts for mailers that integrate mobile devices as a call-to-action for online shopping, especially useful during the holiday season. Utilizing mobile-friendly technology, such as direct codes, this promotion serves to link the convenience of mobile devices with the online shopping experience.
---
6. Electronic Return Mail
Return mail can take up a lot of space in your mailroom while costing you a lot of money in wasted postage. It's possible to electronically manage all return mail and update your customer address database – a win-win because increased deliverability rates mean less waste. FSSI's electronic return mail solution, eReturn Mail, provides a digital file of all "Change of Address" (COA) and "Undeliverable as Addressed" (UAA) information for physically returned mailpieces. FSSI matches USPS data with its own Unique Piece Tracking (UPT) database, enabling you to digitally manage returned mailpieces and also make real-time revisions to your customer address database, when feasible.
With your customer database up-to-date, you save on unnecessary postage to undeliverable addresses. Additionally, you will be in USPS Move Update compliance when the COA information is used to update the customer address database within the 95-day time requirement.
---
7. Standard-Size Mailpieces
Consider the shape and size of your document when creating the overall design. Why? Postage rates vary greatly among different sizes of mail. If you create a document or postcard that has an odd-shaped design, you will likely pay more for your postage. There are specific minimum and maximum sizing requirements to keep in mind when preparing your envelopes, or "flats." Utilizing the optimum size will help keep costs in line and eliminate any additional charges.
---
8. Types of Paper Stock
An additional factor to consider when designing your document is the weight of the paper stock. Variations in the weight of each paper type can add to your postage rates. Some good news is that with recent increases made to the maximum weight of automation letters and cards to 3.5 ounces, you have greater flexibility with the choice and amount of paper stock you use. Get samples of the paper and envelope and weigh them to see if you're within postage limits. If needed, a lightweight alternative can help keep costs in line, especially if you go over the weight limit and intend to mail a large volume.
---
9. High-Volume Mailing Discounts
Having the proper infrastructure in place helps to support the functions of high-volume print and mail. To best manage the capacity, you can utilize technology and software to optimize operations, have the staff and equipment on hand to support the mailpiece volume and build strong vendor relationships to maximize cost savings. These factors can help streamline the mailing process so your operations run efficiently and you eliminate any potential for waste.
---
10. Partnering with an Outsource Print-Mail Provider
Working with an outsource print-mail provider can help you maximize your mailing efforts from the get-go. Their expertise in print-mail best practices gives you the insight to optimize your customer communications and effectively plan for the mailing process. This includes strategically designing documents for the right envelope size, maximizing savings through multiple levels of presort automation and utilizing address cleansing and mailpiece tracking tools.
---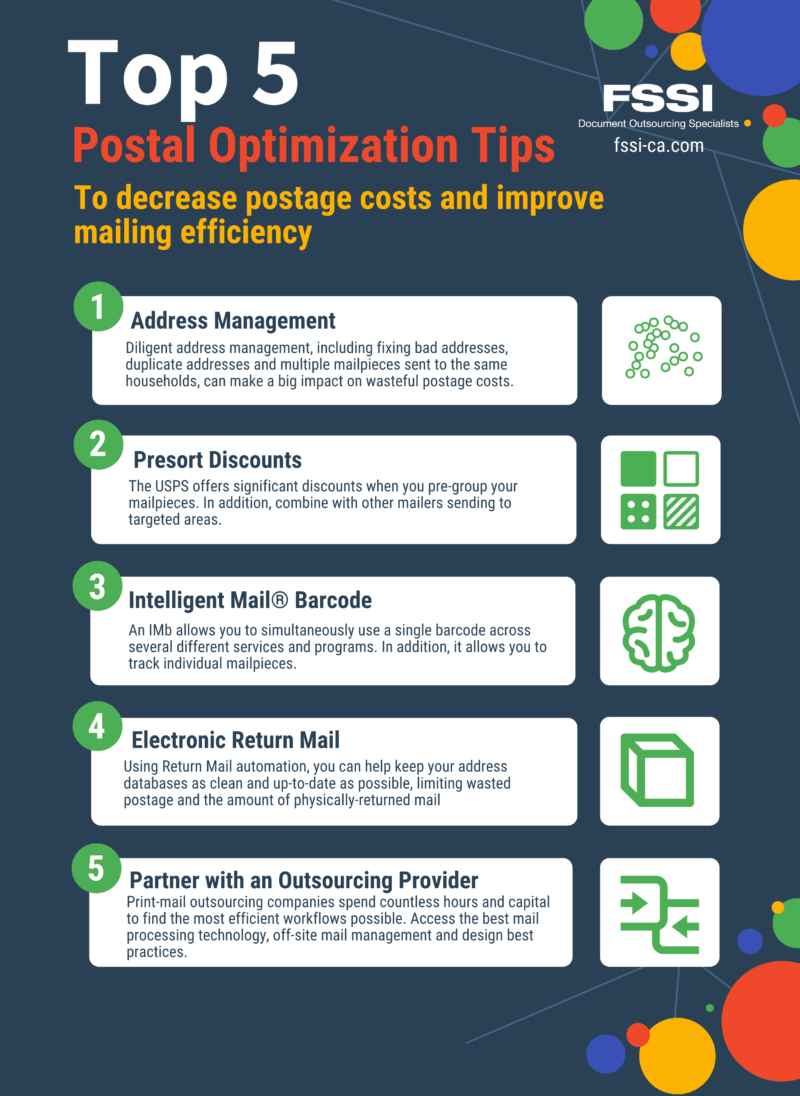 ---
Save Money with Postal Optimization Today!
There are many postal optimization strategies to help improve the efficiency of your mailing and save on your overall rates. Through a mix of address management tools, USPS discounts, and design and mailing practices, you can make the most of the cost reductions available to you. Here are some other ways to increase business efficiency.
Contact us at 714.436.3300 today to find out how an outsource print-mail provider can help you save big on your postage without sacrificing the quality and intent of your mailpiece.
---