How-to Guides, Postage and Mailing
An Ultimate Guide to the USPS: Move Update, Certified Mail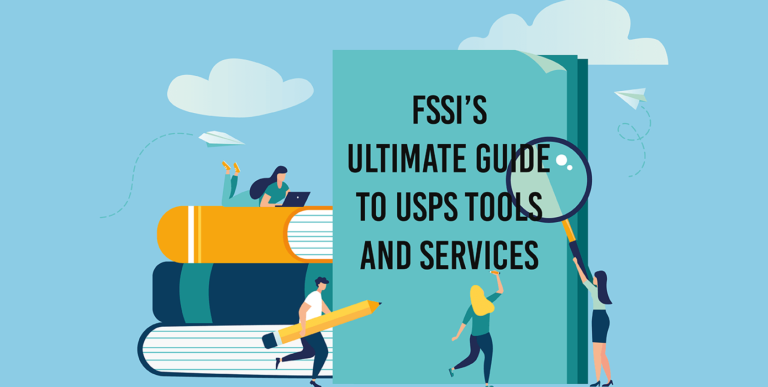 The United States Postal Service (USPS) has so many tools, services, mail types, discounts, regulations and other lesser-known tips and tricks that can be hard to wrap your head around. To add clarity, we've put together a guide to help manage and leverage the many different services that the USPS offers. You can also reference FSSI's Glossary of USPS Mailing Terms, where we define many of the Postal Service's terms, acronyms, services and more. Listed below are the USPS services that will be covered in this guide:
Certified Mail
Mailer Scorecard
Postage Optimization
Return Mail
Address Cleansing
Move Update
Partnering with a mail outsource provider is the best way for companies to utilize the USPS tools and services listed in this article. Not only do mail providers know of the latest postal promotions, regulations and updates, but they can also help your company maximize postage savings and increase audience engagement. Mail providers have access to presort and commingling for greater postage discounts, state-of-the-art mailing equipment, and tracking and reporting for greater workflow transparency.
Businesses that handle mail in-house can still benefit from USPS tools and services but not with the same ease and optimization as an outsource mail partner. With that in mind, let's jump into your USPS guide.
---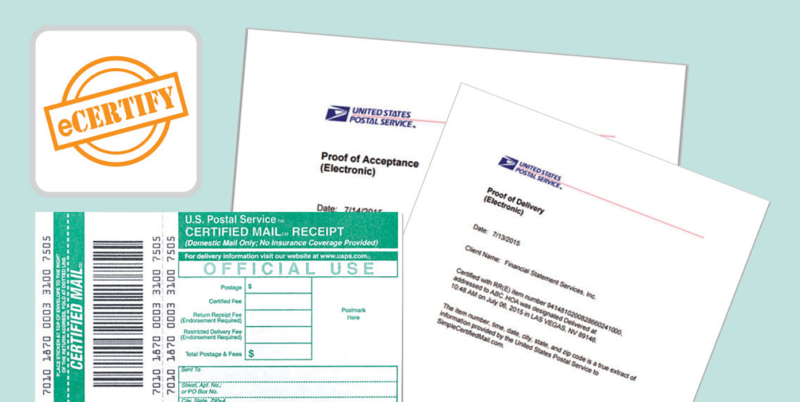 Certified Mail®
What is Certified Mail?
Certified Mail is exclusive to the United States Postal Service. It refers to providing the sender with a mailing receipt and electronic verification that mail was delivered or that a delivery attempt was made. Only First-Class Mail® or Priority Mail® can be sent as Certified Mail. Additionally, the service is only available for delivery within the United States.
Who Uses Certified Mail?
Due to business and regulatory reasons, many companies send Certified Mail. This offers companies proof of mailing, secure delivery, as well as archival of proof of delivery.
What is the Difference Between Certified and Registered Mail®?
The main difference between Certified Mail and Registered Mail is an additional layer of security. Registered Mail adds another level of protection with specific sealing and packaging requirements as well as staying in a locked safe when transported. These differences tend to make Registered Mail costlier for businesses, but Certified Mail is highly secure as well. Learn more about the benefits of Certified Mail below:
Benefits of Certified Mail
Creates a sense of urgency
Proof of Mailing verifies when mail was sent
Return Receipts verify when mail was delivered
Mailpiece tracking uses barcodes to track each mailpiece
Prioritized delivery ensures delivery within one to three days
P.O. boxes can receive delivery of certified mail
Records for archival are provided with every certified mailing
Certified mail helps simplify the proof of mailing process; although, keeping track of receipts can become cumbersome when dealing with mailing high volumes. FSSI's electronic solution solves this problem for businesses.
FSSI's Electronic Certified Mail Solution – eCertify™
Cataloging and finding the hardcopy "green cards" of these important Certified Mail documents is difficult to manage and expensive for companies, using the traditional methods. FSSI's eCertify tool simplifies the process by creating and printing the required labels in line with the actual document to be mailed and inserting them into a special Certified Mail window envelope, resulting in high-quality, secure processing. The delivery confirmation is then posted online, including the signature from the recipient and the reasons for non-delivery, if applicable.
Electronic Delivery Confirmations and Return Receipt Signatures are posted online within hours of receiving a signature for a document. FSSI can also transmit this same information for upload into clients' in-house archival systems.
---
USPS Mailer Scorecard
What is the USPS Mailer Scorecard?
The Mailer Scorecard is the Postal Service's effort to assess mail preparation and whether the mailer earned the workshare discounts that offset the costs for the Postal Service to handle it. The Mailer Scorecard provides a dashboard view of the results of the letter and flat mailing activity with the Postal Service over a calendar month. The USPS Mailer Scorecard consists of five sections:
Mailer Profile – This tab provides a summary of volume by mail class, eDocument types and total revenue in a month.
Electronic Verification – This tab provides results from Full-Service preparation requirements, Move Update compliance and presort preparation requirements.
eInduction – This tab provides an overview of the number of containers on eInduction and the number or eInduction validation errors.
Seamless Acceptance – For mailers participating in Seamless Acceptance or Seamless Parallel, this tab provides an overview of the verification results including undocumented nesting/sortation, delivery point validation, etc.
Service Performance Measurement (SPM) – For Full-Service mailers, this tab provides an overview of the number of mailpieces that were excluded from measurement due to one or more issues.
How Do Mailer Scorecard Scores and Updates Work?
The Mailer Scorecard is updated monthly using color codes to address areas of concern or in need of improvement and are color coded: Green, Red and Yellow.
Green – Percent metric value has improved by more than 5% from the previous month
Red – Percent metric value has declined by more than 5% from the previous month
Yellow – Percent metric value exceeds the threshold established by the USPS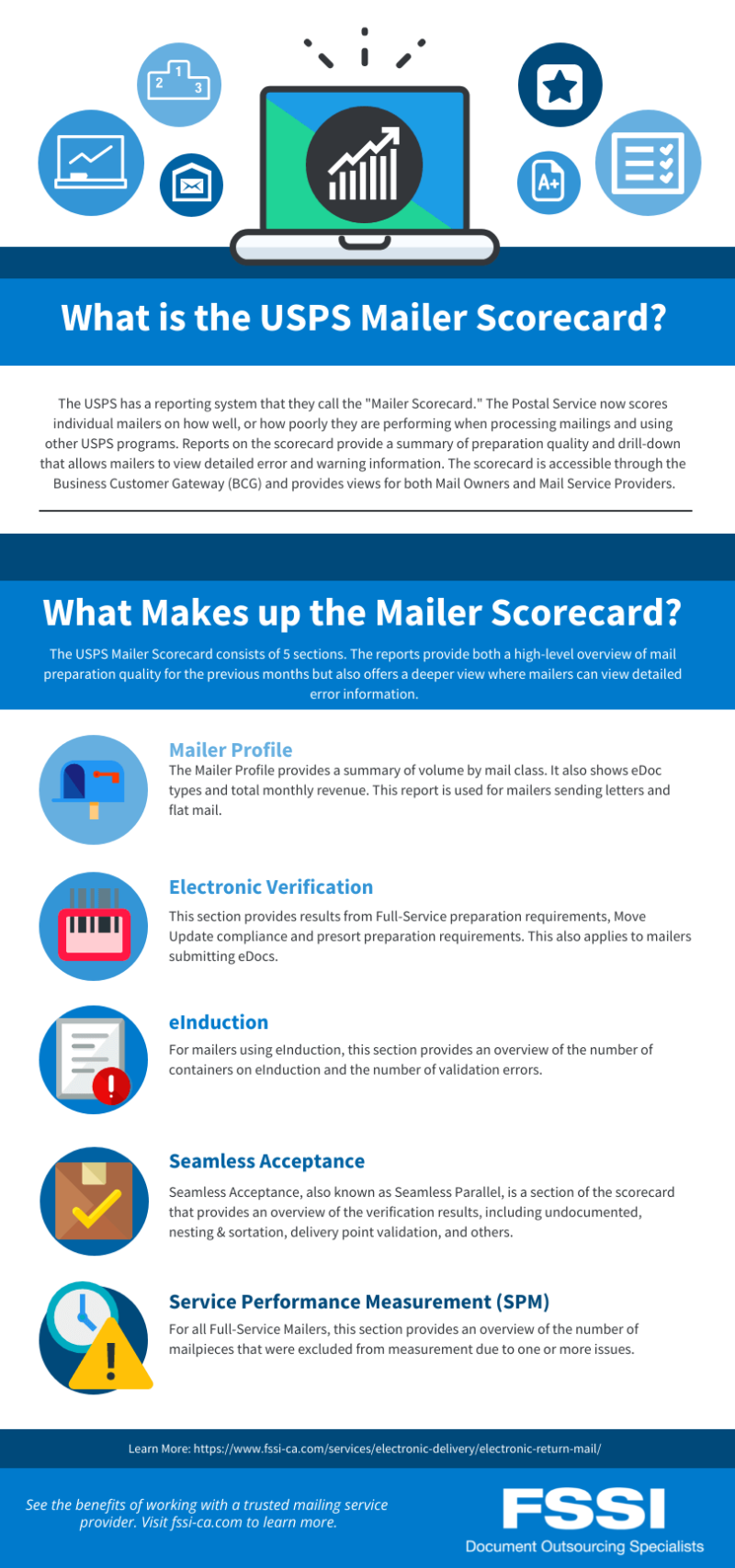 ---
Postage Optimization
Postal Optimization Categories
Address Management
Presort Discounts
Intelligent Mail Barcode (IMb)
Commingling and Co-Palletization
USPS Postage Promotions
Using Standard Size Mailpieces
Using the Right Paper Stock
High-Volume Discounts
Address Management
The hygiene of your address database is the first place you should look for postal discounts. Diligent address management, which includes pinpointing bad addresses, duplicate addresses, and multiple mailpieces being sent to the same household, can make a big impact on wasteful postage costs. By simply sifting through the data, you can quickly identify the accuracy of your data and make changes to optimize your costs.
Presort Discounts
The USPS manages and sorts millions of pieces of mail each day. Did you know that the USPS offers significant discounts for mailers that presort their mail by zip code? This process results in lower postage because you're doing the legwork for the post office. Since it costs the USPS less to process and deliver the mailpieces, the savings are passed onto you, making this option a worthwhile undertaking to curb postage costs.
Intelligent Mail® Barcode
Utilizing the Intelligent Mail® Barcode (IMb) enables you to get the lowest automation rates (if all other automation requirements are met) and qualify for participation in other USPS service programs. The IMb was created by the USPS and is a 65-bar Postal Service™ barcode that allows mailers to simultaneously use a single barcode across several different services and programs. It is required for use on letters and flats prepared for automation prices. In addition, it allows mailers to track individual mailpieces and provides greater visibility into the mailstream.
Commingling and Co-Palletization
Commingling helps reduce postage and delivery costs. Commingling is a process where multiple companies combine and organize their mailings to send to targeted neighborhoods or zip codes to qualify for volume and other postal discounts. Commingled mail qualifies for discounts because it's already sorted to its final destination. Co-palletization is combining trays of mail into pallets. The difference between commingling and co-palletization is that with commingling you share space inside a tray and with co-palletization you are sharing space on a pallet, with both providing discount opportunities. You just need to determine the best option for you.
USPS Postage Promotions
Each year, the USPS offers a variety of postage promotions, which can provide large savings on your overall postage costs. Stay on top of USPS postal discounts and see if you qualify.
Examples of First-Class mail promotions include:
Earned Value Reply Mail Promotion: If you register your Mailer ID and use eligible Intelligent Mail barcodes on your Business Reply Mail (BRM), Courtesy Reply Mail (CRM) and Share Mail pieces, you may receive a postage discount for each applicable mailpiece placed in the mailstream and scanned during the promotion period.

Personalized Color Promotion Discount: Receive a discount for bills and statements featuring color messaging to help encourage the overall engagement and response rate of mailpieces. This promotion strives to increase the value of First-Class Mail and encourage color print technology, providing an upfront discount to mailers who use dynamic/variable color print.
Examples of Marketing Mail promotions include:
Tactile, Sensory and Interactive Discounts: Utilizing innovations in papers/stocks, substrates, finishing techniques and inks serves to drive engagement and response rates. Taking a multi-faceted approach to your mailing efforts can lead to additional discounts as you employ the latest tactile/sensory mailpiece features that reinforce brand awareness while providing an interactive experience.
Mobile Shopping Promotion: The USPS also offers discounts for mailers that integrate mobile devices as a call-to-action for online shopping, especially useful during the holiday season. Utilizing mobile-friendly technology, such as direct codes, this promotion serves to link the convenience of mobile devices with the online shopping experience.
Standard-Size Mailpieces: Consider the shape and size of your document when creating the overall design. Why? Postage rates vary greatly among different sizes of mail. If you create a document or postcard that has an odd-shaped design, you will likely pay more for your postage. There are specific minimum and maximum sizing requirements to keep in mind when preparing your envelopes, or "flats." Utilizing the optimum size will help keep costs in line and eliminate any additional charges.
Paper Stock: Variations in the weight of each paper type can add to your postage rates. Some good news is that with increases made to the maximum weight of automation letters and cards to 3.5 ounces, you have greater flexibility with the choice and amount of paper stock you use. Get samples of the paper and envelope and weigh them to see if you're within postage limits. If needed, a lightweight alternative can help keep costs in line, especially if you go over the weight limit and intend to mail a large volume.
High-Volume Capabilities: Having the proper infrastructure in place helps to support the functions of high-volume print and mail. To best manage the capacity, you can utilize technology and software to optimize operations, have the staff and equipment on hand to support the mailpiece volume and build strong vendor relationships to maximize cost savings. These factors can help streamline the mailing process, so your operations run efficiently, and you eliminate any potential for waste.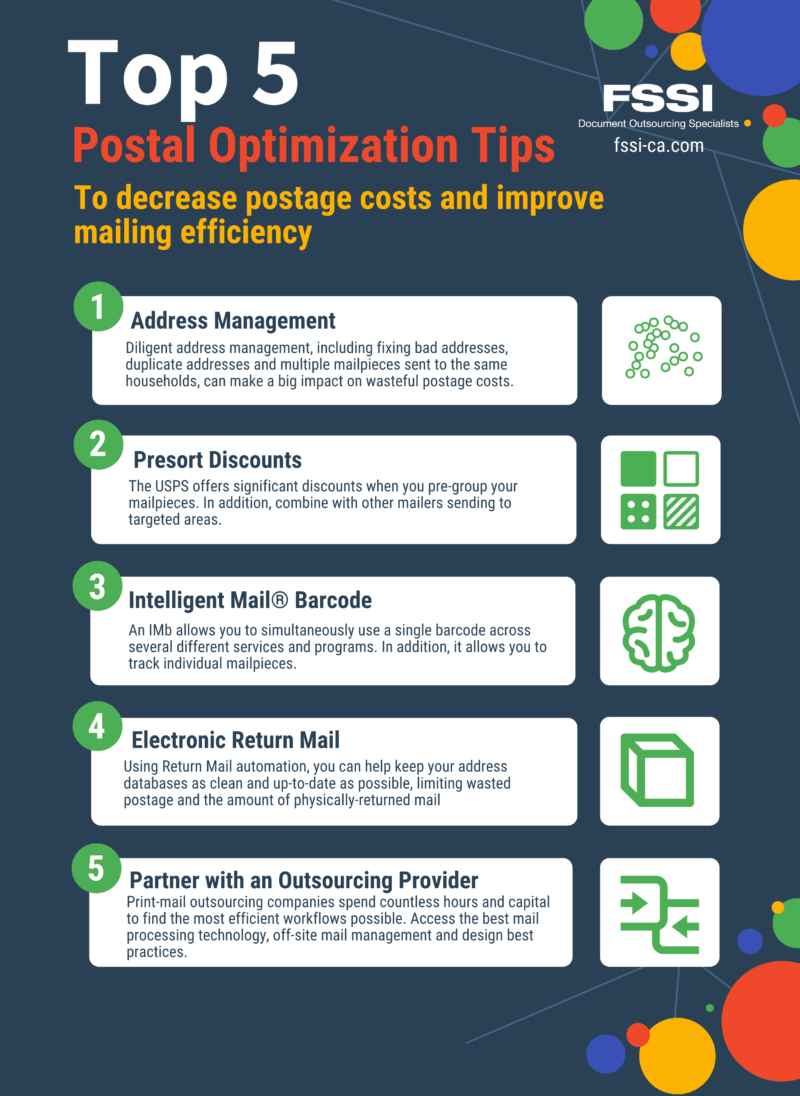 ---
Return Mail
What is Returned Mail?
Returned mail consists of mailpieces that are undeliverable as addressed. The mail is usually returned because of outdated, inaccurate or insufficient address data.
FSSI's Electronic Return Mail Solution
At FSSI, we've prioritized staying updated and informed on all avenues related to data validation and address hygiene. We offer a solution to help reduce your undeliverable mail, inform you about your address data and reduce postage costs. Our solution is eReturn Mail.
eReturn is an electronic solution that provides a digital file of all "Change of Address" (COA) and "Undeliverable as Addressed" (UAA) information for physically-returned mailpieces, covering all scenarios of returned mail and decreasing occurrences of nixies in the process.

Using a proprietary program, FSSI matches USPS® data with its database so there is no manual processing needed
Through FSSI's Unique Piece Tracking (UPT), we provide you with data on all mail that was returned in a convenient easy-to-read electronic file, removing piles of physical mail to sort through
Data is formatted so you can quickly and easily manage customer addresses and make real-time updates
When database updates are not feasible without consent, you can quickly identify and contact customers to get updated information
Satisfy Move Update compliance by streamlining the review process and address cleansing practices to keep your customer data up to date
Secure Destruction enables you to instruct USPS to destroy all "Undeliverable as Addressed" mail and forward all "Change of Address" mail to your customers
---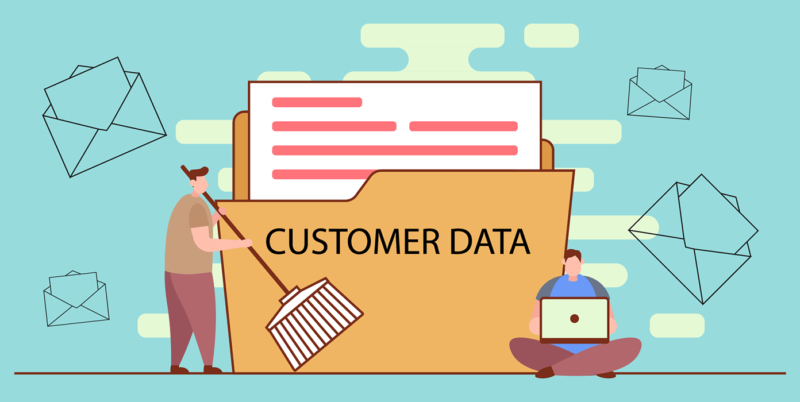 Address Cleansing
What is Address Cleansing?
Address cleansing is a process that helps audit and improves the quality of the address data collected by your company. The results include better efficiency when mailing, enhanced data for mail sorting, reduction in postage costs, and better return on campaign and marketing investments.

How Can Address Cleansing Benefit My Business?
Even in this digital age, direct mail is an extremely effective tool, and billions of mailers are sent out by marketers every year with great success. To maximize this success for your business, the leads you are engaging with through the USPS and overall mailing industry must be accurate. Undeliverable mail not only causes problems for your company in terms of waste and data inaccuracy but also puts a significant strain on the postal system.

Why is Data Accuracy Important?
Data accuracy is critical, especially in the case of mailers, where inaccurate information means that your message will fail to reach the right person and cost you to do so. There are many reasons you may have incorrect or outdated addresses in your database. Your intended customers might have moved, made a mistake in providing their address initially or given a format unrecognizable by your system. These simple inaccuracies lead to undeliverable mail and postage fees that could have been avoided with an address cleanse.
Even more critical than wasted marketing efforts are the implications for companies that deal with bills, invoices, letters and notices. These types of mailed content are often confidential and of high priority; making sure that they are not going to be returned or undeliverable is of the utmost importance with these sensitive and vital documents. Whether you do a manual or automatic audit of your database, in-house or with address cleansing services, the results will provide a measurable improvement for your business.

Keep Your Customer Address Database Updated and Reduce Returned Mail
Whether you choose a service or manual approach, there is nothing but tangible benefits available to those who choose to utilize address cleansing. Not only will you save time and money, but you will also keep your communications moving as planned to reap the benefits of recaptured business opportunities and an improved customer experience.
---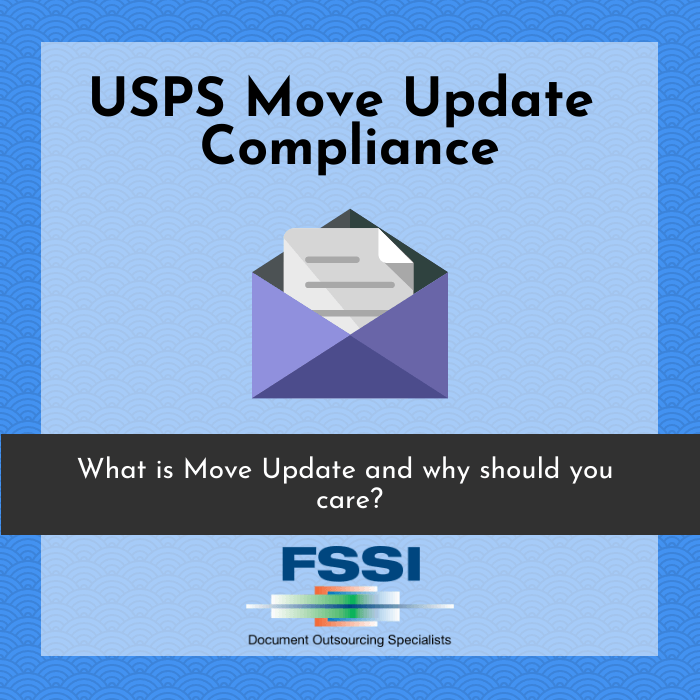 Move Update
What is Move Update Compliance?
The USPS changed its method for verifying address quality with the launch of Move Update, designed to reduce the number of mailpieces that require forwarding by matching the address records with USPS change-of-address requests. The Move Update standard affects high-volume business mailers who need to prove their mail is compliant to avoid incurring additional fees. On the other hand, this means businesses that keep their database up-to-date and accurate will continue to enjoy existing presort mail discounts.
The Move Update standard is met when an address used on a mailpiece in a mailing for any class of mail is updated with an approved method and the same address is used in a commercial First-Class Mail and USPS Marketing Mail, mailing within 95 days after the address has been updated.
Why is Move Update Necessary?
The goal is to improve visibility and quality metrics from a USPS level and ensure address quality while reducing returned and undeliverable mail. Unfortunately in 2018, almost 6 billion pieces of mail processed by the USPS were Undeliverable as Addressed (UAA), representing 4% of the total volume processed and costing mailers an average total cost of $3.00 per piece of returned mail.* Those fees can add up for companies with large mailing lists. Many savvy marketers are expecting more moves and changes of address from their customers. With the higher threshold and assessment fees, it's a perfect time to prioritize accuracy in address data and to consider partnering with a mail service provider to do an assessment of your current customer database.
---
Partnering with an Outsource Print-Mail Provider
Working with an outsource print-mail provider can help you maximize your mailing efforts from the get-go. The expertise in print-mail best practices gives you the insight to optimize your customer communications and effectively plan for the mailing process. This includes strategically designing documents for the right envelope size, maximizing savings through multiple levels of presort automation and utilizing address cleansing and mailpiece tracking tools.

Contact FSSI at 714.436.3300 for a consultation to ensure that you are getting the most out of your mail services and how you can benefit from FSSI's workflow transparency and secure data practices.
Source:

Pitney Bowes whitepaper, 2019 – "Stemming the tide: Control the quantity and cost of returned mail."