Banks and Credit Unions, Customer Experience and Engagement, Direct Mail, Marketing Strategies, Printing, Variable Data Personalization
Variable Data Printing: Add Personalization to Transactional and Marketing Documents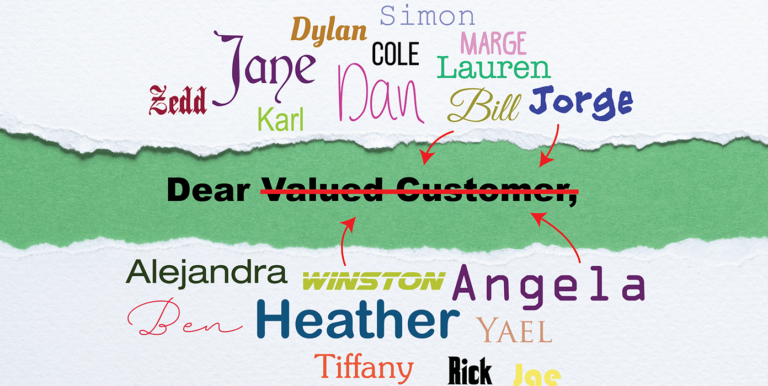 Variable data printing (VDP) is often used in marketing, because personalization is proven to increase response rates, better resonate with customers, and enhance the overall customer experience. Companies are always looking to increase the efficiency of their customer communications. Variable data printing, when done correctly, is more effective than most digital communication channels, making it an ideal choice for your outreach. You can optimize your marketing campaigns using targeted communications that get and keep your audience's attention.
---
What is Variable Data Printing?
Variable data printing is a form of digital printing where on-page elements like graphics, text and imagery can be changed from one printed piece to the next, in one continuous, streamlined process. The pages are populated with information from a database formatted before running the print job. You can send personalized messages to each customer depending on the existing information you have collected from each user. Print jobs can be based on one or more data elements you've collected from a customer or prospect.
Some variable elements can include:
Name
Address
Purchase History
Gender
Age
Upcoming personal events, like birthdays, appointment reminders, loan offers etc.
Purchase history
The most effective variable data printing solution should be automated. This is where outsourcing variable data printing can help. Direct mail letters, notices, postcards and even transactional documents are tailored in the printing process, using software to print each piece with unique information from a spreadsheet or database. A document outsourcing company is well-versed in this process and able to handle high-volume needs, enabling you to seamlessly incorporate a personalized approach into your communications efforts.
---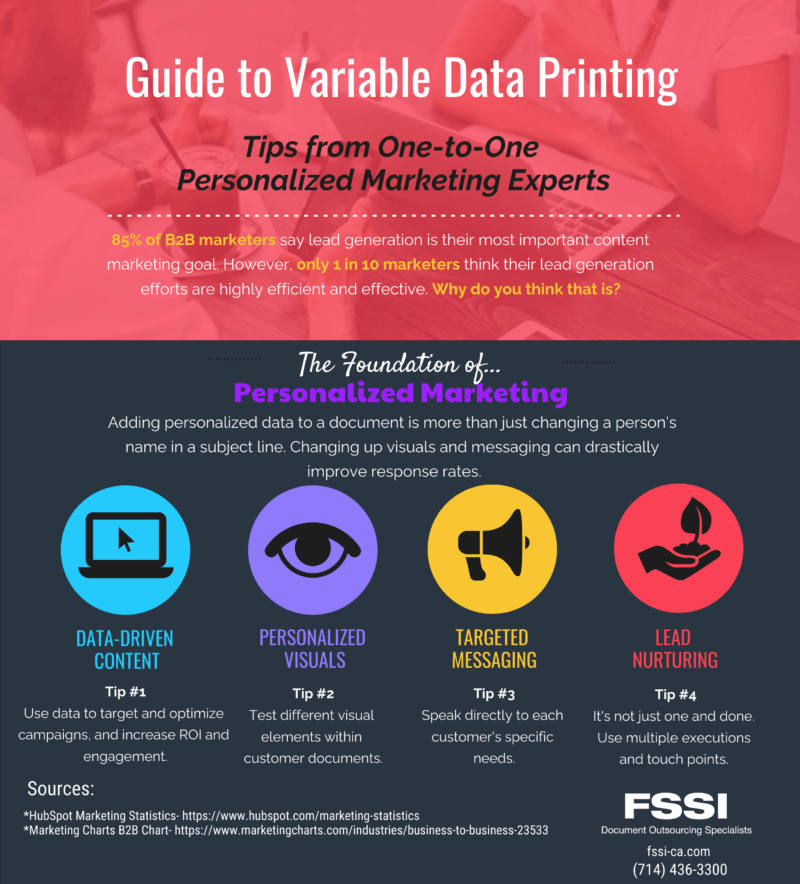 ---
Personalized Marketing: Not Just a Buzzword
Personalized marketing is a form of targeted marketing that creates unique messages for each customer. By integrating personalization using VDP, you can drastically increase the value of each document. This process offers a customized experience and makes the piece more relevant to the recipient.
By offering customers messages that apply to them, such as relevant products and services based on customer data, they are much more likely to act on your offer or another objective. This can be leveraged in direct mail marketing campaigns, and even on financial statements, bills, letters, notices and more, where you strategically place a targeted message.
Stretch your overall marketing budget and increase ROI with personalization. When your communication speaks directly to each customer, documents are read, the action is taken more often, and your brand equity grows. Also, with each additional customer touchpoint, customer engagement will continue to grow – increasing the value of your overall business communications. With companies collecting even more customer data than ever and becoming more sophisticated in analyzing that data, you can put your knowledge to use and build a stronger customer marketing strategy with each document you send.
---
How Does Variable Data Printing Work?
When it comes to personalization, you can utilize specific steps to tailor your communications and outreach to best target your audiences. This includes using dynamic customer information, messaging and visuals to craft timely and specific messages that get people to take action. It also includes repeating, or tweaking the approach, to nurture prospective customers.
Variable Data Printing Strategies
These are the best variable data printing strategies that have improved the response rates of our clients:
Data-Driven Content: By taking into account, your prospects' previous activity and triggers, you can use that data to tailor their communications. For example, if they previously requested more information about a specific product or offer, you can highlight that information with a specific promotion.
Personalized Visuals: You can utilize visual graphics to pique your audience's interest and generate increased attention. For example, if a prospect reaches out about a specific family health plan, you can include family-related imagery in their communications.
Targeted Messages: Instead of creating a general communications campaign, you can tailor the message to match the audience. From including their name to adding relevant messaging about their expressed interests, you can deliver selective messaging that resonates with your audience.
Lead Nurturing: Don't leave your prospects hanging with one-time outreach. Instead, follow up with relevant, well-thought-out messages that highlight their interest in a product or service. For example, send emails to "touch base" and reinforce the benefits of the product or service and how you can help them solve a specific problem or meet a specific need.
---
Why Should Your Business Care About VDP?
Many businesses are beginning to learn the benefits of personalization using targeted data in their direct marketing campaigns. However, there are still companies that think that if they are in heavily regulated industries, such as banking, insurance, healthcare, and finance, personalized messaging is not a feasible option. The truth is that selective messaging can be seamlessly integrated into campaigns even in heavily regulated industries. This type of one-to-one marketing is more effective because it speaks specifically to and resonates with a specific prospect, instead of speaking to the masses.
A customer's history can be a critical element of a personalized marketing strategy. For example, grocery stores use loyalty cards to provide a uniquely tailored shopping experience. They can track individual buying history or even online search history, to send relevant coupons, sales announcements and other targeted communications to customers. This can apply to your company too, regardless of industry. You'll offer the most relevant, useful information and highlight the exact offer or product your customers need, or that they've expressed interest in at some point – the best case marketing scenario.
Any company can benefit from data-driven marketing when it comes to its communications. By knowing the information that will be important to your customers, you can tailor your messages and images to maximize their effectiveness. It's about offering the right information at the right time, which is done with an analytical and targeted approach.
---
Start a Personalized Direct Mail Campaign Today!
For businesses, specifically targeted communication should be at the core of customer outreach. The goal is to create personalized and engaging content that communicates in a simple, persuasive and clear manner, and gets the customer to take a specific action. Through carefully crafted messaging, you can target your communication and images to make the most of your marketing efforts and speak to customers on a one-to-one basis. Why not communicate the best way you can? A data-driven marketing strategy using data-driven messaging will increase response rates, better resonate with your customers, and enhance the quality of your communications.
Learn more about how FSSI supports marketing personalization and can help you elevate your company's customer communications.
---