Business Process Improvement, Data Security and Privacy, Healthcare & HIPAA, Postage and Mailing, Printing
Benefits of a HIPAA-Compliant Print and Mail Outsource Partner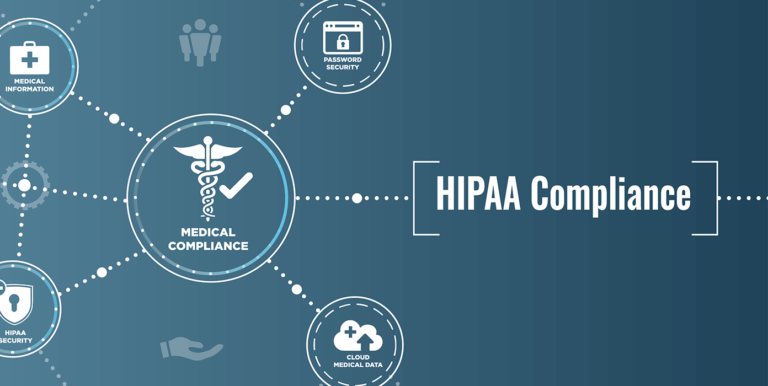 Maintaining data security and privacy is a top priority for today's healthcare providers and health insurance companies, especially when it comes to your patient communications. However, current rules and regulations can make compliance a timely and costly endeavor. That's why partnering with a third-party, HIPAA-compliant print and mail outsourcer, like FSSI, provides a secure end-to-end solution that effectively handles sensitive patient documents and minimizes risk – saving time and money.
What is HIPAA Why is it Important?
"HIPAA" stands for the Health Insurance Portability and Accountability Act of 1996. The Act was a large-scale modernization of the health insurance industry by the United States Government. Among its many statutes were the Privacy Rule and the Security Rule, which specifically targeted the mishandling and misuse of patient medical information. The Act was designed to ensure that billing information and medical records for countless Americans would not be left vulnerable to theft and fraud.
By stipulating how healthcare industries should treat and deal with the information they possess, the Act helps prevent occurrences of information misuse and encourages the increase of privacy and security throughout the industry.
The manipulation or fraudulent use of a patient or customer's medical information can result in problems for your business or facility. HIPAA-compliant outsourced print and mail services can be instrumental in maintaining the integrity of a patient or customer's privacy – and ensuring that time-sensitive patient data is printed and mailed on time. Industry-leading expertise, equipment and technology of an outsource provider work together to reduce the risk of a HIPAA violation by enhancing the security of important data.
---
How a HIPAA-Compliant Print and Mail Vendor Benefits Your Company
Partnering with a HIPAA-compliant print and mail company does more than simply avoid costly issues or violations. An integrated print-mail solution can help grow your business, help facilitate patient communications and improve your overall patient experience. With the latest in modern protections and services on your side, you receive the following benefits:
The Latest HIPAA Expertise – Current information on new and recently updated regulations regarding HIPAA, with firsthand knowledge on how HIPAA compliance directly relates to your services
Ironclad Data Security – Secure and modernized data management practices, with industry-leading technology to help keep patient information safe, secure and private
Full Workflow Transparency – Complete, 24/7 tracking for healthcare documents – all the way from data formatting to printing and mail inserting.
Cross-Channel Communications – Our HIPAA-compliant services extend to forms of eDelivery like text and email
Compliance-Friendly Practices – Audit-ready reporting, with detailed and thorough information that include evidence of proof of mailing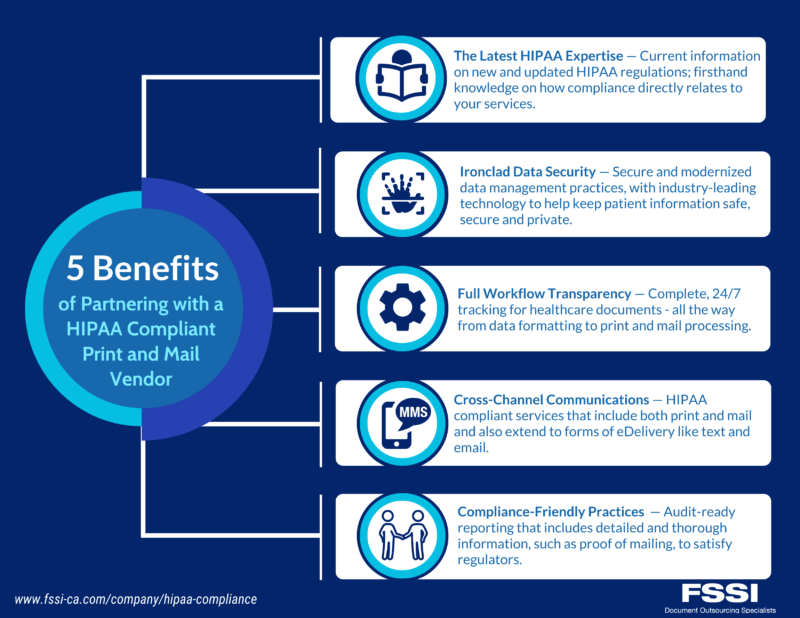 ---
Examples of HIPAA Compliant Healthcare Documents
When it comes to HIPAA-compliant communications, there are many types of healthcare documents that an outsource partner can produce – from designing the document and formatting to printing and mailing. Examples include:
Patient Bills, Statements and Invoices
Patient Letters and Notices
Explanation of Benefits (EOB)
Explanation of Coverage (EOC)
Healthcare Billing Statement Inserts
Patient or Physician Mailers
---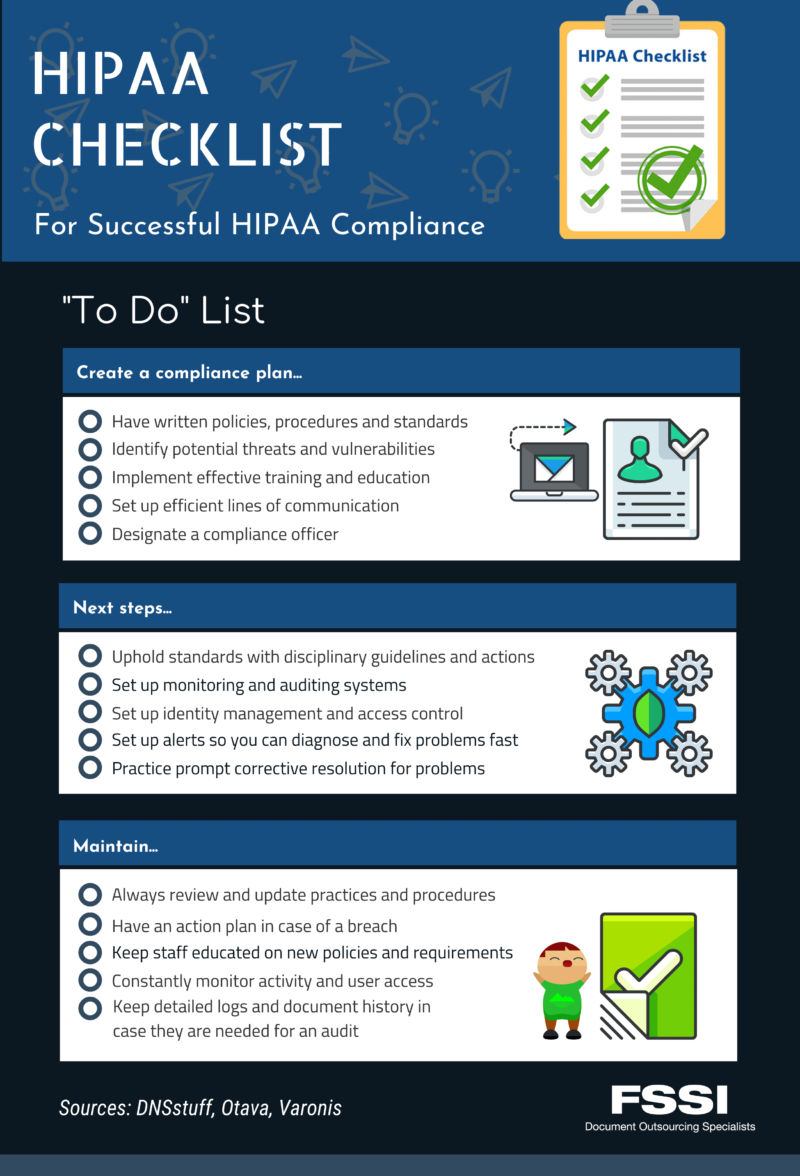 ---
Why is it Important to Avoid HIPAA Non-Compliance?
HIPAA compliance penalties can be costly to your business and reputation. Maintaining the privacy of patient and customer information is of paramount importance, especially when it comes to secure processing and delivering extremely sensitive patient communications.
Identity theft is more prevalent due to misuse of information and practices like "phishing." Sensitive and personal medical information obtained from patient and customer communications can be used to create fraudulent billings, manipulate the use of government programs, or obtain illegal services. Finding a HIPAA-compliant partner to provide your print and mailing services can be a key factor in helping your patients and customers avoid these forms of data manipulation.
Fines for HIPAA penalties are determined based on the level of negligence that was displayed, with just minor breaches resulting in a penalty of up to $50,000. An innumerable amount of legal problems can also arise from insurance fraud or program misuse. After a patient's information is stolen, it can be an incredibly arduous process to undo the damage that was done. With HIPAA-compliant practices in place, the headache of a violation can be avoided.
---
---
Partner with a HIPAA-Compliant Outsourcer
Having HIPAA-compliant printing services with the latest in data security and protection for patients and customers can alleviate concerns for healthcare providers and health insurance companies. That's why it's important to take HIPAA security-related concerns seriously with a partner like FSSI.
Contact FSSI at 714.436.3300 for a consultation to ensure that your print and mail services remain completely HIPAA compliant and optimized for transparent workflow and secure data practices.
---