Banks and Credit Unions, Business Process Improvement, Color Psychology, Customer Experience and Engagement, Document Design
How Color Can Improve Boring Transactional Statements?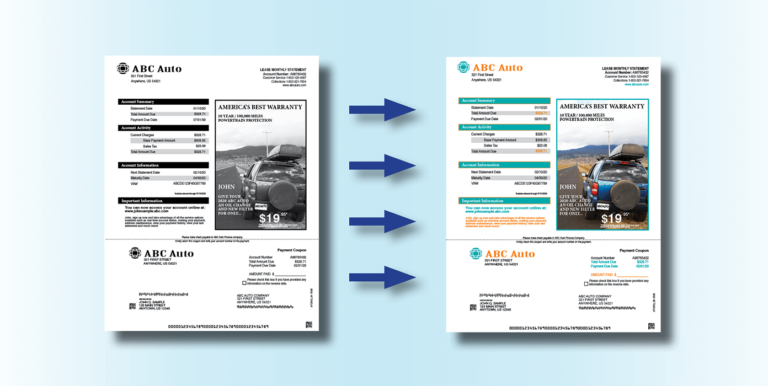 Benefits of Adding Color to Statements and Customer Documents?
There are many advantages of adding color to financial statements and other documents. Many companies still haven't realized just how valuable a well-designed document is to their business. If your print and digital statements are not the most exciting things to look at, all is not lost. Today's fast-moving financial environment needs to be represented in an equally dynamic way. The goal of a document is to make sure clients hear your intended message before they lose interest. Make the important information stand out with a full-color makeover.
For financial companies, adding colorful text, graphs, charts, and messages to both printed and digital statements can help to expand brand awareness. It can also increase customer engagement. Because the truth is if nobody is really looking at your statements, what value are they delivering?
---
The Psychology of Color Usage
A great deal of research has gone into the psychology of color. A lot of studies have been done on marketing, advertising, and branding.  However, we can also apply this psychology to the success of your financial brand.
Green and blue are colors commonly used in the financial sector. Green denotes calm, vitality, and balance, while blue represents security, trust, and honesty. According to Entrepreneur magazine, blue is the color of fiscal responsibility. This is a very important trait when standing behind a financial brand. Both of these colors are often seen in financial company logos and websites as they have been shown to evoke feelings of trust as well as wealth and prestige.
Studies show that the color red increases heart rate, making it an attention-grabbing color that you can use for text on important messages and alerts.
Gold and black are often used to add a touch of exclusivity and luxury.
While these are just a handful of interpretations about color psychology, you can see how including color can immediately elicit a powerful response.
---
Improve Engagement and Drive Call-to-Action
Color inspires, it demands attention and evokes feelings that black-and-white simply can't. While black-and-white may be great for photographs, old movies, and fancy-dress balls, it's just not impactful enough for a financial statement. This is because a statement requires a great deal of information on a single page.
Applying a color palette to your financial statements can increase the value of each document. A well-designed document makes it easy for the recipient to quickly zoom in on key details. It can also provide an opportunity for you to better support your brand. We accomplish this using full-color logos, ads, offers, or by highlighting important messages that you want the recipient to notice.
Some key benefits of adding color to statements include:
A colorful statement is pleasing to look at.
Using color immediately draws the eye to certain details, ensuring your recipients don't miss important messages.
Color makes information on the statement easier to understand.
Document navigation can be simplified with color.
Color supports your company branding, streamlining your brand image across all channels.
Use cross-selling, product upsells and events using color.
Strengthen the aesthetic appeal of reports with color.
Color encourages the reader to take action.
In conclusion, it should be easy to see how color can transform your efforts as far as printed statements are concerned. Dramatically improve responses to your promotions and brand messaging using color. Read 5 Things to Know Before Greenlighting Digital Color to learn the benefits of adding color to statements, and important factors to consider before leaping into full-color statements.
---
Learn More About Adding Color to Customer Documents
FSSI is a full-service outsourcing company that specializes in high-volume printing and mail. We focus on the delivery of regulatory compliant and marketing communications. FSSI specializes in clients in the financial services industry. Founded in 1980, we have since grown into one of West Coast's largest independent woman-owned document-services providers. We are experts in document design and color usage psychology on financial statements. We adhere to well-established policies and practices throughout the development and production cycles. This ensures measurable quality and on-time delivery of confidential statements, bills, invoices, letters, and notices.
Contact Dan Palmquist, VP of Sales, or call 714.436.3300 to start transforming your documents today.
---