Industry News, Paper, Postage and Mailing, Printing, Sustainability
Why Are Paper Prices Increasing?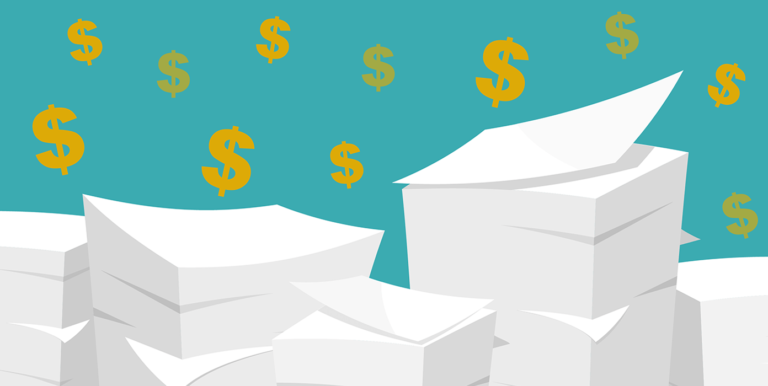 The Effect of Higher Paper Prices on the Print Industry
In the last few years, there has been a combination of factors leading to paper price increases. With a combination of price hikes, increased demand, availability issues, and other related factors, the following dynamics are responsible for the recent shift in the pulp and paper market. This has greatly affected the print and mail industry. We will be covering the contributing factors to this print increase and some ideas to help your business mitigate these higher costs
---
6 Major Causes of the Paper Price Increases
Higher pulp prices – According to the U.S. Bureau of Labor Statistics and the Producer Price Index (PPI) for Pulp, Paper, and Allied Products, the cost of pulp, the raw material of paper and corrugated boxes, has increased over 25% in the last 12 months. This is due to higher operating costs, such as rising input costs and higher-quality environmental standards. An additional factor driving the current paper prices is supply not being able to keep up with the growing demand. As a result, these price hikes have been passed down to buyers to help offset rising production costs.
Transportation demands – With consumer spending and overall demand on the rise, there is a higher need to transport pulp and paper products nationwide, affecting related costs, such as fuel. According to IHS Markit, the price of diesel fuel rose 32% from 2017 to 2018, and freight capacity decreased, resulting in more demand and less available means of transportation. As a result, transportation costs went even higher, with the cost affecting overall paper costs as well. Currently making matters worse is a lack of truck drivers to transport the loads and ELD (Electronic Logging Devices) compliance in effect, causing disruptions in the available freight and carriers of pulp and paper products.
Imposed tariffs – According to reuters.com, trade disagreements have compounded the issue of rising costs. In early 2018, the U.S. imposed tariffs on Canada after a Washington-state mill filed a complaint alleging that subsidies the Canadian government provided to its manufacturers put American paper companies at a disadvantage. After a determination that "U.S. industry is not materially injured or threatened with material injury," (NY Times, 8/29/18) the tariffs were lifted in August; however, the impacts were felt across the U.S. newspaper industry. As part of its trade dispute with the U.S., Canada imposed tariffs on U.S. tissue, toilet tissue, and paper towel exports earlier this year, compounding the issue.
Closing mills – Rising operational costs and decreased demand for certain types of paper have forced mills to react. For example, some major mills, such as Georgia-Pacific, have scaled back operations and reduced capacity. Others have gone out of business, resulting in a dramatic decrease in U.S. paper manufacturing capacity in a relatively short period of time. Additionally, other mills have re-focused their efforts on more profitable, higher-demand areas such as containerboard.
Decreased supply – Increased paper demand in China, the world's biggest and fastest-growing consumer of paper, is one of the main reasons for decreased global supply. In 2016, pulp prices were at an all-time low due to China's slowing economy. As its economy improved in 2017, there was an more demand for paper products to meet China's rising population, and the U.S. struggled to meet demand due to less capacity from its existing mills. (Fisher International, March 2018)
Shifting exchange rates – Fluctuations in currency have impacted the U.S. paper market and led to price hikes as demand has fallen in favor of lower-cost options. For example, according to Paper Age Market Grade Report, the Canadian dollar has decreased almost 25% from its peak in 2014, making Canadian mills a more competitive and in-demand option due to lower overall paper costs.
---
Paper Prices Market Outlook
An overall decline in demand from businesses amid the COVID-19 (coronavirus) pandemic has resulted in producers cutting prices, thus a 2.6% decline in 2020 alone. However, as the economy reopened and corporate profit began to recover, demand has recovered close to pre-covid levels. As a result, the price of paper rose significantly, increasing 9.6% in 2021 alone.
Papermakers can't absorb these costs without passing them along. So, prices are skyrocketing across the industry. These companies are raising prices by 6-15%.
There is some good news in that following this recent price spike, volatility is expected to decrease in 2022. In 2022, the price of paper is expected to rise 0.2%. Overall, the price of paper is expected to increase at an annualized rate of 2.9% over the five years.
---
What Can Your Company Do in Response to Higher Paper Costs?
In conclusion, understanding all of the factors surrounding the paper industry demonstrates how even subtle market shifts can affect the supply and demand as well as overall costs worldwide. The above factors all play a role in the pulp market, from determining the overall cost to product availability, and will continue to shape the industry for years to come.
Let us help you manage higher paper prices. Call us at (714) 436-3300 today to speak with a specialist. As leaders in the document outsourcing industry, paper is something we know a lot about. Our print and mail solutions can help you take your document processing and business communication needs to the next level and reduce costs in the process.
---

Sources:

https://www.ibisworld.com/us/bed/price-of-paper/4595/