Billing and Payments, Business Process Improvement, Document Design, Marketing Strategies
How Strategically-Designed Utility Bills Can Improve Customer Engagement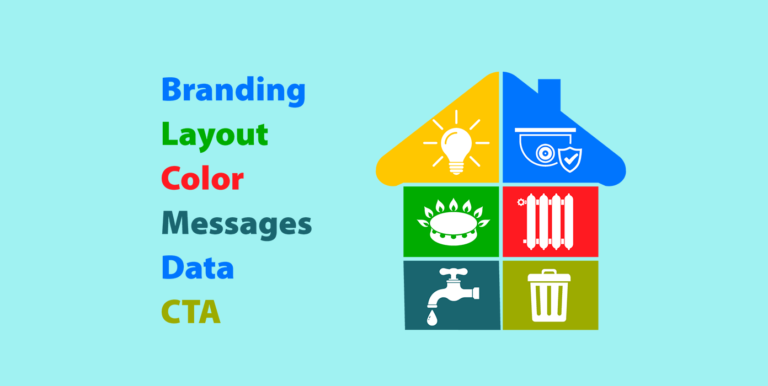 Gas, electric, water, cable, waste management and more – almost every resident uses these utilities and subsequently needs to pay their bills. These utility billing statements provide a unique opportunity to communicate with this dedicated audience, from providing payment due and account information to including important announcements and relevant offers.
As a utility service provider, you should think of these documents – printed or electronic – as blank canvasses or a way to communicate exactly what you want. So, what message do you want to convey? How can you best maximize the effectiveness of your utility bills? By partnering with an experienced document outsourcing specialist, you can maximize the on-page experience with strategic communication strategies, leading to increased customer satisfaction – and improving your own bottom line. Here's how…
---
Transactional and Marketing Communications for Utility Bills
Let's start with marketing communications. According to the 2019 InfoTrends Customer Communications Management survey, customers are receptive to marketing messages included with a bill or statement – over all other channels – due to "trust," "relevancy" and perceived "importance" of messages. When you create your monthly statements, you have an opportunity to tailor the experience based on the customer – and promote additional services, programs, news and announcements. The message can vary by customer based on what's relevant to that individual (using a savvy process called variable data printing).
Plus, utility bills and statements have a longer shelf life – meaning people keep them longer and refer to them multiple times. So, why include marketing messages on your utility bills or statements? (Remember, you have a dedicated audience.)
---
Benefits of Adding Marketing Messages to Utility Bills or Statements
Built-In trust factor
Keep documents longer
Repeated Viewing
Combining transactional and marketing info in one place
Trackability with QR codes and PURLs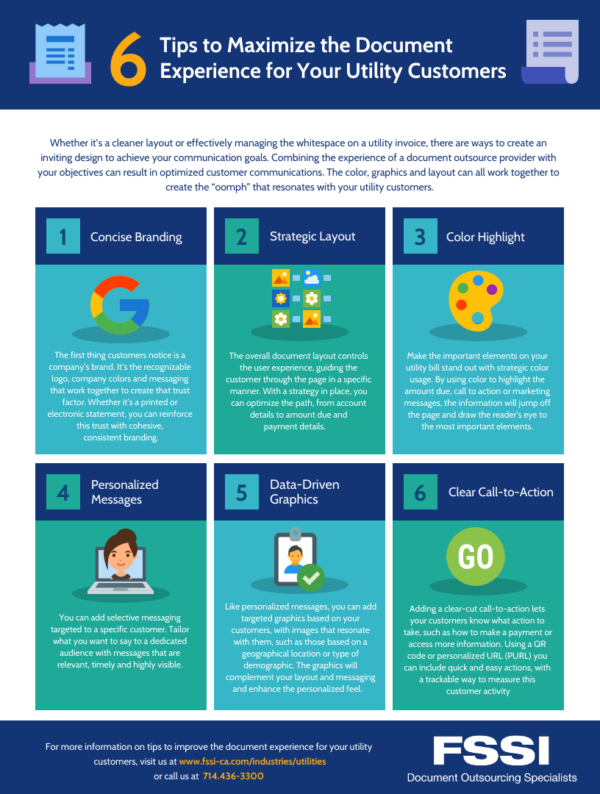 ---
How to Maximize the Document Experience for Your Utility Customers?
Whether it's a cleaner layout or effectively managing the whitespace on a utility invoice, there are ways to create an inviting design to achieve your communication goals. Combining the experience of a document outsourcing provider with your objectives can result in optimized customer communications. The color, graphics and layout can all work together to create the "oomph" that resonates with your utility customers (i.e. finding the information they need quickly, providing a multichannel experience, including a clear-cut call-to-action, etc.).
---
Here are steps you can take to create an optimized on-page user experience:
Concise Branding – The first thing customers notice is a company's brand. It's the recognizable logo, company colors and messaging that work together to create that trust factor. Whether it's a printed or electronic statement, you can reinforce this trust with cohesive, consistent branding – providing the same experience across all channels.
Strategic Layout – The overall document layout controls the user experience, guiding the customer through the page in a specific manner. With a strategy in place, you can optimize the path, from account details to amount due and payment details.
Color Highlight – Make the important elements on your utility bill stand out with strategic color usage. By using color to highlight the amount due, call to action or marketing messages, the information will jump off the page and draw the reader's eye to the most important elements.
Personalized Messages – As previously mentioned, you can add selective messaging targeted to a specific customer. Tailor what you want to say to a dedicated audience with messages that are relevant, timely and highly visible.
Data-Driven Graphics – Like personalized messages, you can add targeted graphics based on your customers, with images that resonate with them, such as those based on a geographical location or type of demographic. The graphics will complement your layout and messaging and enhance the personalized feel.
Clear CTA – Adding a clear-cut call-to-action lets your customers know what action to take, such as how to make a payment or access more information. There is no confusion. By going further and using a QR code or personalized URL (PURL) you can include quick and easy actions, with a trackable way to measure this customer activity – and add a multichannel experience with multiple touchpoints.
---

---
Top Benefits of Specialized Communication Strategies
With the strategically placed, on-page elements in place, you'll offer an enhanced customer experience – from highlighting important information to providing actionable steps. Utilizing these communication strategies will offer an elevated customer journey – leading to company advantages that include:
Faster Remittance – When customers can easily locate the amount due and payment method – the main purpose of a utility bill or statement – they will be more likely to submit payments more quickly, creating a steady revenue cycle.
Increased Customer Satisfaction – A seamless payment experience combined with easy access to account information will lead to happier, loyal customers. The targeted messaging and graphics will also create a personalized, enjoyable customer journey – enhancing overall satisfaction.
Less Call Center Inquiries –Your customers will be less likely to call customer service or make inquiries when their questions are answered in a user-friendly utility bill or statement (e.g. how to make a payment, how much is due, etc.).When they can find everything at their fingertips, they will have access to all of the necessary resources to complete these actions.
Higher Opt-In Rates –Do you have special initiatives or programs? By targeting specific customers with information that is applicable to them, you will see higher opt-in rates and levels of interest by offering personalized information.
More Informed Customers – Use your bills and statements to keep your customer base informed and in the know. Remember that available whitespace on your documents? You can add newsworthy information, helpful tips and even statistics to inform customers on important and relevant information.
---
Take Utility Customer Engagement Even Further
Well-thought-out and strategically redesigned utility bills are just the beginning. You can further enhance your communications strategy by electronically presenting your statements and account information; providing email or text notifications when a payment is due or a statement is ready; and integrating convenient online bill pay with electronic statements. The benefits of an end-to-end ePresentment strategy can further elevate the customer experience by taking it all online for added convenience and flexibility – a big benefit in today's digital world.
Build Your Brand and Increase Customer Satisfaction with a Document Outsourcing Partner!
Your monthly utility bills and statements offer a wealth of opportunities to engage with your customers. Instead of including "just the basics," you can create a customer-building tool that elevates your brand – from an inviting layout to easy-to-find information and actionable offers. Say goodbye to a one-size-fits-all approach. You can tailor your utility bill communications strategy to fit your customers – with personalization and whitespace management that gets noticed.
Call 714.436.3300 to find out how you can improve collections and better interact with your customers – starting with highly effective utility bills and statements.
---