Business Process Improvement, How-to Guides, Outsourcing
Guide to Print and Mail Outsourcing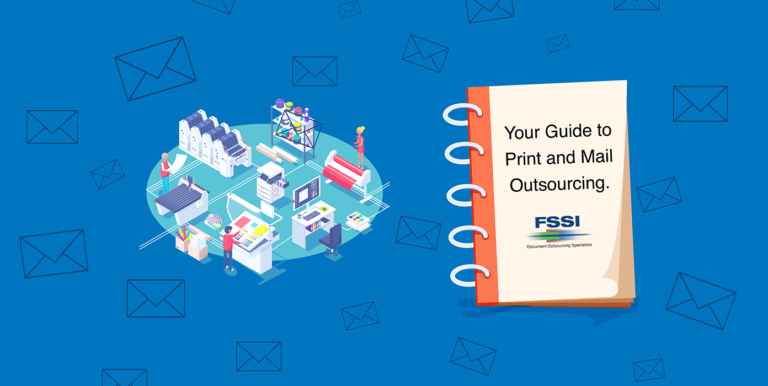 Are you considering making the switch to outsourcing your high-volume transactional print, mail and digital customer communications? You are not alone.
As companies grow and/or financial, technology and capacity needs change, outsourcing business processes can become a necessary and vital tool for success. Banks, credit unions, healthcare institutions, auto finance companies and utility services are all examples of businesses in highly-regulated industries that require and benefit from partnering with a print and mail service provider.
---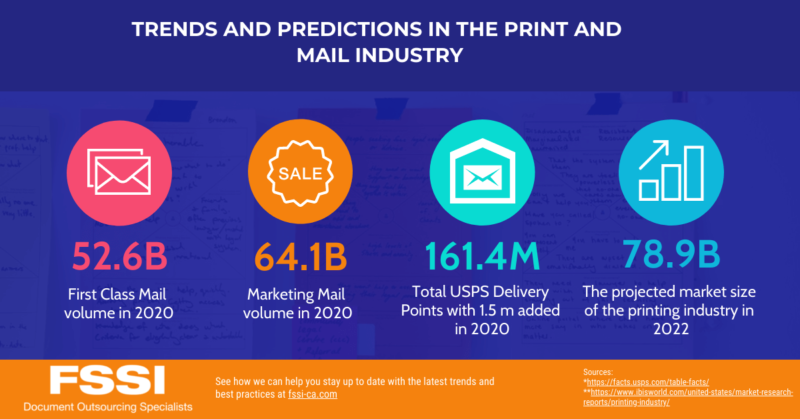 Statistics and Predictions for the Print and Mail Industry
Did you know that:
First-Class Mail volume was 52.6 billion pieces in 2020
Marketing mail volume was 64.1 billion pieces in 2020
The USPS served 161.4 million delivery points nationwide in 2020 with 1.5 million new delivery points added to that network*
In 2022, the projected market size of the printing industry is estimated to increase 1.6%, with $78.9 billion in revenue**
With print and mail the main touchpoint between companies and their customers, it's important to ensure that you're optimizing these critical services.
In this post, we will explain the benefits of print and mail outsourcing and what to expect from the onboarding and conversion process. Not all print and mail outsourcing companies are created equal but knowing what to expect will help ease the outsourcing journey. Here is our getting started guide to print and mail outsourcing:
---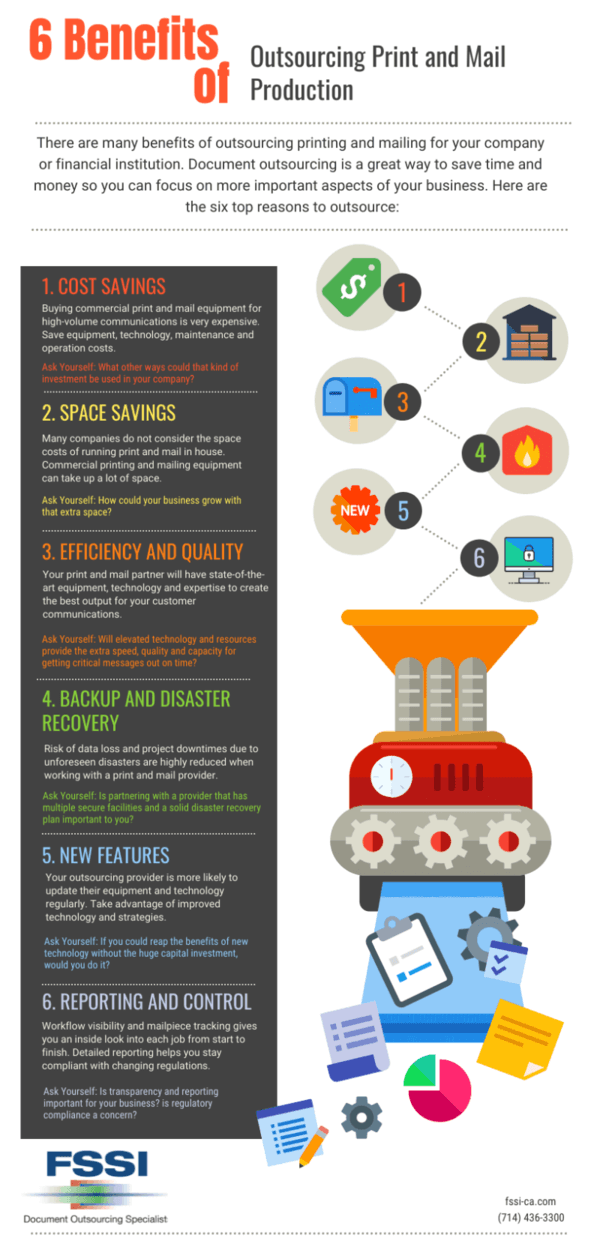 ---
The Top Benefits of Print and Mail Outsourcing
Increased Cost Savings: Buying commercial print and mail equipment for high-volume communications is very expensive. Working with a print and mail service provider saves your company in equipment and technology costs and long-term maintenance and operation fees.
Greater Space Savings: Large warehouse space is necessary for running industrial printing and mailing equipment. Paper and envelopes also require large amounts of warehouse space. Partnering with a print-mail service provider relieves this need for space within your own facility.
Increased Quality and Efficiency: Your print and mail partner will have the state-of-the-art equipment, technology and expertise to create the best output for your customer communications. Elevated technology and resources will provide extra speed, quality and capacity for getting critical messages out on time. This improves your company's communications process, making it more efficient overall.
Strategic Backup and Disaster Recovery: Risk of data loss and project downtimes due to unforeseen disasters are highly reduced when working with a print and mail provider. It is ideal to partner with a provider that has multiple secure facilities and a solid disaster recovery plan.
Latest Features and Technology: Your outsourcing provider is more likely to update their equipment and technology regularly because it is their main business. This allows you to always have the latest print-mail tech and resources at your fingertips.
Full Control and Transparency: While outsourcing may feel like releasing control, working with an outsourcing provider actually gives your company MORE control over your customer communications. You'll have access to the resources necessary for create the best print output and postage rates while increasing customer engagement. Workflow visibility and mailpiece tracking will also give an inside look into each job from start to finish.
In-Depth Accounting and Reporting: Your print and mail provider will not only help you get the best rates for all your jobs but also ensure you are abiding to specified compliance and regulations. Detailed accounting and reporting will provide auditable proof that each job is completed.
---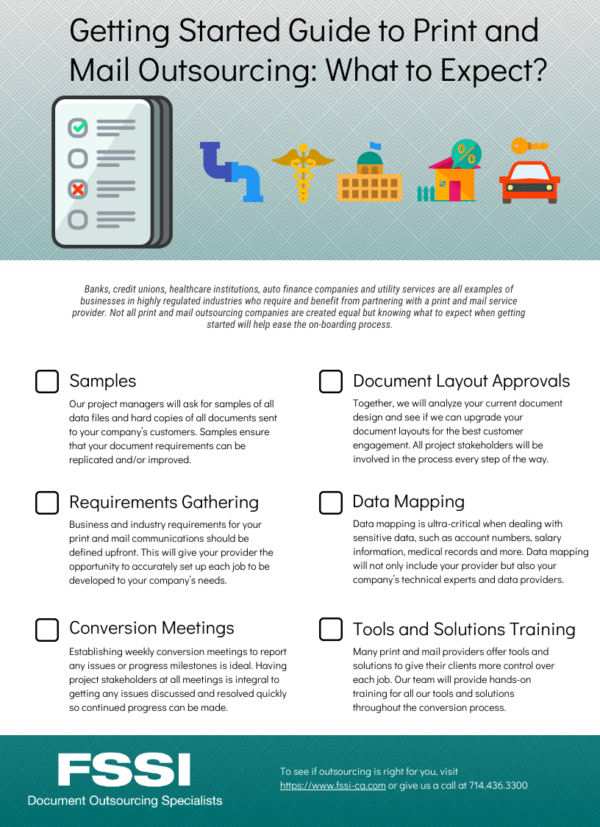 What You Can Expect When You Decide to Outsource?
You've decided to outsource your print, mail and electronic customer communications, so now what can you expect from your document outsourcing provider? Here's a look at the steps you'll encounter along the way:
Onboarding
Once you have selected a print and mail provider, your company will likely be assigned a client services representative to act as an ongoing liaison and resource. Your service provider will explain their specific print and mail processes and bring in a conversion team to define the specific requirements of your customer communications and data.
Conversion
Converting your print and mail processes and data to a new system can be intimidating but a well-planned conversion and organized conversion team will make it a painless and seamless experience. Your service provider should have a proven process in place to securely transition your company's sensitive data and create output for the best results of your printed and mailed communications.
Samples: An in-depth conversion partner will ask for samples of all data files and hard copies of all documents sent to your company's customers. Samples ensure that your document requirements can be replicated and/or improved.
Document Layout Approvals: Part of your conversion process will likely include document redesign to upgrade current document layouts for the best customer engagement. Designs and layout mockups should be approved by all the project stakeholders to speed up the development process.
Requirements Gathering: Business and industry requirements for your print and mail communications should be defined upfront. This will give your provider the opportunity to accurately set up each job to be developed to your company's needs. Time should be set aside for testing files and application programs.
Data Mapping: Comprehensive data mapping guarantees your customers don't receive the wrong information. This is ultra-critical when dealing with sensitive data, such as account numbers, salary information, medical records and more. Data mapping should not only include your provider but also your company's technical experts and data providers.
Regular Conversion Meetings: Most successful conversions are due in large part to solid communications. Establishing weekly conversion meetings to report any issues or progress milestones is ideal. Having project stakeholders at all meetings is integral to getting any issues discussed and resolved quickly so continued progress can be made.
Training of Tools and Solutions: Many print and mail providers offer tools and solutions to give their clients more control over each job. Your outsourcing provider will likely conduct training for these tools and solutions during the conversion process. Visit FSSI's Workflow Tracking and Reporting page for an example of a print-mail workflow solution that provides 24/7 tracking and reporting so your company can track every mailpiece, ensuring safe delivery.
---
The Outsourcing Partnership
The ease and length of the onboarding and conversion process will differ with every company but partnering with the right team will make it feel seamless. Our company takes in all types of data from virtually every industry vertical, formatting it for print and mail and/or eDelivery. We've worked with clients who are well-versed in the conversion process and clients who depend on us to be their conversion experts.
The smoothest conversions happen when there is a collaborative effort between the client and their print and mail outsourcing provider. Let us help you save time, money, and avoid costly mistakes in your next outsourcing project. We're here to help you seamlessly navigate the process, from start to finish.
Leading-edge print and electronic communications
Trusted by partners nationwide
Dedicated quality control and workflow tracking
SOC 2 certified and HIPAA compliant
Two strategically-located facilities
FSSI
FSSI is a print and mail outsourcing provider that has completed thousands of conversions with over 40 years of experience helping companies enhance their communications strategy. For more information to help guide you through the conversion process, please download our special report The Truth About Conversions or call 714.436.3300 to speak to one of our outsourcing specialists today!
---

Sources:

*USPS: https://facts.usps.com/table-facts/
**IbisWorld: https://www.ibisworld.com/united-states/market-research-reports/printing-industry/