Whitepaper Download
You're Requesting "The Truth About Conversions"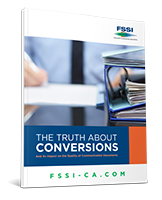 Do you know the logistics involved in a successful conversion? Are you ready to learn the vital role of the right outsourcing partner?
Download the "The Truth About Conversions" whitepaper today and dive into the processes involved with outsourcing customer and member communications – for printed and electronic documents. From approved document layout and detailed requirements gathering to comprehensive data mapping, you'll learn what happens from A to Z.
Find out how careful planning, full transparency and industry best practices can lead to a smooth and successful conversion!