Banks and Credit Unions, Billing and Payments, Color Psychology, Customer Experience and Engagement, Document Design, How-to Guides
Redesign Financial Statements With These 3 Enhancements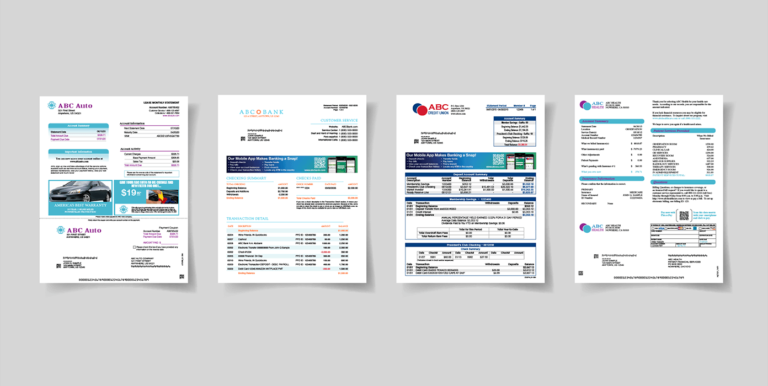 Improve Customer Relationships and Engagement with Well-Designed Statements
Many companies still haven't realized just how valuable well-designed transactional documents are to their business strategy. Creating engaging financial statements and invoices expands brand awareness, nurtures customer relationships and increases payment remittance.
Listed below are three statement design tips for instantly taking your documents from ordinary to EXTRAORDINARY:
---
1. Grab attention and increase impact by adding color to highlight important information and create brand consistency.
The goal of every financial statement is to communicate important information before the recipient loses interest. Black and white documents are usually not impactful enough because statements often require a great deal of information on a single page. A well-designed statement uses color to quickly zoom the reader's eyes in on key details.
Recurring statements and communications offer monthly opportunities to display your brand. Add color to your brand's logo to increase brand consistency and create a lasting impression every time.
Where to add color:
Logos
Ads
Offers
Important messages (Account balance, payment due date, etc.)
---
2. Create a personalized experience with variable data, targeted messaging and graphics.
Variable Data:
Put your customer data to work. Get personal with variable data printing, allowing you to greet your customers by name and securely add their individual information to each statement.
Whitespace Management:
The empty areas inside your time-critical communications are prime real estate for marketing and cross-selling your products to a dedicated audience. Create an optimal layout that manages the whitespace in your document and guides the reader's eye to the most important information without adding clutter.
Marketing Messages and Graphics:
Expand personalization by adding selective messaging and targeted graphics. Choose images that resonate with customers using data collected, such as images chosen based on demographic or geographical location.
Combining your transactional documents with marketing strategies makes them more engaging and personal for your customers overall. Visit FSSI's blog about increasing ROI with well-designed documents for more document design tips.
---
3. Offer options and convenience with statement digitization including multichannel touchpoints and personalized payment options.
Your customers are likely to all have different requirements or preferences for viewing statements or documents. Some may prefer only receiving printed statements because they are less tech-savvy or like to keep a permanent record of communications. Others might have no interest in interacting with physical mail and only desire to view their statements online or through a mobile application. Often, customers want a combination of both print and electronic statements for added convenience. The best way to make everyone happy is by offering multichannel notification and payment options.
SMS and Email Notifications:
Help customers stay on track with payments and notices with monthly text messages and email notifications, alerting customers when a statement is available to view and when a payment is due. Customers have to opt-in to these options, taking the guesswork out of which multichannel notification options they prefer.
Fast and Easy Payment Options
Immediate payments don't have to be limited to electronic statements anymore. Add multiple bill payment options directly inside your printed documents, allowing customers to transition from their printed statement to a completed payment in the fewest steps possible.
---
Payment Options:
Scannable QR Codes
Customers can quickly scan the code printed on their statement with their smartphone camera and go directly to their payment page.
Digital Wallet Integration
Customers can conveniently access information directly in their digital wallet without having to download a separate application or worry about compatibility issues.
Cash Barcodes
Customers simply bring their statement to a participating retailer (including 7-Eleven, CVS, Family Dollar and others), scan the unique barcode at the counter and complete the payment in cash.
Implementing the tips above is a sure way to create more engagement, expand brand awareness and drive payments with transactional statements and documents. Partner with the technology and customer experience experts at FSSI to create a custom communication strategy for your company.
---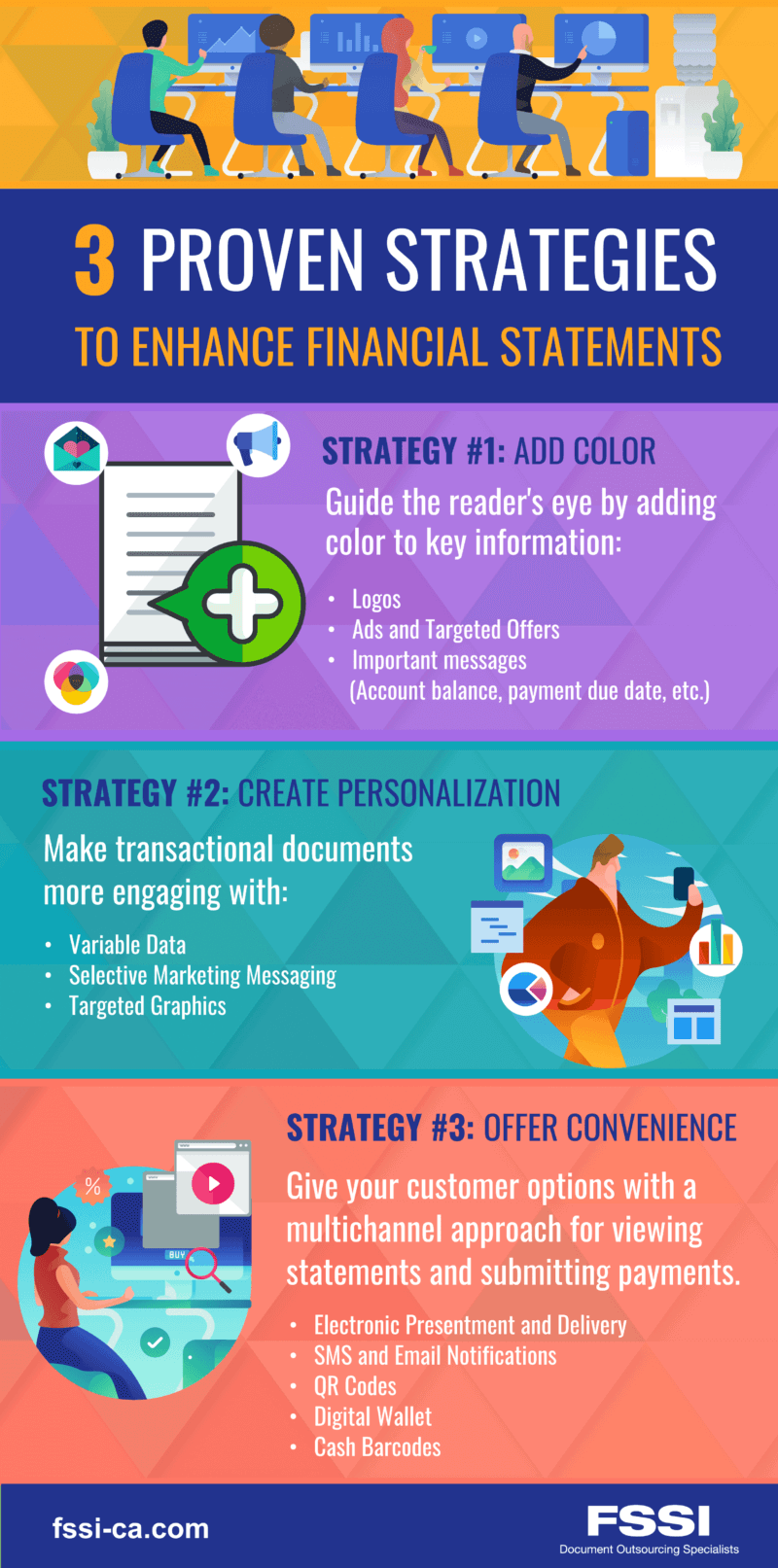 ---
FSSI

FSSI is a print and mail outsourcing service provider specializing in high-volume customer communications. We help businesses maximize the impact and strategic value of transactional and marketing documents through document redesign. When you partner with FSSI for your critical communications, you get the benefits of being covered by multiple facility locations, state-of-the-art print and mail equipment, secure data processing, innovative backup/archival technology and an expert network security team.
Call 714.436.3300 today to speak to an outsourcing specialist about enhancing your customer communications.
---