Billing and Payments, Business Process Improvement, Customer Experience and Engagement, Technology and Mobile
Beyond Print: The Benefits of a Streamlined Electronic Presentment Strategy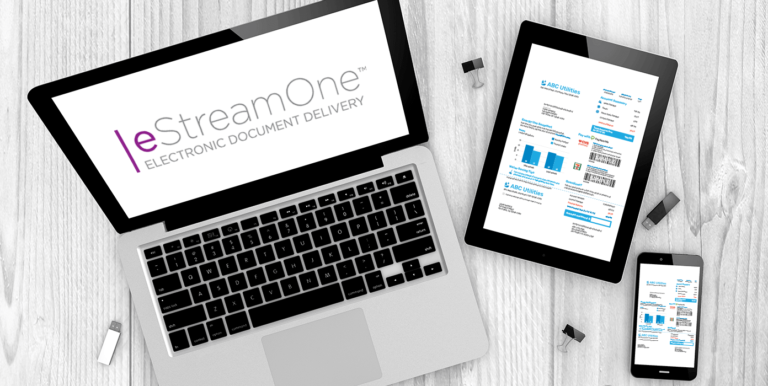 In today's digital world, you want to offer the most robust, up-to-date document outsourcing services – going beyond print and mail. This includes adopting a modern, flexible and digital-forward customer communications approach. Let's face it – people want quick and easy access to information. You can meet that need with a powerful electronic presentment strategy.
Adding electronic presentment provides a safe, secure and eco-friendly way for customers to access important documents, securely presenting them in a convenient paperless format. You can engage your customers using a single solution to deliver all critical communications – a completely digital option that offers an abundance of benefits for you and your customers.
If your end game is eStatement adoption, read on to learn how electronic presentment can reduce your costs while improving the customer experience – giving you an edge with your customer communications.
---
What is Electronic Presentment?
Let's start with the basics. Electronic presentment is an online solution that provides seamless, immediate access to electronic statements, invoices, tax forms and other important documents. The same documents that are typically in your print stream can be electronically delivered, according to your customer's preferences as well your company's specific technical resources. Using the latest technologies and functionalities, ePresentment caters to digitally-minded customers, putting them in control of their communications experience – while meeting your own business requirements.
---
Why is Electronic Presentment Important?
With convenient online access to electronic documents, electronic presentment is a powerful business tool that can increase customer acquisition, retention and loyalty. Flexible infrastructure options mean you have full control over the presentation, design and functionality of your integration – for an optimal user experience that can lead to higher adoption and satisfaction rates while reducing postage and paper costs in the process.
You'll be more competitive and in control with innovative capabilities that provide a modern customer journey, benefitting from a scalable, forward-thinking solution that's never outdated. Also, with flexible and consistently branded features, you'll elevate the customer experience and keep your company competitive with a dynamic, forward-thinking tool that grows alongside you.
---
The ePresentment Market is Projected to Grow
Electronic bill payment and presentment are here to stay. In fact, it's poised for growth, with many customers preferring this fast, secure and convenient option. According to Adroit Market Research*:
Revenue from the global electronic bill presentment and payment market is projected to reach close to $13.99 billion by 2028
The trend towards newer payment options, such as mobile-based payments, will continue to help drive industry growth
Electronic billing is being fueled by a growing emphasis on convenience, transparency, ease of use, and secure, time-saving choices
Electronic bill presentment and payment (EBPP) enables companies to host customizable interactions with their customers
EBPP gives companies more control over the billing process and assures faster and more secure bill payments with real-time transmission of statements and bills
Many consumers prefer e-billing since the technology allows them to switch to paperless bills
---
ePresentment Benefits for Companies
In an era of added convenience and flexibility, you want to offer the most robust, up-to-date electronic presentment to your customers – one that will grow and scale and meet your branding requirements. By implementing a highly customizable option that includes feature-rich elements, you can make accessing important transactional and marketing documents a seamless online experience.
Here are the benefits for your company:
Choice of a flexible Infrastructure – Tailored infrastructure options provide full control over the presentation and functionality of your integration – from standard electronic bill presentment services to the most robust and advanced features. Choose the "best fit" solution based on your technology (API, Single Sign-On and Fully Custom) – there's one to meet every ePresentment need.
Facilitation of online payments – With versatile payment integration, you can connect your ePresentment application with your preferred payment provider. Multiple integration points give your customers the ability to pay directly from a document or from within the interface.
Increased customer loyalty – Provide a straightforward and convenient way for your customers to access vital information and make payments. An intuitive, easy-to-use interface results in increased eAdoption and retention rates.
More customer engagement – Add timely, selective messages to both printed and electronic documents that inform your customers or entice them to act. Electronic documents can include hyperlinks that point to landing pages. With complete trackability, a hyperlink creates a measurable, actionable response, while delivering relevant information to your customers.
Elimination of overall risk – Reduce the risk of upgrading or deploying a new solution on your own, gaining unlimited insight and high-tech knowledge, in addition to compliance and security expertise.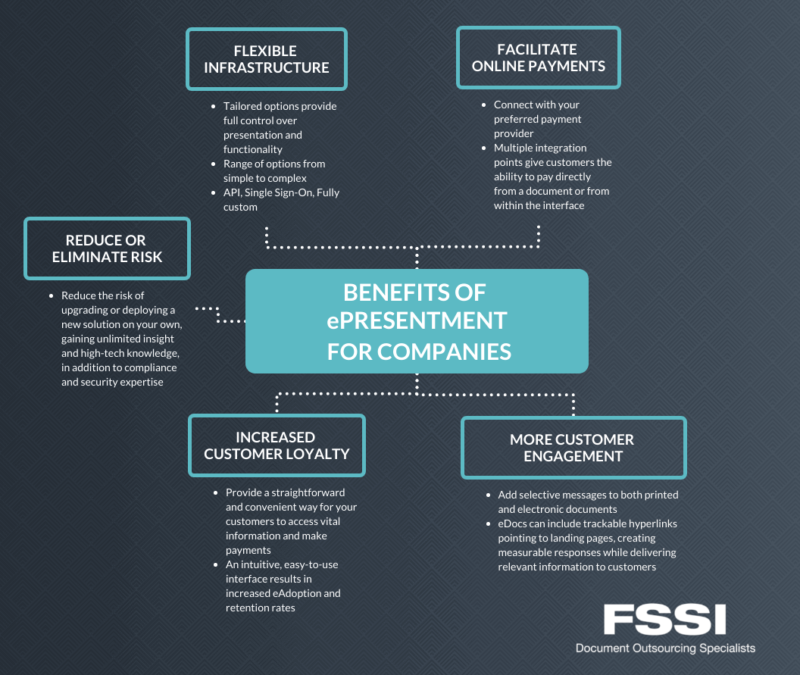 ---
ePresentment Benefits for Customers
Digitally-minded customers want a convenient and flexible customer experience, with immediate and straightforward access to documents and payments – a plus in today's busy world. With ePresentment, you have an opportunity to build brand loyalty and increase engagement with an array of tools and features that maximize this experience.
Here are the benefits for your customers:
Easy access to documents – Improve your customer experience and make information readily accessible with easy-to-use functionality, so customers can quickly access clear and accurate electronic documents.
Receipt of real-time notifications – Timely email and text notifications alert customers when their documents are ready for review, a new payment is due or an account is past due.
Full control over preferences – Customers control their notification and delivery preferences 24/7, adjusting their choices at any time, even opting into or de-enrolling from the receipt of paper documents.
Greater satisfaction – Customers retrieve web-optimized, printer-friendly PDFs and enjoy clickable links for viewing check images or marketing information.
Quick payments – An integrated electronic bill pay option enables customers to easily make online payments, with real-time processing and confirmation.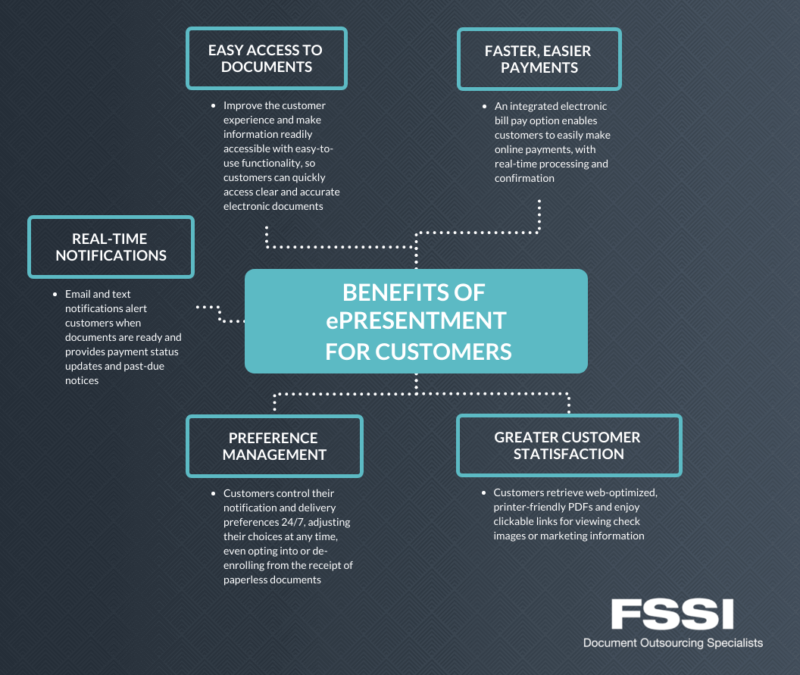 ---
The Benefit of Valued FSSI Partnerships
When you choose FSSI as your electronic presentment provider, you get the above benefits, in addition to the benefits of valuable industry partnerships. At FSSI, our partnerships with innovative technology companies are designed to provide cost savings while delivering the greatest value to producing customer communications. This includes offering SMS and payment capabilities (if applicable) with the best, most advanced features and technologies to give your solution a competitive edge.
FSSI Partners:
Solutions by Text streamlines client communication and leverages the power of SMS to create advanced business solutions in the mobile space. SBT provides a robust software platform that is continually updated to meet all legal and industry compliance requirements while seamlessly Integrating text message capabilities into your existing print, mail and electronic document strategies – reducing startup costs and time to market and easily scaling as needed.
PayNearMe's modern and reliable payment platform provides clients new ways to engage with customers and improve satisfaction. With the acceptance of all payment types, the company delivers modern payment services for today's digital-minded customers, offering card, ACH, cash, and mobile options including Apple Pay – all in a single, convenient platform. Customers can make payments any way they want, including text message, email, web, IVR or in-person with cash at participating retail locations.
---
Get Your Complimentary FSSI ePresentment Demo or Consultation!
Contact us today to request a demo or no-obligation assessment of your electronic delivery practices. Reduce production costs, increase ROI and enhance the customer experience with a fail-safe ePresentment solution. We've got you covered throughout the complete lifecycle of your customer documents – from composition to electronic presentment and delivery.

Sources:

https://www.skyquestt.com/report/electronic-bill-presentment-and-payment-market