Auto Finance Outsourcing FAQ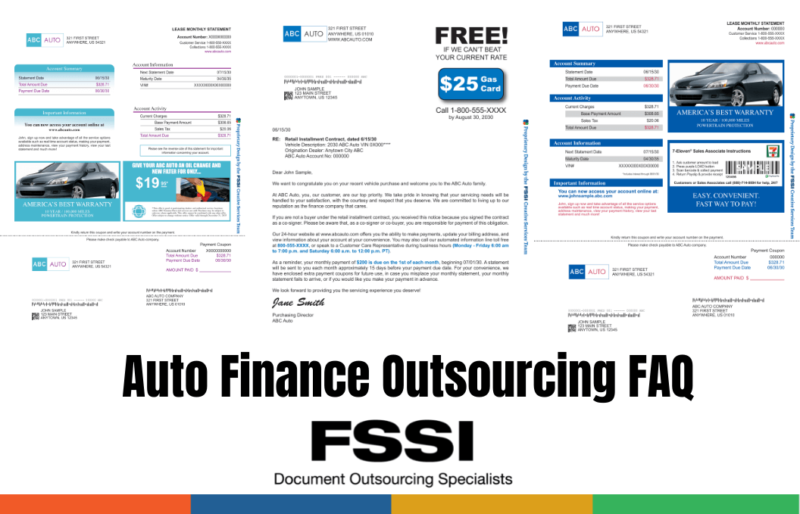 ---
Commonly Asked Questions About Outsourcing Print and Mail for the Auto Finance Industry
Why do auto finance companies and subprime lenders outsource their print and mail?
Those in the auto financing business, especially sub-prime lenders, face tough challenges in today's fast-paced, highly-regulated lending environment. Much of your success depends on the quality and effectiveness of communications, such as letters, notices and statements.

Having a print-mail company with over 40 years of experience, like FSSI, including extensive auto finance experience, helps you reduce the cost and risk of acquiring and servicing customers and facilitates timely payments.
What are the main benefits when auto finance lenders outsource with FSSI?
There are three primary reasons auto finance companies choose FSSI as their outsourcing vendor. One of the benefits of outsourcing printing is our industry experience. We've worked extensively with auto finance firms of all sizes and specialties and currently partner with Shaw Systems to serve and support many clients. The second reason is our compliance controls. When you work with FSSI, you're assured of a production environment that employs the latest data security and handling technologies. Thirdly is our exclusive, turnkey print-mail solution for auto finance clients. No other print and mail outsourcing vendor offers anything comparable.
What does FSSI's turnkey print solution for auto finance companies include?
FSSI offers a specially bundled, highly-scalable solution just for auto finance companies.
It combines several powerful business-building tools into one convenient, easy-to-use platform that gives you greater control over your document, and in turn, the customer experience.
The standard bundle includes:

eStreamOne™ – A highly-customizable electronic statement presentment and payment solution with feature-rich elements that provide quick and easy access to paperless statements, invoices and other important documents (includes HTML and PDF formatted documents displayed using responsive web design).

letterStreamOne™ – An accessible, client-controlled letter template management solution that facilitates online print-mail fulfillment for letter and notice production using a user-friendly, sharable repository – and includes unlimited revisions.

workStreamOne™ – An online job tracking and reporting that puts you in control of monitoring and managing document production with 24/7 real-time access to data and analytics.

For clients who want them, available compliance tracking and reporting options include:

Mailpiece Monitoring – This Lets you track each individual mailpiece throughout FSSI's production environment and into the USPS mailstream.

Intelligent Mail Barcode (IMb®)– In January of 2013, the USPS introduced the barcode and mandated that it be included on all mailed pieces that qualify for automation discounts, replacing the familiar PostNet barcode. The code allows tracking of mail through the postal system and facilitates deeper USPS reporting.
Does FSSI have much experience working with subprime auto lenders?
Yes, we have developed customized communication and payment solutions for many well-established and fast-growing subprime lenders. We understand the key business issues associated with subprime lending including, acquisitions, servicing and collections, and offer the tools and support needed for you to succeed in these areas.
Does FSSI mostly work with large auto finance companies?
We do have several larger lenders as clients, but we also serve a number of up-and-coming small- and mid-sized companies. That's the beauty of working with FSSI: you get "A-team" service, support and solutions, regardless of your size or industry tenure. Your challenges become our challenges and we welcome the opportunity to help you overcome them all.
Do you integrate with popular auto finance industry data processing providers?
In terms of auto finance data handling, FSSI is "platform agnostic." That is, we work with all major providers and are adept at developing reliable, accurate, regulatory-compliant solutions for any data requirement. Examples of our integration experience include MegaSys; CMSI, DEFI, and of course, Shaw Systems.
What types of auto finance documents and borrower communications are processed at FSSI?
As our clients' go-to print and mail vendor, FSSI can securely process and deliver an extensive list of loan documents, including, but not limited to, the ones below. Contact an FSSI auto finance specialist if you have questions about a particular kind of document or electronic correspondence:
AA letters–TD and Conditional
Printed and electronic statements
Welcome letters
RTC (right to cure)
One-time drafts
Annual privacy letters
Reinstatement letters
GPS/starter interrupt notices
SMS text messaging
Notice of intent to sell
Collection letters/NSF letters
RTC, NOI, and NSF notices
Cancellation and past-due notices
Deficiency notices
Repo letters
Mobile presentment/payment
Deficiency balances
Do you offer job tracking as well as individual mailpiece tracking?
You'll have immediate access to an abundance of production data and online job tracking and reporting, with additional go-to access to historical trends over a specific time period. Benefit from real-time analytics and metrics, detailed visual charts and graphics, and exportable management reports for an optimized user experience.

Need to know that a specific file was received? Not sure about your current postage balance? Ready to review a PDF sample file for approval? Quickly and easily log in and access the immediate details you need. It's full, audit-ready, in-depth monitoring and reporting at your fingertips.
What measures do you take to ensure regulatory compliance in document production?
Security is our top priority at FSSI. Clients rely on us to deploy and utilize the leading-edge data handling and workflow technologies that safeguard data throughout production. Click below to learn more about how we secure data and ensure compliant production.
Infrastructure
SOC Certification/HIPAA Compliant
Customer Data Security and Privacy
Do you offer financial direct mail marketing services?
Yes, our targeted direct mail services will help attract new customers while also helping you promote new services to existing borrowers. When it comes to purchasing a vehicle, financing is one of the most important aspects for new buyers.

With a data-driven, end-to-end multichannel direct marketing solution, your auto finance direct mail campaign works in tandem with robust digital marketing for stellar results. It includes an automated process that's 100% done for you, with the right promotional activities in place to extend your marketing reach – including full attribution in an online dashboard for visibility and tracking.

If you are looking to learn more about our advanced direct mail and marketing campaigns, visit FSSI's Marketing Services Division, Splash.
Experiencing growing pains or simply looking for a more capable, experienced compliant provider? Take advantage of FSSI's 40+ years of outsourcing experience. Call 714-436-3300 today for a no-obligation document production or data conversion consultation. You may also visit auto finance outsourcing solutions for more information about outsourcing the processing and mailing of customer documents.