Whitepaper Download
You're Requesting "The Top 10 Reasons to Outsource Print-Mail Production"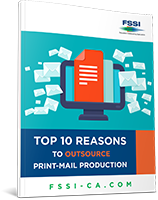 Are your in-house printing efforts overwhelming and taking too much of your attention? Are your dedicated costs and resources skyrocketing? It may be time for a workable solution.
Download the "Top 10 Reasons to Outsource Print-Mail Production" whitepaper today and get valuable insights into the short and long-term benefits of outsourcing – and why it's a must in today's business climate!
Learn how you can alleviate stress and re-focus your resources and energies on what you do best – while still being fully in control with complete transparency.