Electronic Bill Presentment
Quick Facts
Provide a user-friendly way for customers to access statements, invoices and important electronic documents, securely presenting them in a convenient paperless format that's easy to view or download. Highly-customizable, dynamic electronic bill presentment options grow and scale with your company, offering an optimized customer experience with the latest technologies and features – from fully-customized portals and presentment formats to 24/7 secure access and robust functionality.
Expected Results
Be competitive and in control with innovative ePresentment capabilities that provide a modern customer journey. You'll benefit from a scalable, forward-thinking solution that's never outdated. Increase customer loyalty and satisfaction with a best-in-class, web-based interface that provides quick and easy document access and meets specialized business requirements.
Choose one (1) minimum. Free cost and shipping on orders.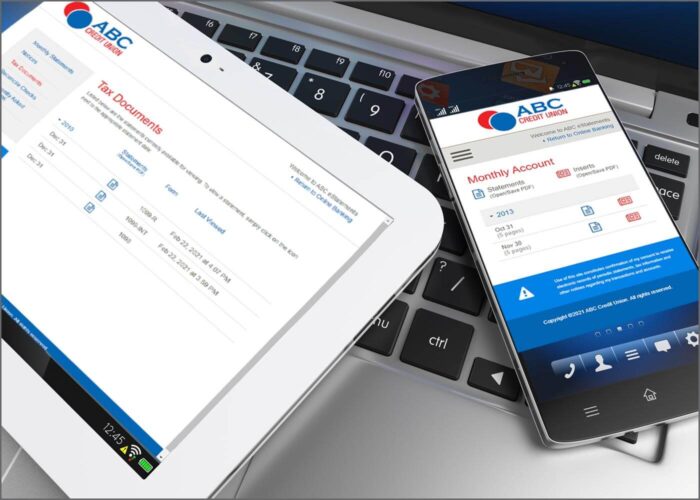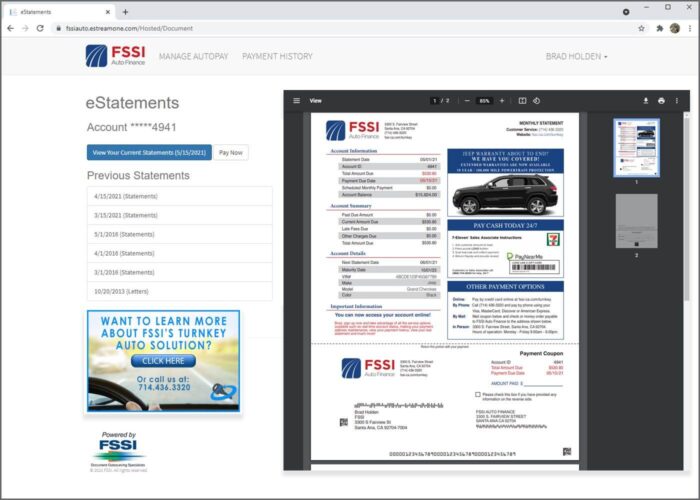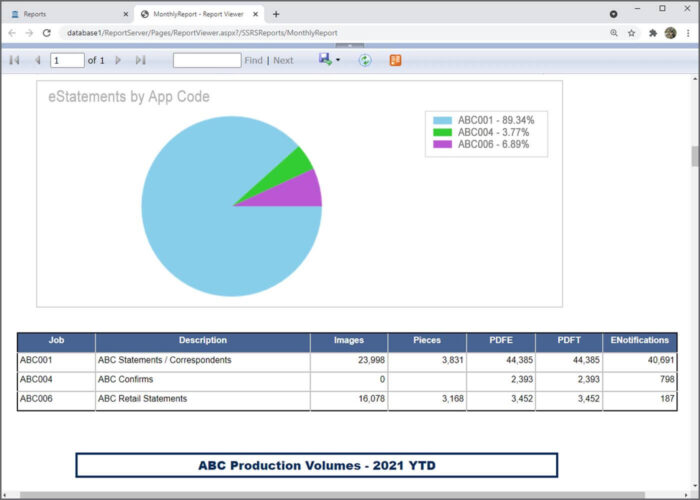 Electronic Presentment and Payment Solutions
Flexible, Scalable Electronic Bill Presentment
Eliminate the risk, heavy financial investment and technical know-how required for in-house electronic presentment services with a best-in-class bill presentment and payment solution that you never outgrow.
FSSI provides flexible, custom solutions that are made to your specifications, from the infrastructure to the delivery and archival of electronic documents. You deliver the exact online customer experience with a solution that works for you now, and in the future, as your company and technologies evolve.
You'll stay relevant and in alignment with your company goals while offering your customers the latest, most cutting-edge features and functionality.
Seamless Digital Integration Options
Ready to upgrade or deploy a new electronic presentment solution? FSSI's tailored infrastructure options provide full control over the presentation and functionality of your integration – from standard electronic bill presentment services to the most robust and advanced features.
Choose the "best fit" solution based on your technical resources and specific business requirements – there's one to meet every ePresentment need. All options include a responsive design for optimal viewing on any device and adherence to ADA compliance, making electronic documents accessible anytime, anywhere and for everyone.
Application Programming Interface (API) – Connects your hosted web solution to a secure, searchable FSSI database where document images are identified, retrieved and presented online. You maintain control over authentication and the user experience.
Single Sign-On (SSO) – Links your website or home banking website, to FSSI-hosted content via an intuitive iFrame or separate URL. FSSI designs the user experience while you maintain authentication control. Customers think they're engaged with your site, even though they're accessing documents via FSSI.
Fully Hosted – Provides a client-branded experience that directs customers to FSSI's secure ePresentment environment where they're authenticated and allowed to perform all requests and functions in a setting that has the same "look and feel" as your site. This option, which utilizes FSSI's development and graphic design expertise, offers a full suite of advanced functionality, including user authentication, password resets and user preference management.
Fully-Customized User Interface
There's no need to stay with a so-so solution when you can have all of the bells and whistles of a fully-customized portal. The SSO and Fully-Hosted options provide the ability to create a streamlined, user-friendly digital experience that mirrors your expectations and specialized requirements, from sign on to accessing documents.
Say goodbye to plain web templates as you welcome a branded, visually-appealing and functional interface that sets you apart.
Consistent Branding – Be recognizable with your company's brand incorporated into the interface design for a consistent and streamlined experience. The design will mirror your own company website, creating a seamless bridge between your site and FSSI-hosted content.
Dedicated UX/UI Experts – The user experience and interface lead the way when it comes to the design and development of your customized website. With FSSI, you have a dedicated team of experts that work one-on-one with you to create a fully-functional and enjoyable customer experience, with an intuitive design that provides easy navigation and accessibility of essential documents and information.
Accessibility and Archiving – Create a feature-rich interface for either PDF or HTML documents, ensuring easy viewing or downloading of statements and important documents, even on a mobile device. Documents may include check images, dynamic inserts and regulatory information like disclosures, notices, annual reports and tax documents. Your customers will experience greater satisfaction when documents are readily available and aligned with ADA compliance, with easy print capabilities, archiving options and custom functionality.
Electronic Bill Pay Option – Expedite the payment process with electronic bill payment alternatives that offer your customers the convenience of paying online, with real-time processing and confirmation. With versatile payment integration, FSSI's expert development team can connect your ePresentment application with FSSI's preferred payment partner, PayNearMe, a leading payment processing company, or your own payment provider. Multiple integration points give your customers the ability to pay directly from a document or from within the interface. FSSI helps keep third-party payment information in one place by hosting reported payments and additional details, such as payment history, all on the same webpage.
User Management
FSSI can set up advanced features to facilitate client and user controls, such as user authentication and self-managed enrollment options, streamlining these processes through the online portal. Ensure customer verification, new user registration and digital communication agreements are in order while customers manage their enrollment status and passwords.
Compliant registration ensures the accuracy and security of the registration process, with the proper protocols and documentation from beginning to end, including the Electronic Communications Agreement.
Password management lets your customers set their initial username and password during registration and manage forgotten information on their own, without customer service assistance.
User authentication ensures that customers are who they say they are with two-factor authentication functionality that validates users and verifies they have proper physical access to the account.
Streamlined Customer Support
Give your customer service representatives access to real-time data with a fully-equipped CSR portal to effectively handle customer inquiries. Advanced search features and functionality provide an immediate way to pull customer information and view the same documents as customers, so service calls are handled and closed quickly, with fewer disputes and greater customer satisfaction.
Designate specific customer service reps as admins with top-level access to manage the other reps' activities and perform specialized functions, such as pull reports, change settings and retrieve lost passwords.
Stay on top of customer and representative activity with a detailed log that captures the date and time of activity and what documents were viewed in the online portal for a complete record of all actions.
Provide all-encompassing support that extends beyond eStatements to print documents, with PDFs available to customers and customer service reps for account and data inquiries.
eStreamOne
FSSI's eStreamOne is a highly-customizable ePresentment solution with feature-rich elements designed to facilitate a smooth online experience for digitally-minded customers.
Provide quick and easy access to paperless statements, invoices, tax forms and other important documents while encouraging customer loyalty and improving collections with a solution that adapts to the latest technologies and functionalities.
You'll benefit from flexible and cost-effective features that elevate the customer experience and keep you competitive with a dynamic, forward-thinking technology tool that grows alongside you. Learn more about eStreamOne today.
Secure Data Standards and Compliant Practices
Reduce risk with safeguarded customer data. FSSI implements the latest regulatory standards to protect against unauthorized access and data corruption, keeping sensitive customer data safe across all applications and platforms.
From protected access and passwords to detailed server activity logs and auditable data security standards, you can rest assured that your customer data is always safe with secure data management and compliant practices.
There are enforced password complexity requirements and password hashing and salting techniques, in addition to secure coding best practices and the most up-to-date TLS encryption protocols to protect against traffic monitoring attempts. With security and compliance at the forefront, you have peace of mind that data is always intact and safe.
Unlimited Archival Capacity
Comprehensive archiving processes include converting, indexing, storing, protecting and presenting documents for easy access and review.
There is a quick, go-to library of documents, providing your customers and customer service reps with instant access to electronic and converted print representations of statements, bills, invoices, letters and tax documents for account-related inquiries, research and compliance or regulatory purposes.
Your customer service team can up their level of support with a bird's eye view of customer communications while customers can seamlessly review their document history and control the document view, even hiding those that they've already seen. Archiving solutions include any or all of the following options: online access, portable digital media storage (on DVDs) and uploading to your own in-house archive system.
What are the benefits of FSSI's electronic bill presentment services?
FSSI's electronic presentment services meet every electronic delivery need, making paperless statements an invaluable resource for today's digitally-minded customers. With convenient and easy mobile access to electronic documents, it's a powerful business tool that can increase customer acquisition, retention and loyalty, leading to higher adoption and satisfaction rates while eliminating or reducing postage and paper costs in the process.
Partnering with a well-versed, cutting-edge ePresentment provider can reduce the investment and risks associated with implementing an in-house solution, increasing ROI and brand equity while offering your customers an optimum user experience.
What are the top factors to consider when choosing an electronic bill presentment solution provider?
When researching electronic presentment solutions, there are many variables and factors to consider that affect the cost, user experience and overall result. You can gather the information needed to make an informed choice and select the solution that best fits your company's needs, from integration and functionality to bill payment and archival options.
Infrastructure Options – How easily can you store electronic documents elsewhere and link customers directly to them? To view documents, do customers have a single sign-on option (SSO) or do they have to log out of one site and into another? Does the linked-to site have the same branding as your company website, or do customers feel like they've landed on some unfamiliar third-party page? Is the experience mobile-friendly?
Customization Potential— Do you need a highly-customized solution tailored to your specifications and overall needs? How many presentment alternatives do you want? What about user authentication and hosting options? Do the features and functionality support your long-term business goals?
Bill Pay Integration — Does the bill payment functionality easily connect your ePresentment application with your payment provider? Are the bill remittance features accessible and easy to use? Do users quickly receive a confirmation after making their payment?
Archival Capability — Does the solution easily convert, store, protect and present archived documents? Is there unlimited archival capacity? Is there an administrative interface where reps can retrieve and view electronically presented statements, notices and other correspondence?
What are the advantages of FSSI's electronic payment integrations?
Through FSSI's strategic partnership with PayNearMe, FSSI offers electronic bill payment services that seamlessly integrate with your existing processes. We can act as your eBill and invoice repository, securely serving PDF and HTML documents that link to your preferred payment module, or providing convenient payment from within the ePresentment interface.
You'll be able to offer customers the convenience and flexibility that help you stay competitive and get paid faster. Benefits include:
Streamlined integration
Faster payment remittance cycles
Less call center traffic
Lower CRM costs
Improved customer service and retention
Choose one (1) minimum. Free cost and shipping on orders.