FSC Certified
FSSI continually strives for excellence in a wide range of areas, often earning certifications or recognition from industry trade organizations for our commitment to continual improvement.
Among the print-mail industry certifications we're most proud of, is the Forest Stewardship Council® (FSC®) Chain of Custody (CoC) Certification. This highly-regarded environmental designation allows FSSI to manage and produce documents using FSC-certified paper stock. Becoming FSC certified shows that you comply with the highest social and environmental standards on the market.
Corporate sustainability strategies call for many of our clients to print their statements, bills and correspondence on paper that originates in responsibly managed forests. FSC provides companies with a credible solution to complex environmental and social issues.
---
What is the Forest Stewardship Council® (FSC®)?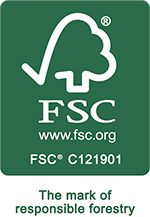 FSC is an independent, non-governmental, not-for-profit organization that promotes responsible management of the world's forests.
FSC certified input materials and products are acutely tracked throughout the supply chain, all the way to the consumer.
Chain of Custody Certification guarantees that FSC-certified material has been produced in an environmentally sound way meeting FSC's 10 Principles, and is identified or kept separate from non-certified material throughout its journey to the marketplace.
FSC Certification also allows FSSI to manage and produce client documents using FSC-certified paper stock. Conscientious consumers can look for the FSC logo and know they are actively supporting responsible forest management, including biodiversity.
---
Support for Clients' Initiatives
FSC certification is important to FSSI clients because many of them have implemented their own sustainability programs, which often require engaging with FSC-certified business partners.
FSSI's Forest Stewardship Certification enables clients to fulfill this requirement while demonstrating that FSSI is equally committed to responsible business practices and to preserving natural resources.
---
Partner with an FSC Certified Print and Mail Provider
Contact us online or call us at (714) 436-3300 to learn more about how FSSI became Forest Stewardship Certified, the use of FSC certified paper or other corporate sustainability initiatives.